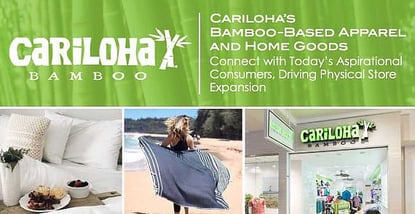 In a Nutshell: By transforming sustainable bamboo fiber into soft viscose fabric, Cariloha produces an eco-friendly line of luxe apparel, bedding, and bath goods that align with aspirational lifestyles. The bamboo-based viscose wicks away moisture and is noticeably cooler and more comfortable than conventional fabrics like cotton. In Cariloha stores across the country, customers are given an opportunity to directly compare its viscose with that of other fabrics in carefully tuned store environments that cater to the senses. As a result, in 2017 Cariloha made the Inc. 5000 list of America's fastest-growing companies for the sixth year in a row. At a time when many retailers are struggling to preserve their brick-and-mortar presence, Cariloha has expanded to more than 60 stores in 16 countries — with no plans for a slowdown.
Cariloha got its start in 2007 as a purveyor of island-leisure products including sunglasses, watches, and purses. Within a year it was operating stores in three cruise-port locations: Cozumel, Ocho Rios, and St. Thomas.
But, as a lesser-known brand, Cariloha struggled to connect with the vacationing consumers it was catering to. One day, CEO Jeff Pedersen watched a customer in Cariloha's Cozumel store choose a watch made by a more familiar company instead of a Cariloha-branded piece, and he decided to try something new.
A test-run of 5,000 shirts woven from bamboo-based viscose fabric quickly sold out, and soon the company was retooling its store design, promotions, and marketing around an entire line of bamboo-based products.
From a production and marketing standpoint, bamboo is an ideal source for fabric. As the fastest-growing plant in the world, it's intrinsically sustainable. It requires no fertilizer, pesticides, or chemicals to grow. And it converts the greenhouse gas carbon dioxide into oxygen much more efficiently than trees.
"Coming from the grass family, bamboo grows right back after it's cut, just like mowing your lawn," said Cariloha AVP of Communications Scott Brady. "It doesn't need to be reseeded like cotton. It's just a naturally renewable product."
Cariloha converts harvested bamboo into usable pulp through a closed-loop process wherein the pulp is dried, milled, and spun into thread before it's woven into the viscose fabric.
"There's no question that our commitment to the environment has had a positive impact on our success," Scott said. "More and more consumers want to align their lifestyles with a sustainable luxury brand that also has affordable price points."
In 2010, Cariloha began opening additional stores throughout the US and Caribbean, starting an expansion process that hasn't abated. By 2012, it had opened 30 locations in 11 countries.
Over the past three years, as the brand has continued to expand its physical footprint, sales have grown by 113%, a testament to the growing demand for sustainable products that feel just as good to support as they do to wear.
An Eco-Friendly Brand Appropriate for Every Lifestyle
In addition to seeking out brands that respect the environment, today's consumers appreciate comfort, function, and style. And Cariloha fits the bill.
"We're soft, cool, and clean, and green — and that really resonates with our customers," Scott said. Viscose is discernibly softer than cotton and has an appealing, silky feel. It's breathable, meaning that it wicks away moisture and keeps active wearers cooler. And it naturally repels odors and allergens without exposing wearers to irritation-causing chemicals.
"Customers are often astonished by the differences between bamboo and cotton," Scott said. "When they actually experience the viscose fabric, they can feel the softness and notice it actually does wick away moisture and keep them cooler and cleaner. Our products look great too. When you add the low environmental impact of bamboo, it creates a very powerful combination."
The demand for Cariloha's combination of soft, cool, clean, and green fabric has led the brand to expand its apparel line. Cariloha offers outerwear, underwear, socks, sleepwear, and accessories for women and men.
The luxurious feel of viscose has helped Cariloha move from the closet into bathroom and bedrooms with bamboo-based towels, bathrobes, and sheet sets. And the popularity of Cariloha's bedding products has enabled the brand to develop a memory foam mattress business leveraging its bamboo base to offer a complete sleep solution.
Leveraging the In-Store Experience to Grow Sales
While the bedding and mattress products have been a huge success, the development of Cariloha's sleep-solution concept came about gradually.
"We started with our sheet sets, first a classic line and then a higher-end line," Scott said. "And then we evolved into duvets and duvet inserts, pillow cases, blankets, and pillows. Our customers then told us to get on with it and introduce a mattress."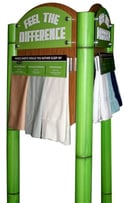 With every new product, Cariloha has relied on its physical store presence to demonstrate the unique qualities of bamboo to its customers.
"When people get a chance to touch our products, to experience the difference, they want to adopt us as part of their lifestyle. We generate sales by appealing to our customers' senses," Scott said.
The in-store experience starts with Cariloha's "Feel the Difference" display, which lets customers physically compare different bedding fabrics for themselves.
From there, merchandise is strategically presented throughout the store. Music and even a custom fragrance are added to deepen the textures and engagement.
"Our goal is to appeal to our customers' senses — not just touch but across the board," Scott said. "All those fun things you can do in retail make a difference and help us build an association between Cariloha and soft, cool, clean, and green bamboo."
Cariloha Builds Loyalty by Aligning with Customer Values
Scott explained that the brand continues to flourish because customers return to its stores and e-commerce site to buy more bamboo-based products for themselves or as gifts.
"After people get to know us, they want more," Scott said. "They may purchase sheets for themselves and then decide they need a set for their guestroom. Or maybe they purchase bath towels, and their guests need those too. So we're in hypergrowth mode online as well as in stores. In fact, over 30% of our annual revenue comes from online."
Cariloha has earned that level of loyalty because the brand ticks all the boxes for its customers. "They know from their own experiences that 'soft, cool, clean, and green' is more than a slogan," Scott said. "They find themselves wanting to adjust their lifestyles and align themselves with a brand that offers products that not only feel and look great but that also help them express who they are, both personally and in terms of their beliefs."
Moving forward, Cariloha has plans to continue to build out its product offering to give customers more reasons to experience the brand every day. "As for apparel, we're bringing variety — different styles, colors, and cuts that are on trend but that also have those amazing bamboo properties," Scott said.
Sleepwear and bedding, including mattresses, continue to gain momentum. "So many people have trouble sleeping. Our customers are continually letting us know that our sleepwear and bedding solutions are the only things that work for them," Scott said.
Cariloha mattresses are finding their niche in an increasingly crowded space thanks to smaller footprint boxes for shipping direct to consumers and providing a 100-night trial and a 10-year warranty.
"As more and more customers get to know us, the more they seem to want," Scott said.
Advertiser Disclosure
CardRates.com is a free online resource that offers valuable content and comparison services to users. To keep this resource 100% free, we receive compensation for referrals for many of the offers listed on the site. Along with key review factors, this compensation may impact how and where products appear across CardRates.com (including, for example, the order in which they appear). CardRates.com does not include the entire universe of available offers. Editorial opinions expressed on the site are strictly our own and are not provided, endorsed, or approved by advertisers.