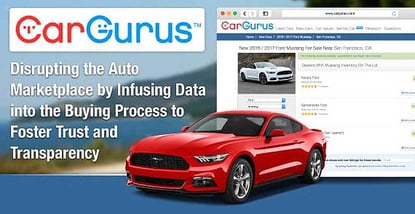 In a Nutshell: Online car ads, like old newspaper classifieds, often reveal only a model, year, price, and a few features. Seeing an opportunity to change that, CarGurus entered the space, using advanced technology to provide consumers with comprehensive data in all of its listings. Helping buyers not only find the right car, but make an informed, confident decision is CarGurus' mission, and optimizing the consumer experience can also benefit dealers by putting their reputation, not their advertising dollars, first. Because the company believes that transparency and trust can lead to long-term success, CarGurus is dedicated to making the buying experience as simple, efficient, and pleasurable as possible. And the CarGurus strategy is working, as the rapidly expanding auto marketplace is seeing 23 million visitors monthly.
Many consumers now prefer to buy clothes, household products, and even groceries online because of the convenience and vast options the internet provides. But that move to online shopping didn't happen overnight; companies made a concerted effort to understand and grow with consumer expectations over time. The development of mobile apps, optimization of websites, and the addition of consumer-friendly features, like 2-day shipping, have made consumers feel more comfortable with online shopping.
But as more businesses responded to the consumer demand for more information, choice, and transparency, one industry has held fast to traditional sales methods: the automotive industry. Despite constant technological advances in cars themselves, online auto sales platforms and websites remained on par with newspaper classified ads — two-dimensional and uninformative. Bare bones listings contained the make, model, year, and price of a car, but little more.
Those listings left too many questions, particularly for customers considering purchasing a vehicle without setting foot onto a car lot. CarGurus is aiming to change that by giving consumers access to more information.
"Our mission is to bring trust and transparency to the auto shopping process," said Sarah Welch, CarGurus Senior Vice President of Consumer Marketing. "And, over time, we plan to create the most transparent and trustworthy marketplace in the world."
It is a unique strategy in the industry, and the company is dedicated to helping consumers find the right car at the right price, not at the highest commission like some of its competitors. And CarGurus is poised to expand in the coming years as it continues to innovate ways to make a static industry much more dynamic.
A Technology Company Helping Buyers Find the Right Car
The most useful technology — like an iPhone or Google Maps — tends to be intuitive, and CarGurus modeled its website after that philosophy. CarGurus wanted to include valuable technological advancements, but it also wanted to make the interface uncomplicated to keep with its mission to be straightforward.
"Most of our competitors are automotive classified sites that have grown into digital companies, but whose roots are in newspapers and in selling cars for dealers," Sarah said. "And we come at it in a very different way. We're in it for consumers and finding the right car for them."
That's because CarGurus wasn't the brainchild of a dealership like many of its competitors; it's a startup with a digital-first approach. Founder Langley Steinert was a Co-Founder of TripAdvisor, and the difference between consumers booking flights and buying cars isn't as vast as it may sound.
Langley has long been a proponent of building a trust-based economy and took that into account while looking for his next development project. He started by considering which industries needed help building trust with consumers. It didn't take him long to notice the parallels between travel and auto sales.
Both involve complex buying processes, big decisions, the frequent potential for a bad consumer experience, and inevitable emotion and anxiety. It was evident to Langley that the auto sales industry could benefit from more customer-centric technology, and, as its commercials portray, a little levity.
According to Sarah, the auto industry was "ripe for disruption" when CarGurus launched, and consumers were desperate for a simpler solution to making an important financial decision.
"Helping consumers quickly and easily find a deal and a dealer they can trust is the core of our value proposition," Sarah said. She also pointed out that CarGurus' approach to selling cars has little to do with traditional automotive industry philosophies.
The result is a company that develops technologies to make the buying process as user-friendly as possible. CarGurus focuses just as much on positive experiences as it does on sales numbers.
Building Trust Through Reviews, Data, and Price Analysis
A significant amount of data, technology, and thought goes into every posted listing on the CarGurus website, or on its dedicated mobile app. The listings contain the essential data — year, price, mileage — but also consumer reviews of dealers and car models, which Welch says helps CarGurus harness "the wisdom of the crowd."
Another factor in CarGurus' valuation of a car is its location, which can provide a sound basis for determining the best car values in a geographic area. But the feature that especially sets CarGurus apart from its competitors is its model for determining the best value to a customer.
CarGurus begins with an instant market value, meaning every car listed gets assessed in various ways on a granular level. CarGurus takes elements like the mileage, accident history, and options into account (along with the model and year) to answer the ultimate question: What's the right price for this car?
Based on those results, the platform assigns a value ranking for each listing.
"On CarGurus, a car can be ranked as a good deal, a great deal, a fair deal, or overpriced," Sarah told us. "Our ranking can tell you whether to negotiate harder or go to a dealer who has a better price listed. And that's really the heart of CarGurus — we make it easy for our users."
CarGurus also goes a step further to give its users a complete picture by factoring dealer reputation into its rankings. And that frankness and fairness also enhance the company's relationship with dealers.
30% More Listings Than Competitors Thanks to Equitable Relationships with Sellers
CarGurus understands the needs of dealers, as well, and works with them while maintaining its commitment to a consumer-first philosophy.
"We allow any car to be listed on our site for free, and the result is that dealers can try us before they decide whether they want to enter into a commercial relationship with us," Sarah said. "That allows us to have about 30% more listings on our site than our competitors because they will only list the cars of dealerships that are paying them."
When a dealer decides to use CarGurus' service, the process never loses sight of the key values of trust and transparency. Other sites often reserve the top search results for paid listings from dealers, meaning customers never see a truly organic list of options.
While CarGurus does offer featured listings from its partner dealers, they are served only when relevant to the shopper and they are clearly labeled as not part of the organic search results.
That strategy is a win-win for buyers and sellers alike as dealers can bring attention to a car they want to promote but, says Sarah, only in a way "that doesn't dilute and pollute the experience for consumers in any way."
CarGurus believes that if it creates a great experience for consumers, dealers will naturally move to the platform because of that traffic. Building relationships with consumers and dealers will ultimately lead to the success of all parties involved.
Organic Growth Reflects CarGurus' Popularity with Shoppers
Shoppers come to CarGurus because they are tired of the classified-style online ads or would rather not spend a whole weekend shopping at a car lot. They've recognized the transparency CarGurus has focused on since it's launch, and that trust has helped the marketplace grow exponentially.
"That notion of creating trust and confidence is baked into the DNA of what we do every day," Sarah said. "Word of mouth is a huge piece of the growth of our business. When you build a great product that really satisfies people, they talk about it."
On a mission to bring trust and transparency into a complicated — and often frustrating — industry, CarGurus is focused on innovating through technology and staying true to its mission.
"We let the product speak for itself and let others spread the word," Sara said.
With 23 million unique visitors a month, the word is definitely spreading.
Advertiser Disclosure
CardRates.com is a free online resource that offers valuable content and comparison services to users. To keep this resource 100% free, we receive compensation for referrals for many of the offers listed on the site. Along with key review factors, this compensation may impact how and where products appear across CardRates.com (including, for example, the order in which they appear). CardRates.com does not include the entire universe of available offers. Editorial opinions expressed on the site are strictly our own and are not provided, endorsed, or approved by advertisers.