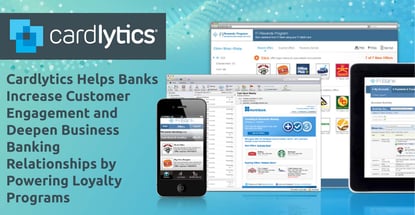 In a Nutshell: Prior to founding Cardlytics, Scott Grimes and Lynne Laube noticed that banks have access to robust amounts of valuable customer data, but they were not utilizing it. They formed Cardlytics as a way to collect that data, focus it, and use it to power customer loyalty programs. The programs boost customer engagement, which results in increased profits for the institutions. Customers benefit, as well, through numerous rewards programs, special offers, and cash back rewards. Cardlytics understands the importance of maintaining high security standards to guard against data hacks as well, which is why sensitive customer data never leaves the bank.
Back in 2008, Scott Grimes and Lynne Laube were working for Capital One when they took note of the rich data coming in from bank customers. They also noticed that the banks weren't doing anything with all this valuable data right under their noses.
"What if we could glue together this really fragmented banking system of [approximately] 13,000 banks in the U.S. and bring all that payment data together in one spot it would make it useful?" Grimes said in an interview with Chief Executive magazine.

Grimes and Laube answered that question by launching Cardlytics that same year with the goal to harness the robust data on behalf of banks and help them use it to their — and their customers' — benefit.
The 2008 Cardlytics launch aligned closely with the Great Recession.
"The year we launched our company was an incredibly bad time to be raising money from investors," Laube told Thrive Global. "The stress was insurmountable, and even though we thought we had a pretty great idea, we weren't sure we were going to get it off the ground because we weren't sure we'd get any funding."
The young company did eventually secure funding and weathered the economic downturn, which in the long run likely helped the business. The 2010 Dodd-Frank Act — created in response to the recession — contained the Durbin Amendment, which essentially made it easier for banks to utilize customer spending data to market their rewards programs.
Today, the Cardlytics platform powers banking rewards programs for more than 2,000 financial institutions across the U.S. It has been recognized by Deloitte Fast 500 and Inc. 5000 as one of the country's fastest-growing technology companies.
The Purchase Intelligence™ Platform Strengthens the Role of Banks in the Flow of Commerce
Cardlytics' core product for marketers is Purchase Intelligence™.
"Our goal is to make marketing more relevant and measurable, enabling you to make smarter business decisions and more meaningful customer connections," according to the Cardlytics website.
The Purchase Intelligence platform drives customer engagement and delivers the reliability that banks expect and on a scale required by advertisers.
"By addressing the most pressing questions that marketers face, Cardlytics has linked together some of the biggest names in banking and advertising," according to the website.
Earlier this year, Cardlytics completed a successful rollout with Chase, and more than 60 million Chase offers have been activated to date, according to Chase's comments during their Q2 2019 earnings call and at their Investor Day. JPMorgan Chase now joins institutions, such as Bank of America and PNC, as Cardlytics partners.
Cardlytics reported more than 120 million monthly users as of June 30, which is a 104% increase from 12 months earlier, according to DigitalTransactions.net.
"Our loyalty program is easy for bank customers to use with their existing debit or credit card," according to Cardlytics. " After receiving personalized offers and cash back savings, the average customer increases card spend and is more engaged within online and mobile banking. In turn, this reduces account attrition and increases brand loyalty."
"We can directly touch those customers the advertiser is interested in and drive them into their store, and then measure to the penny the results we generate for them after marketing," Grimes told Chief Executive. "At the core, we're a really good analytics company working on a really unique data set."
Becoming a Cardlytics user is fast and easy, according to the company.
"Cardlytics offers a low-cost implementation service with flexible integration options. Hardware and/or software can be hosted by Cardlytics at cost, and banks can choose to have Cardlytics code their digital banking integration or leverage our suite of APIs to do it themselves," reports Cardlytics on the company website.
Rewards Provide Real Value for Customers
Of course, a customer loyalty program is worthless unless it actually benefits customers — otherwise, they wouldn't use it. Many of today's consumers are savvy shoppers and are looking out for what advantages companies they do business with — such as their financial institutions — can offer them beyond straightforward services.
And according to Cardlytics, its loyalty solution provides value to customers by providing opportunities to "earn rich rewards when they use their bank's credit or debit cards."
Customers can also select offers that are embedded directly in their digital banking platforms.
"Consumers receive relevant advertising through their bank rewards programs and earn cash back on the things they like to buy," according to the website. "Consumers enjoy a rich experience, and all personally identifiable information stays behind secure firewalls."
Customers can also earn cash back in the form of account credits.
The platform uses data from past purchases to provide relevant and timely offers for customers to redeem at their favorite stores and restaurants. No coupons or codes are required, and cash back rewards are automatically deposited directly into customers' accounts.
There are no minimum spend requirements for customers of institutions using Cardlytics' technology.
To date, more than $350 million has been paid to customers in cash back rewards.
Benefits like this appeal to today's shopper, whether they prefer old-fashioned brick-and-mortar retail stores or do the bulk of their shopping online.
Cardlytics Prioritizes Top Security Practices
Today's savvy consumer is also security-minded. It's understandable that people may be cautious when handling personal financial information online. After all, numerous large corporations and financial institutions have fallen victim to high-profile hacks that have revealed customer data in recent years.
Cardlytics understands the value of security in today's market and makes sure it takes top priority.
"I think we very much understand how to partner with banks and how to leverage this incredibly sensitive data in a way that works for the banking industry," Grimes told Chief Executive. "And part of that is we were bankers, so we get the power of the data and the sensitivity of the data. So we built a company from the ground up to do this for banks."
Customers' personally identifiable information, such as payment card information, names, addresses, phone numbers, email addresses, birth dates, and account numbers, never leaves their bank. Rather, Cardlytics only receives anonymized data from its banking partners.
"And we have this dual kind of architecture that allows us to use the data, but never take it out of the security and safety of the bank," Grimes said.
Cardlytics' proprietary technology was designed to meet the same privacy standards and regulations that banks are required to meet.
"The security of Cardlytics' data is critical to our business mission," according to the website. "Cardlytics uses commercially reasonable administrative, technical, personnel, and physical security measures that comply with federal regulations to safeguard all of our data against loss, theft, or unauthorized use, disclosure, or modification."
The company also regularly conducts risk assessments and audits on its information systems.
Advertiser Disclosure
CardRates.com is a free online resource that offers valuable content and comparison services to users. To keep this resource 100% free, we receive compensation for referrals for many of the offers listed on the site. Along with key review factors, this compensation may impact how and where products appear across CardRates.com (including, for example, the order in which they appear). CardRates.com does not include the entire universe of available offers. Editorial opinions expressed on the site are strictly our own and are not provided, endorsed, or approved by advertisers.