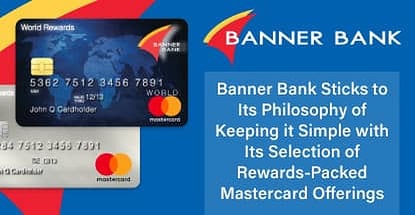 In a Nutshell: Most financial experts still agree that cash as king. But in the world of credit cards, convenience and simplicity reign supreme. While many cards boast tremendous rewards offerings, they also feature rotating categories, blackout dates, and a host of other hurdles that can be hard for cardholders to overcome. Banner Bank stuck to its philosophy of keeping things simple and straightforward when designing its Mastercard offerings. The two most popular, the TruRewards® Mastercard®, and the World Rewards® Mastercard® both offer four points per dollar spent, with APRs that range from 9.99% to 13.99%. The cards also offer an array of redemption options that include travel credits, cash back, merchandise, and gift cards to local businesses in the institution's Oregon, Washington, Idaho, and California footprint. //
Accolades are great. Trophies look wonderful on the mantle, and advertising yourself as "the best" in your specific vertical definitely turns heads. But at the end of the day, the true critics of any financial institution are its clients — not journalists or talking heads.
Over the years, we've seen a lot of highly rated products come and go because they were simply too difficult to use or had features that were hard to understand. Consumers want simplicity, they don't want to read an instruction manual just to redeem their credit card rewards.
Banner Bank has plenty of accolades, but the institution also designs each of its products with the philosophy of keeping things simple for its account holders in Oregon, Washington, Idaho, and California.
Money Magazine recently named Banner Bank as the best regional bank in the US, in part because of the value it gives to its customers. That value shows in its diverse Mastercard offerings that provide transparent rewards redemption rates and no hidden fees.
"We focus on keeping things simple and straightforward," said Gary Wagers, Executive Vice President of Retail Products and Services at Banner Bank. "That means we put fixed rates on the cards for people who choose to revolve their balances. We don't have any annual fees, penalty rates, or fees for cash advances or balance transfers. Our late fees are pretty modest at $20."
Among Banner Bank's most popular credit card offerings, the TruRewards® Mastercard® earns four TruRewards points for every dollar spent with the card, with a 4,000-point bonus when the card is opened. Points are redeemable for a host of rewards and their value varies depending on the redemption option cardholders choose.
Wager said air travel rewards provide the greatest return, averaging a 1.4% rewards rate. Gift certificates average an approximate 1% return and cash back falls around 0.8%.
The World Rewards® Mastercard® adds another layer of rewards, with the potential to earn even more points the more you use the card.
"World Rewards Card cardholders have the opportunity to earn the same rewards points as TruRewards, but they also get a 25% point bonus every time they reach $10,000 in calendar-year spend," Wager said. "That bumps up the value in every area, so air travel is worth about 1.75%, gift cards are 1.25%, and cash back is 1%."
APRs for all three cards range from 9.99% to 13.99% based on creditworthiness and feature a balance transfer APR between 5.24% and 9.24%.
For clients who do not yet qualify for one of Banner Bank's unsecured credit offerings, the institution offers a Deposit Secured Mastercard with a $25 annual fee. A Banner Bank Deposit Account secures the account by holding a deposit that is equal to the desired credit limit, between $300 and $5,000.
Redeem Rewards to Bank Maximum Value
While many bank-issued credit cards offer the possibility for cash back, travel rewards, or merchandise credits, Banner Bank created a platform that lets cardholders have all of those options — and more.
"The system we've created includes the typical rewards you normally see, with a heavy focus on air travel — which is our most lucrative reward from the cardholder perspective," Wager said. "There are gift card options, including e-cards, as well as merchandise and cash back options as well."

Cardholders can also support their communities by redeeming their accrued points for gift cards to local businesses — a unique wrinkle that Banner Bank designed itself.
Redeeming points for local gift cards works for the customer like any other redemption and Banner doesn't charge businesses to participate in the program. Participating businesses can include local retailers, restaurants, and convenience stores.
"The program is nice because it's another tie to our communities and our business customers," Wager said, "It gives us a little more of a local feeling, which is what we aim for in all of our products."
Added Features with No Extra Charge to Cardholders
Aside from the rewards options, Banner Bank and Mastercard provide extra benefits with each card at no extra cost. Wager said his personal favorite benefit is the rental damage collision waiver, which saves cardholders money since they don't have to worry about purchasing extra insurance coverage when they rent a car.
"We also have shopping benefits, purchase protection benefits, travel accident coverage, and a whole package of other benefits," he said. "As well, Mastercard now provides identity theft protection on all of their cards."
The institution also offers a unique program for transferring existing balances to a new Banner Bank Mastercard.
"We do something unusual on initial balance transfers," Wager said. "There are a lot of cards out there that have a 0% interest rate for a set period of time. But as a part of our philosophy on keeping things simple and easy to understand, we've taken a different approach. Instead, we have a fixed rate on balance transfers that are done in the initial 60 days of the account life. For most of our cardholders, the rate is approximately 5.24%."
The bank determines the balance transfer APR by a cardholder's credit score, but that rate doesn't change for the life of the transferred balance.
Banner's New App Gives Cardholders More Control
An important component of modern credit card usage is mobile app functionality. Consumers use their mobile phones to pay bills, transfer funds, and toggle card security features. Banner Bank's newly released app for iOS and Android devices allows clients to do all of the above.
"We just recently launched a card control function on our app that allows cardholders to turn their card on or off, restrict spending to a one-mile radius around their cellphone location, and receive notifications on all card transactions," Wager said.
Banner Bank believes simple is better. While consumers want to redeem their credit card rewards for maximum value, they don't want to jump through hoops, set rotating categories, and deal with blackout dates.
Banner Bank understands this and managed to fit all of its award-winning in-branch experiences into a set of Mastercard options that are both simple and affordable to use.
Advertiser Disclosure
CardRates.com is a free online resource that offers valuable content and comparison services to users. To keep this resource 100% free, we receive compensation for referrals for many of the offers listed on the site. Along with key review factors, this compensation may impact how and where products appear across CardRates.com (including, for example, the order in which they appear). CardRates.com does not include the entire universe of available offers. Editorial opinions expressed on the site are strictly our own and are not provided, endorsed, or approved by advertisers.