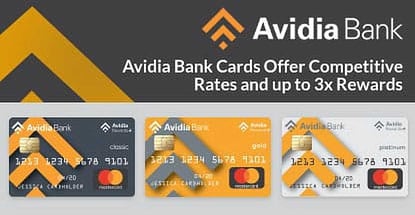 In a Nutshell: As a community bank, Avidia keeps the customer at the forefront of its decisions. That's why the bank supplies a diverse offering of personal credit cards to its customers. Between its Classic, Gold, Platinum, and new NEPGA World Elite Mastercard® options, Avidia has something for consumers in every credit range — from those with little-to-no credit to the biggest spenders. The bank also boasts a hearty rewards program with options for 2 or 3 points earned for each dollar spent. With similar offerings for small and large business alike, Avidia ensures its customers are getting a variety of credit card options to choose from. //
As a young college student, my very first credit card was, well — let's just say less than impressive. With a high rate, high annual fee, and basically no rewards, it was a necessary but stark way to begin building my own credit.
Of course, over the years, I've been able to establish my credit history, build my credit, and move into a much more appealing realm of credit card options. But as a young credit-builder, I would have loved to have had an option like Avidia Bank's Mastercard Classic at my disposal.
With its reasonable rate, access to rewards and low annual fee, the Classic Mastercard offers surprisingly attractive features for a card intended for those with little credit history.
Similarly, Avidia's Gold, Platinum and NEPGA World Elite Mastercards — its offerings for the middle and high range credit score holders — are impressive as well.

We spoke to Rita Janeiro, Avidia Bank's Senior Vice President for Community Banking, to further explore the bank's credit card offerings and impressive rewards program.
"We're a community bank," Janeiro said. "We control everything locally, we make all the decisions. We control all of the products, so therefore, we can closely tie them to our communities and communities' needs, and to our customer profiles."
Although the name, Avidia Bank, has only been around since 2007, it is the product of a merger between two very established Massachusetts financial institutions — Hudson Savings Bank and Westborough Bank — that both trace their histories back to 1869. Today, Avidia is headquartered in Hudson, Massachusetts, and is a $1.5 billion mutual community bank.
With locations in Hudson, Westborough, Clinton, Marlborough, Northborough, Shrewsbury, Leominster, and Framingham, Avidia Bank now covers a large swath of east-central Massachusetts.
According to its website, Avidia is passionate about the communities it serves and, as part of its role as a community bank, it founded the Avidia Charitable Foundation in 1997. "With investments in technology, Avidia offers Mobile banking with check deposit, bill pay, transfers, and the option to pay other people electronically," according to the website.
From Credit-Builders to Savvy Spenders, Avidia's Four Credit Cards Should Satisfy the Spectrum of Shoppers
Janeiro presented a brief rundown of Avidia's four consumer credit card options: Mastercard Classic, Mastercard Gold, Mastercard Platinum, and NEPGA Mastercard World Elite. She also delved into who the cards might be best-suited for, and some of the benefits that go along with them.
She said the most basic card, the Classic, is for people with lower FICO scores and people with little-to-no credit or experience with revolving credit. The card comes with a $25 annual fee and 17.90% APR. Cardholders also receive access to the Avidia Rewards+ program, and double points for each dollar spent.
"Typically, a lot of students, who are going off to college would fall into this category," Janeiro said. "The rate is still pretty competitive compared to others that are out there.  Additionally, students begin to build their own credit history and FICO score."
Janeiro said the bank tries hard to make a credit card available for just about anyone, especially within its communities.
"If we can't do it any other way, we may offer a cash-secured credit card, and it would be in the Classic category as well," she said. "This allows individuals to build their credit or, perhaps, rebuild their credit."
Moving on to the Mastercard Gold, Janeiro said this offering is suited for those who have a little more credit history. This card also comes with the benefits of the Avidia Rewards+ program with double points, but has no annual fee. The current rate of 11.90% may vary with the market, based on the Prime Rate.

"For better credit with no significant credit issues and so forth, most people qualify for the Mastercard Platinum," Janeiro said. "It covers a wide spectrum of FICOs and credit experience."
The Mastercard Platinum comes with an introductory APR of 3.90% for six months, then moves to 10.90%, and is subject to variation based on the Prime Rate. Platinum cardholders also receive access to the Avidia Rewards+ program with double points.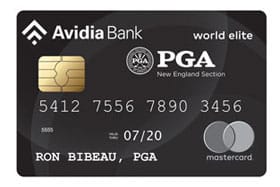 Finally, Janeiro said Avidia's newest offering — the NEPGA Mastercard World Elite — gives the bank a way to reward the highest spenders. The card is the result of a partnership between Avidia and the New England Professional Golfers' Association.
"The card is right for those who are spending at least $40,000 a year on the card, " she said. "We typically assign these cards by household income, and of course strong credit. It's considered an affluent program."
Again, the NEPGA World Elite card comes with no annual fee and a variable APR equal to the Prime Rate, plus 5.74%. Janeiro said NEPGA World Elite holders also receive triple points in the Avidia Rewards+ program for every dollar spent.
The NEPGA World Elite card is also available as a business card — qualifying applicants can choose this option and reap the same benefits with a percentage of each purchase being donated to the NEPGA Foundation. "It's perfect for those who enjoy the game of golf and like a percentage going to the foundation that allows youths to enjoy the game, are members of the NEPGA or just want to carry a golf-related card," said Janiero. "However, for those who aren't into the golf branding, we offer an Avidia-branded World Elite card, as well."
Avidia Features Appealing Awards with Bonus Point Options and Up To Triple Points per Dollar
Janeiro said her favorite features of the Avidia card offerings come down to a combination of the low rates and Avidia Rewards+ program.
"I have my own personal card here at the bank, and it's my primary card, as you may expect," she said. "I just actually compared it to one of my other cards, and out of the rewards I've earned and the redemption options available, I definitely prefer the redemption options we offer."
She said Avidia's Rewards+ program is fairly robust. "Products, gift cards, stock cards, you name it, it's there."
The cash back option remains very popular with Avidia Rewards+ customers, she said, and the bank recently added the option to use it as a credit toward any checking account, not just Avidia.
"So now, cardholders are able to pick where they want that cash back to go," she said.
Avidia Rewards+ cardholders can also earn bonus points for shopping at retail partners participating in the program. According to the website, "Retailers range from clothing stores, automotive stores, amusement parks, pharmacies, office supply stores, electronic stores, flower delivery carriers, and they are the brands you know and trust."
Some participating retailers and their reward rates include:
Kohl's: 4 bonus points per $1
JCP: 3 bonus point per $1
SONY: 4 bonus points per $1
Expedia: 2 bonus points per $1
Ralph Lauren: 6 bonus points per $1
Staples: 3 bonus points per $1
Customers can also earn points for travel when booking through ScoreCard.
Avidia customers can also accrue rewards points at a rate of 1 point for every $3 spent, by using their Avidia Bank debit cards. Credit card and debit card rewards points can accrue in a single rewards account.
And, as mentioned above, with the ability to earn double and triple points, a hefty rewards balance can accrue quickly.
Businesses Small and Large Can Also Benefit from Similar Credit Card Options and Rewards
"We're really a full-service community bank in that we offer these consumer cards, but we also offer business cards," Janeiro said.
Just like on the consumer side, the NEPGA World Elite Mastercard card comes with triple points toward the Avidia Rewards+ program for every dollar spent, Janeiro said, while the other business credit cards also receive respectable double points for each dollar.
Additionally, customers with the Avidia Bank Business Mastercard receive zero liability for unauthorized purchases and a number of other benefits that include:
MasterRental Insurance
Extended Warranty
Purchase Assurance
Master RoadAssist
MasterTrip Travel Assistance
MasterLegal Referral Service
The Avidia Bank Business Mastercard's APR is a variable rate equal to the Index Rate plus a margin of 6.49%, according to the Avidia website.
Business NEPGA World Elite cardholders receive many of these same benefits, but also gain airport lounge access and a personal travel consultant. Customers will also earn 16,000 Avidia Rewards+ points upon activation of the NEPGA World Elite card.
Avidia is also a proud participant in Massachusetts's Small Business Banking Partnership, according to the bank's website. The program was launched in 2011 by the Massachusetts Treasurer's office "based on area community banks' willingness to loan money to small businesses." The program allows for the deposit of at least $100 million of state money into community banks, that then use the funds to lend to creditworthy small businesses to bolster jobs and to help grow the businesses.
"Avidia Bank currently has created 24 loans and $3,389,339.25 is being lent to small businesses in our community," according to the website.
Avidia Bank is also a Preferred Lender with the Small Business Administration (SBA) and is an active SBA lender.
Janeiro said small businesses have always been very important to Avidia, but big businesses have a place with the bank as well.
"We have many larger businesses that take advantage of our corporate credit card, which is also very competitive, and is also part of the rewards program," she said.
Thankfully these days, I'm not relegated to the bleak and rewardless options presented to me when I secured my very first credit card. And luckily, for those who are in a similar place in their credit-building lives as I once was, they now have an option like Avidia Bank to turn to.
But, as we've seen, between the Classic, Gold, Platinum, and NEPGA World Elite, Avidia's credit card options run the gamut for every type of consumer and credit level. It's also nice that they each come with access to the impressive Avidia Rewards+ program and a minimum of double points for every dollar spent.
Advertiser Disclosure
CardRates.com is a free online resource that offers valuable content and comparison services to users. To keep this resource 100% free, we receive compensation for referrals for many of the offers listed on the site. Along with key review factors, this compensation may impact how and where products appear across CardRates.com (including, for example, the order in which they appear). CardRates.com does not include the entire universe of available offers. Editorial opinions expressed on the site are strictly our own and are not provided, endorsed, or approved by advertisers.