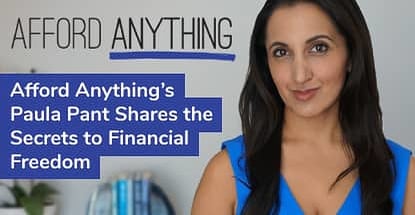 In a Nutshell: Afford Anything is the highly rated podcast and website of Paula Pant, speaker, author, blogger, and real estate investor. Pant saved enough money to quit her job as a newspaper reporter in 2008 to pursue her dream of traveling abroad and experiencing other cultures. It was her approach to saving and her frugal lifestyle that allowed Pant to travel the world for two years, and she now shares her financial secrets with her followers. Today, Pant is a successful real estate investor with seven rental units she collects income from. She is also a highly sought-after speaker and has contributed to dozens of major websites and publications. One of her beliefs is that anyone can become financially independent, if they learn the right mindset about money. In her words, "You can afford anything, but not everything." //
If your idea of living the good life means chucking the commute, ditching your office attire, and saying goodbye to that cubicle once and for all, you're not alone. Who among us doesn't dream of trading our tedious, demanding, or demeaning job for a life of travel and leisure? But, of course, that's just a pipe dream, right? Well, don't tell that to Paula Pant.
In 2008, Pant quit her job as a newspaper reporter to travel the world. It wasn't that she hated her job; in fact, it was what she'd always wanted to do. And she certainly wasn't burnt out — did I mention Pant was in her mid-20s at the time? No, Pant left it all behind because she wanted to travel and live abroad. And that's just what she did for the next two years.
Pant managed to save $25,000 in less than three years at the newspaper, while never earning more than a $31,000 salary. She accomplished this by taking on freelance writing assignments on the side and putting every penny she earned from that into savings.
After traveling to Egypt and Israel, visiting Nepal and India, and living all over Southeast Asia and Australia, Pant returned to the US in 2010. Upon her return, Pant and then-boyfriend, now-husband Will bought a triplex together, with the express purpose of renting out two of the units to subsidize their own living expenses. They even took in roommates so their entire housing costs were covered.
Now, 10 years after leaving her job to travel the world, Pant is a successful and highly sought-after speaker, author, blogger, and real estate investor. Her website, Afford Anything, has more than 50,000 subscribers.
But perhaps the most extraordinary thing about Pant is just how ordinary she makes her life and accomplishments seem. We had a chance to chat with her recently and asked her to share some of the things she's learned along her journey.
"There are people who say, 'Oh, I'd love to travel, but I can't afford it.' But these are the same people who are driving cars with payments, going to restaurants, getting pedicures, and all that," Pant said. "And because I didn't do that, I was able to save enough for traveling. You have to be willing to make those tradeoffs if you really want to travel."
Turn Your Financial Life Around by Developing the Right Mindset About Money
According to Pant, most people don't understand how money works. We live in a society with myths and misconceptions about money that have no basis in fact or reality. As proof of this, she points out some of her favorites, like holding debt will improve your credit score; not worrying about retirement if you're young; not investing because of a lack of experience and that buying a new car with zero interest is smart.
These, along with other money misconceptions, are what keeps people from saving and investing their money, no matter how much they make. Instead, Pant recommends carefully prioritizing what you spend your money on and learning that money doesn't buy stuff; it buys choices.
"When Will and I got married, we didn't have a wedding, we eloped — and it cost $300. I don't have a wedding ring," Pant said. "I drove a car that cost $400 when I was saving up to travel. Every dollar you spend is a tradeoff.".
That last point is something you'll hear frequently from Pant. She uses it to help remind people that choosing to buy a fancy car and go out to restaurants or to save and invest their money are all valid choices — just know that you can't do both. That's where being very clear on your priorities plays a major role.
"If you really want something, you've got to be willing to take on the second job, or live with roommates, or go months without ever stepping foot inside of a restaurant," Pant said.
Investing in Real Estate for a Steady Passive Income Stream
When Pant and her significant other returned from their travels in 2010, they moved to metropolitan Atlanta. Pant decided that she wanted to be self-employed, so she spent what little savings she had remaining on a laptop and started freelance writing. She also wanted to live as cheaply as possible, so they found a triplex "fixer-upper" that they could turn into rental units and cover their own housing expenses. And, of course, they had roommates living in their unit as well.
"By virtue of doing that, we were able to live for free with almost no out-of-pocket housing costs," Pant said. "We just needed a place to live and realized there was a way to do it that involved us not having to pay anything out of pocket."
The success of that first real estate investment led them to buying other rental income properties, eventually adding four single-family homes to their portfolio. As with everything Pant does through her blog and podcast, the goal is to share her experiences with others and help them achieve a financially independent life. We wanted to know some of the hurdles she warns her readers to be aware of.
"One of the biggest things is confidence," Pant said. "Everybody thinks they know what they're doing with real estate, regardless of whether they actually do, so everyone wants to give you unsolicited advice."
We wanted to know about some of the specific things Pant looks for in a rental property. She told us about a quick screening model she called the 1% rule of thumb. This rule states that the gross monthly rent on a property needs to be at least 1% of its total acquisition value.
That means for every $100,000 of house, it needs to rent for 1% of that, or $1,000. If a property passes that test, she'll go into more detail and calculate the capitalization rate on the property — conceptually this is analogous to the dividend rate you would earn on a stock.
"Depending on the level of risk in a particular neighborhood, I look for a cap rate of at least 6%, or up to 8% in some neighborhoods," Pant said.
You Can Afford Anything, But Not Everything
In case it isn't obvious by now, Pant is a strong advocate for mastering your personal finances. She tells her readers and followers of her podcast, "You can afford anything, but not everything," which means that what you do with your money is a choice and should be made consciously and with a purpose in mind. If you want to travel and see the world like she did, then you have to make a choice to sacrifice some of the luxuries and save as much as you can.
"For anyone who has decided to travel like I did, first and foremost, don't have any high-interest credit card debt," Pant advised. "Also, I would recommend selling your stuff for two reasons: First, it will give you extra cash for traveling, and second, it will cut the bills you have to pay back home."
Afford Anything was built on a few radical ideas that define Pant's approach to mastering finances. First, you can create financial independence and quit trading time for money by having your investments cover your bills. Second, financial independence comes from passive income. Third, to build passive income, you first need to create a gap between what you earn and what you spend.
These philosophies on money and life that Pant freely shares represent her decision from an early age to question social norms around jobs and earning a living and to go against the grain. If her success in life so far is any indication, we think she may be on to something.
Advertiser Disclosure
CardRates.com is a free online resource that offers valuable content and comparison services to users. To keep this resource 100% free, we receive compensation for referrals for many of the offers listed on the site. Along with key review factors, this compensation may impact how and where products appear across CardRates.com (including, for example, the order in which they appear). CardRates.com does not include the entire universe of available offers. Editorial opinions expressed on the site are strictly our own and are not provided, endorsed, or approved by advertisers.