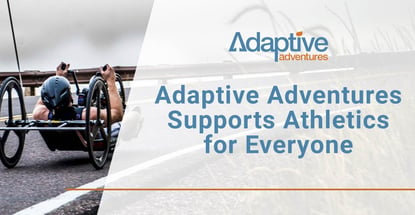 In a Nutshell: Everyday activities — much less more adventurous excursions — can feel out of reach for those living with physical disabilities. Adaptive Adventures specializes in helping individuals reclaim their independence and improve their wellness through activities like biking, kayaking, and rock climbing. Its programs help participants build skills that can help them in other areas of daily life. In addition to providing equipment and training to participants, Adaptive Adventures relies on partners and donations, including card rewards, to build resources and support networks in communities, ensuring disabilities don't hinder a person's physical or mental well-being.
Bicycling is a great casual activity for improving health and fitness. It's low impact, burns fat, builds muscle, and improves cardiovascular health, which can lower the risk of health problems, including heart attack or stroke.
But some people can't just grab a traditional bicycle and go for a ride.
That was the problem facing one woman who'd lost her hands in a fire. A solution was engineered in only 30 minutes by Adaptive Adventures, an organization that specializes in helping people with disabilities engage in adventure-based fitness activities like bicycling, skiing, kayaking, and others.

"Our organization was founded in 1999 by two individuals who have physical disabilities," said Chelsea Elder, Executive Director at Adaptive Adventures. "They saw a big need for more adventure-based opportunities for individuals who had disabilities and wanted to participate, but didn't want to go toward the Paralympics."
In 2014, Adaptive Adventures began focusing on underserved communities across the United States. As of 2021, the organization serves more than 30 states and helps individuals who otherwise would not have access to specialized equipment and opportunities.
Adaptive Adventures relies on donations to fund training programs, provide sustainable resources, and develop equipment that meets people's unique usability and accessibility needs. Card rewards enthusiasts can help by cashing in their rewards for a statement credit and donating that amount to Adaptive Adventures.
While the organization has some corporate sponsors, it relies on private individuals to donate time and resources. The funds and volunteer hours allow the organization to help people with a wide range of physical disabilities reclaim their wellness and active lifestyles.
Athletics Can Help Develop Transferable Life Skills
Cycling is one of Adaptive Adventures' most popular programs. Chelsea described it as a lifelong sport that provides numerous benefits.
"Especially trying to find a way to reconnect with loved ones after being in the service or experiencing a traumatic injury, cycling is a great way to get active with your family," Chelsea said. "It also provides a mode of transportation if you're no longer able to drive. So it's one that we use as a tool for recovery."
Another popular and challenging activity is rock climbing, which Chelsea said is good for people suffering from post-traumatic stress disorder or traumatic brain injuries. The slow, intentional process of climbing helps them improve focus.
Watch on
About 55% of Adaptive Adventure's participants are injured veterans or active-duty military, and the rest are civilians. Many of its participants have experienced severe physical trauma to their brain or spinal cord. Adaptive Adventures helps them regain practical physical functions and develop a host of transferable life skills that contribute to overall well-being.
"I can't tell you how many times somebody comes out with their family to a cycling program or kayaking program, and we teach them how to transfer themselves from their wheelchair to the bike or the kayak. And all of a sudden, you can see someone looking on and thinking, 'Wow, if they can transfer like this, it just makes it that much easier for them transferring at home," Chelsea said. "Those skills help them develop more of a lifelong health and wellness plan."
Programs Provide Communities with Safety and Sustainability Training
Adaptive Adventures has 10 staff members located in Illinois and Colorado. Its staff branches out into Midwestern states and beyond — as far as Puerto Rico — from those home bases. The organization conducts clinics and camps and provides ongoing support and services to their home states and other states they visit.
When Adaptive Adventures teams go out into the field, they bring trailers full of equipment with them. They visit rehab hospitals, VA medical centers, and community partners. The organization provides its programs on-site, making it convenient for institutions and participants to get involved.
"An example would be when we would go to a VA Medical Center and bring 75 different types of adaptive bicycles," Chelsea said. "And then we work with the therapist or identify veterans who could benefit from the program."
Veterans get to try out a variety of different bicycles and find one that works best for them. They also learn about bike safety, maintenance, and personal wellness through hydration and nutrition. Once they know the fundamentals, Adaptive Adventures takes them on a series of rides to help them get used to the equipment.
Once they've completed the program, the VA will grant them a bicycle so they can continue engaging in a healthy, active lifestyle. Corporate and card rewards donations help the organization purchase that equipment. But Adaptive Adventure's work doesn't end there; its staff wants to ensure participants have ongoing support.
"We train providers in the community, including bike shops, on how to maintain those types of bicycles. And we work with physical therapists, occupational therapists, and recreational therapists on how to have a sustainable program," Chelsea said. "And then we leave equipment, training, and skills behind for them to run these programs in the future."
Custom Equipment and Support for Beneficiaries
People with disabilities often live with unique circumstances. Some have shared needs, but every disability has its own challenges. Participants bring their specific needs to Adaptive Adventures programs, and the team finds ways to meet those needs.
"We call ourselves garage innovators, and we always have to think outside of the box," Chelsea said. "We've had so many unique situations that come up where you're just not prepared for that specific scenario. You've never seen that situation before, but we have thousands of adaptations."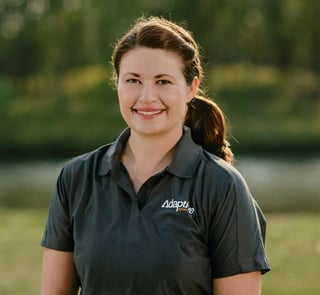 In addition to its ingenuity, Adaptive Adventures works with human engineer design programs and engineering firms. These partners help the staff develop and implement solutions that allow anyone to participate in training programs.
These programs begin with deep-dive training that addresses equipment processes, general disability awareness, and other essential factors that make the programs welcoming and inclusive places for people with disabilities.
That extends beyond participants to community partners, including rock-climbing gyms, outfitters, and bike shops. This inclusivity helps ensure each community has a safety net for program participants. By the end, they're more than just partners with Adaptive Adventures; they're resources for participants to draw on once their official program ends.
But Adaptive Adventures remains involved with the communities in which it has a presence. The staff regularly returns to check in with partners and ensure operations are proceeding smoothly.
"We launched a cycling program in Hawaii a couple of months ago," Chelsea said. "And we'll go back every couple of months to facilitate the growth of that program, but it's now run by a local volunteer."
Adaptive Adventures: Changing Lives through Athletics
Chelsea said that it's not unusual for Adaptive Adventures to receive testimonials from participants who say the program has changed their lives. For some living with disabilities, caring for themselves can seem like an impossible challenge. Activities like rock climbing and biking may seem out of reach.
"We've had people who said, 'Cycling saved my life,'" Chelsea said. "They were told they would never walk again. And they started out riding a handcycle with us, lost 100 lbs., and slowly rehabbed themselves to a point where they could use a trike then an upright bike. Now, they do 300-mile rides with us in Puerto Rico over three days."
Corporate and credit card reward donations help Adaptive Adventures provide those opportunities for self-improvement and growth. Some card issuers even allow cardholders to redeem rewards as donations to nonprofits or as statement credits to cover contributions.
The organization's work helps people find renewed hope and improved wellness — mentally and physically.
Many members of the Adaptive Adventures team understand the importance of its mission. Many of them have family members with disabilities or live with disabilities themselves. That personal experience helps build trust and rapport with program participants. That's why so many participants return to help others struggling with disabilities.
"What team members love the most is that moment where you see somebody really down on themselves, feeling like, 'How am I going to do this? I can't even care for myself.' And then they say, 'Oh my gosh, I can feel the wind in my hair again,' and get that adrenaline rush," Chelsea said. "It's just a really cool experience for everybody."
Advertiser Disclosure
CardRates.com is a free online resource that offers valuable content and comparison services to users. To keep this resource 100% free, we receive compensation for referrals for many of the offers listed on the site. Along with key review factors, this compensation may impact how and where products appear across CardRates.com (including, for example, the order in which they appear). CardRates.com does not include the entire universe of available offers. Editorial opinions expressed on the site are strictly our own and are not provided, endorsed, or approved by advertisers.