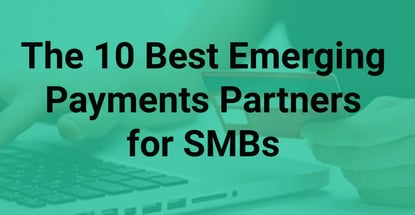 Our experts and industry insiders blog the latest news, studies and current events from inside the credit card industry. Our articles follow strict editorial guidelines.
In today's digital marketplace, small business owners understand the importance of giving consumers what they demand: a seamless digital payment experience that puts them in the driver's seat when making purchases.
The payments ecosystem evolved when cash was the only game in town and contains legacy structures that digital transformation has profoundly disrupted. Now that various payment specialists interact digitally with banks and consumers, it's more important than ever for SMBs to choose a solution that works in their market for their customers.
We're here to help SMBs do that through this merit-based and thoroughly researched list of the 10 Best Emerging Payments Partners for SMBs. Business, at its core, is about money changing hands. Optimizing the payment experience enhances customer satisfaction, positively impacts your business's bottom line, and paves the way for growth.
Best for Transparent Pricing: Helcim

Helcim is on a mission to be the world's most loved payments company, making it a perfect fit for SMBs needing transparent pricing and a friendly approach.
Helcim bases its business on the principle that payments should be easy, affordable, smarter, and honest. It offers the lowest interchange rate for each transaction and no monthly fees or hidden charges.
Whether over the phone, in-person, or online, payments transacted through Helcim "just work." Customers also count on dedicated support to keep them up and running and in front of customers.
More About Helcim
Helcim prioritizes customer success and has built a strong reputation for trust, transparency, and excellent customer service.
The platform processes billions of transactions annually for thousands of merchants across 800 industries.
Best for International Transactions: Adyen

Adyen is an integrated payment processing company combining payments, data processing, and financial management in a single solution.
It also recognizes that access to the global market isn't just reserved for enterprise-level businesses anymore — SMBs also need cross-border transaction capabilities.
For those businesses, Adyen serves as a single payment source with local acquiring licenses in all the markets in which the company operates. Adyen produces higher authorization rates, lower transaction fees, and faster customer settlements.
More About Adyen
Ayden serves digital businesses and mobility, retail, food, hospitality, subscription clients, platforms, and marketplaces.
It has local acquiring licenses across Europe, North and South America, Asia, and Oceania and adds new ones frequently.
Best for Support: VizyPay

VizyPay is a payment processor with a customer-centric approach. It appreciates the importance of seamless business operations which lead it to offer some of the best support in the payments industry.
Built for small businesses, VizyPay understands the pain points in credit card processing and doesn't lock merchants into long-term contracts. It strives to provide a level of customer support its clients would expect of themselves.
Comprehensive online support addresses VizyPay terminal and point-of-sale solutions and apps, and handles the minute details of payment system optimization.
More About VizyPay
Look Local First is VizyPay's effort to promote small business owners everywhere by giving community entrepreneurs and innovators a voice.
VizyPay's Cash Discount Program helps businesses build process costs into their pricing to maintain the same profit margin on every sale.
Best for Card Readers: SumUp

Today, small brick-and-mortar businesses increasingly look for differentiators to keep customers coming back. SumUp card readers are portable, efficient, and multifunctional to fit any small business.
From touchscreen card readers capable of transacting wherever there's an internet connection to app-based solutions that can print receipts, SumUp has SMBs serving customers at the point of sale covered.
The free SumUp Business Bank Account enables companies to manage and access their business funds from the free SumUp app.
More About SumUp
More than 4 million SMBs use SumUp card readers.
The free SumUp Business Bank Account offers the benefits of traditional banking, with the freedom to manage funds from anywhere, zero monthly fees, and no hidden costs.
Best for Currency Options: Digital River

Digital River is a global online payments platform engineered to maximize conversions and grow revenue. Partnerships with leading payment processors, gateways, and fintechs enable it to provide clients with a comprehensive payment solution.
Digital River offers many currency options to enable cost-efficient seamless global transactions. It maintains 190+ bank connections and offers eight payment types and 41+ payment methods to allow international small-business customers to pay as they prefer.
If you're a small business looking to reach a global audience with a unique product, Digital River has a solution no matter where you are and where you want to go.
More About Digital River
Digital River processes $3 billion in transaction volume annually over 240 global markets.
Digital River works behind the scenes to help brands earn profits sooner, eliminate risk, and connect with customers in ways that build trust.
Best for Digital Payment Options: Billtrust

Small businesses understand the need to accommodate consumer payment preferences. Billtrust is a digital payment platform that manages payment nuts-and-bolts so customers and merchants don't have to.
Sales improve when buyers can choose the most convenient payment method, even paper checks, credit-card email payments, or accounts-payable portals. But that requires the business to manage multiple payment options that slow things down and increase costs.
Billtrust speeds cash flow by creating a digital processing space, sometimes called straight-through processing, that provides a single management view while accommodating customers.
More About Billtrust
Billtrust has processed more than $77 billion in total payment volume.
Billtrust solutions produce up to a 76% reduction in days sales outstanding.
Best for B2B Embedded Payments: Melio

Now more than ever, small businesses seek solutions that allow seamless invoice payments. Melio is a full-service payment platform that enables more payment choices and simplifies business interactions.
Melio levels the business-to-business commerce playing field and keeps more small businesses in business by combining the functions of an accounts payable platform with a payment solution to create a more efficient single-platform solution.
Seamless business transactions and invoicing enable SMBs to concentrate less on their accounts and more on what got them into business: providing outstanding products and services.
More About Melio
Melio syncs with accounting software to reduce manual errors and enable faster reconciliations.
Easy bill capture automates bill pay through visual document technology.
Best for Global Payments: BlueSnap

Many SMBs are ready to take their place in the global eCommerce market. BlueSnap is an all-in-one payment orchestration platform designed to help those small businesses reach the customers they seek, wherever they are, no matter how they prefer to pay.
BlueSnap's Intelligent Payment Routing increases authorization rates and decreases checkout abandonment, avoiding cross-border fees and reducing development costs. Accept payments in 200+ global regions through BlueSnap.
More About BlueSnap
31% of companies that sell internationally use at least four payment solutions to provide what BlueSnap offers.
BlueSnap supports 100+ currencies and 100+ payment types with local card acquiring and a suite of optimization tools.
Best for High-Risk: Durango Merchant Services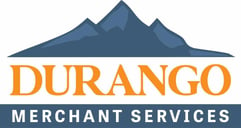 The payments industry defines high-risk merchant accounts as those more likely to default on payments, suffer chargebacks, or possibly commit fraud. Durango Merchant Services handles card processing and chargeback management, provides payment gateway services, and manages check and cryptocurrency processing for merchants deemed too high risk by other providers.
The high-risk designation isn't a judgment on small businesses. Instead, it's the result of a financial calculation of risk. With more than 20 years of experience placing high-risk and other hard-to-place merchant accounts, Durango Merchant Services helps many merchants with sound business models and bright prospects get a fair shot at success.
More About Durango Merchant Services
Durango Merchant Services provides a free guide to high-risk merchant accounts on its website.
It's easy to connect with an account manager by phone and start with an affordable high-risk payment service provider.
Best for ACH Payments: Aeropay

The world may be transforming into digital-only, but there are many circumstances where a traditional bank account works best. Requiring only a bank username and password, Aeropay ACH payments are bank-to-bank transfers that work where cash works, only electronically and without fees.
Aeropay is a full-service payments partner that allows small businesses to accept compliant and contactless ACH payments instead of cash. ACH may be the most secure and convenient payment method depending on the regulatory jurisdiction.
ACH payments through Aeropay navigate legal and regulated channels and follow national banking and reporting laws. Small businesses that need ACH turn to Aeropay for a seamless solution.
More About Aeropay
Many cannabis businesses recommend cashless ATM transfers to customers, but those transactions violate the Controlled Substances Act.
Aeropay works both for in-store and online purchases.
---
We love when technology solves a problem without making it more complex, and that's what these emerging payment providers do. We've covered many possible small business scenarios with this merit-based list.
Payments can be the crux of your success, whether you're just starting or evolving into new products or markets. As digitization continues transforming the consumer and business marketplace, choosing a payment provider from this list might be the key to differentiating your business.