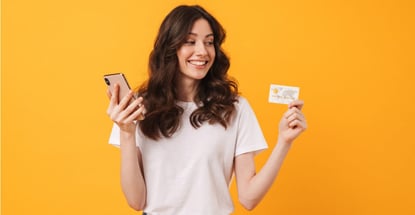 Consider the best credit cards for beginners with no annual fee when embarking on your financial journey. While an annual fee can sometimes be worth the yearly expense, entry-level credit cards rarely come with perks worth paying for.
And when you bypass an annual fee, you'll lower your cost of credit, which puts money back into your pocket for the things that matter most to you.
We've spent years researching the top credit cards in various categories and have focused heavily on cards for consumers who are new to credit. These cards not only have forgiving acceptance standards, but they also have competitive fees and perks that help you build your credit score and create a great start for your financial future.
Best For Students: Capital One SavorOne Student Cash Rewards Credit Card
Best Unsecured Starter Card: Capital One Platinum Credit Card
Best Secured Starter Card: Capital One Quicksilver Secured Cash Rewards Credit Card
Best Starter Cards For Beginners With No Annual Fees
Your first credit card is a big step toward financial freedom. While this is an exciting addition to your life, it can also be a costly one if you take on a card with large fees. 
To help you in your decision process, we've narrowed our favorite starter credit cards down to those that won't overcharge you for the privilege of credit. Many of these cards are for students or are secured cards, which means you'll have to place a security deposit down before you're approved.
You can qualify for the Capital One SavorOne Student Cash Rewards Credit Card when you're enrolled at a higher education institution. This card pays out hefty cash rewards and skips the annual fee.
And not only will Capital One consider you for this card despite having no credit history, but the bank will also automatically consider you for a credit limit increase after you make your first six payments on time.
​​The Capital One Quicksilver Student Cash Rewards Credit Card is a great entry-level credit card and a perfect everyday card for consumers who want to increase their purchase power.
With this offering, you can earn a flat and unlimited rate of cash back with no annual fee, foreign transaction fee, or other charges that can increase your cost of credit. As with the other Capital One cards on this list, you may qualify for a higher credit line after six months with the card as long as you make your payments on time.
There's no surprise that Capital One claimed the top three spots on this list. The U.S. bank has cemented itself as a top credit card company for both newcomers and seasoned credit veterans. 
With the Capital One Platinum Credit Card, you can get your feet wet in the credit card game without worrying about high interest rates that can quickly lead to debt. While this card doesn't provide rewards, it has everything else you could want from a starter credit card.
The Discover it® Student Cash Back is part of the Cashback Match program — meaning the bank will automatically match all the cash back you've earned at the end of your first year with the card. And since this card offers bonus categories with elevated cash back rates that you can activate each quarter, you can earn a lot of extra rewards. Bonus rewards are capped at a spending limit, but all other purchases earn a flat, reduced cash back rate.
All cardholders also receive free access to their FICO credit score updates, which is a great way to track your progress as you establish your new credit history. Plus, you'll never pay an annual fee for membership.
As with its sibling card above, the ​​Discover it® Student chrome will match all of the cash back you earn during your first year with the card. 
And unlike other credit cards in this category, the Student chrome won't even charge you a late fee for your first late payment.
The Capital One Quicksilver Secured Cash Rewards Credit Card is a rare secured card that offers cash back on eligible purchases with no spending caps. But that's not the only thing that makes this a top secured card.
With a strong on-time payment history, you can earn credit limit increases without the need for additional deposit funds. Capital One may also refund your deposit early in the form of a statement credit that helps pay down your current balance.
The Capital One Platinum Secured Credit Card is a rare secured credit card that may not require a full deposit to match your card's credit limit.
Based on your credit history, the bank will require one of three refundable deposit amounts — with options as low as $49 — for your initial credit limit. Every new cardholder starts with the same credit line, but you could eventually earn credit limit increases that don't require an additional deposit.
The Discover it® Secured Credit Card pays cash back rewards for all purchases and charges a low ongoing APR for balances that are carried over each month. There's no annual fee to worry about nor any "processing fees" or "account maintenance" charges that some other lackluster cards charge.
This is a secured card that requires a security deposit for approval, but you'll receive your deposit back when you keep your account in good standing and are upgraded to an unsecured account or close your account altogether.
Can I Get A Credit Card With No Annual Fee If I Have No Credit?
Several credit cards on the market have no annual fee and are designed for consumers who have no credit history. Many of the largest credit card issuers in the U.S. curate these cards, which allows you to get a foot in the door with a major bank while starting your financial journey.
That is important to consider because when you start with a bank that has a large credit card portfolio, you can build your credit history and earn upgrades to new cards with bigger and better perks.
That's not the case for smaller banks that only offer cards for consumers who have bad credit or no credit. Once you work your way out of that credit score range, you'll have no option but to apply for a new card with a different bank.
But if you start, for example, with a Capital One card, you not only earn automatic credit limit increases with responsible card use, but the bank also offers dozens of cards that you can upgrade to over time.
Whether you want to eventually earn cash back, travel rewards, bonus points, or just have a low ongoing interest rate, you can find it all with a large bank.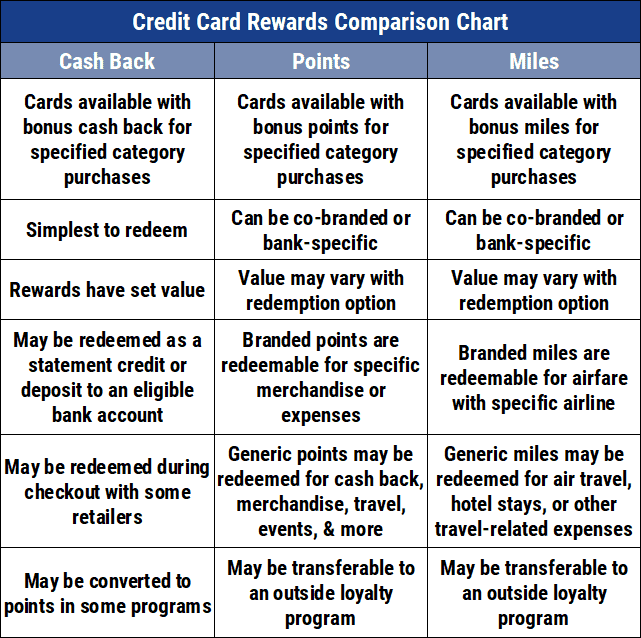 But when shopping for your first credit card, don't make your decision solely on the annual fee. Credit card issuers can add many other charges to a card that make them more expensive compared with cards that have an annual charge for card membership.
These charges can include higher interest rates, a foreign transaction fee, and balance transfer fees, among other fees.
Another good option for credit newcomers who want to avoid an annual fee is a secured credit card. These cards require an upfront security deposit that typically matches your new card's credit limit. You'll receive a complete refund of your deposit when you cancel your card account — as long as you have no debt in the account at the time of closure.
Just like a traditional unsecured credit card, a secured card helps you to build credit while enjoying access to a revolving line of credit that you can use at any retailer or service provider that accepts credit cards.
This may be the best credit card option for you if you want to have some control over your credit limit for budgeting purposes.
What Is An Annual Fee?
An annual fee is a charge that some credit card issuers add to your bill to cover the cost of any rewards it offers or to offset the risk of issuing credit to someone who has poor credit. Many issuers of cards for bad credit charge annual fees.
The amount of an annual fee can vary wildly — from $49 to as much as $500 or more for some of the most lucrative credit cards.
Annual fees aren't only for credit cards designed for consumers who have bad credit. While these cards may include a yearly charge that offsets the risks involved with bad credit accounts, you'll also find annual fees on cards for those who have good credit or excellent credit.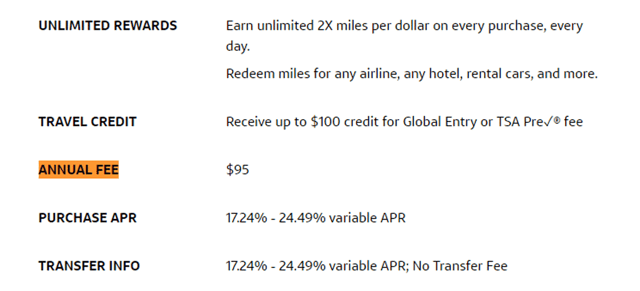 The American Express Black Card — possibly the most prestigious credit card on the market — comes with no shortage of fees. This invite-only credit card requires a $10,000 initiation fee and a $5,000 annual fee for every year it remains in your wallet.
While those numbers may be enough to make you dizzy, several perks come with the card that make it worthwhile for many (though we tend to think it's mostly a status symbol).
The same can be said for other cards with higher annual fees. The Chase Sapphire Reserve®, for instance, offers access to more than 1,300 luxury airport lounges and Chase Ultimate Rewards points that make it easy to make money from your card account.
But if you're in the market for your first credit card, you likely aren't ready to consider the Chase Sapphire Reserve® and won't qualify for a Black Card invite. And that's OK.
The cards that you'll qualify for that charge an annual fee will likely require this charge as a maintenance fee and not much else. Why pay that charge when several very good cards don't levy a fee for account access?
What Should I Look For In A First Credit Card?
In many ways, your first credit card is similar to your first car. You want something that won't cost too much, will work when you need it, and won't give you regrets down the road.
You can check off the first box if you avoid any annual fee credit card and make sure the card you choose has a competitive interest rate and no add-on fees, which may include:
Balance transfer fee
Foreign transaction fee
Cash advance fee
Returned check fee
Credit limit increase fee
Account opening fee
The second box is even easier to check off. You can depend on your credit card to work at any merchant that accepts your credit card network — as long as you have available credit on your card account.
Your credit card processing network is the logo that's featured on the front or back of your card. The major payment networks are Visa, Mastercard, American Express, or Discover.

This is the company that processes your transactions and communicates with your card's issuing bank to complete the funds transfer from the bank to the Merchant. In the case of Discover, the processing network is also the bank. American Express also issues its own cards, but it also partners with banks to issue cards that work on the Amex payment network, in which case Amex is not the issuing bank. 
Just about every merchant that accepts credit cards will accept cards from these networks. You can feel comfortable that your card will be ready for action whenever you need it.
You can also consider store-specific credit cards that may only work with the brand that issues the card. This may be a retail card issued by a clothing store or other specialty retailer that limits card usage to that brand and its associated retailers.
These cards often have very relaxed acceptance standards and can also help you build your credit score. But they're limiting and may not provide you with the full-range credit that an everyday card will.
Regrets are a little harder to anticipate. The best way to avoid buyer's remorse with a credit card is to make sure you check off the first two boxes. This will help you avoid any hidden charges and won't leave you with a credit card that only works with specific merchants.
Which Rewards Card Options Accept Applicants With No Credit?
Several rewards cards will consider your application if you have no or limited credit.
When most people think of credit card rewards, they consider cash rewards, travel rewards, or points programs — such as the Chase Ultimate Rewards portal. 
But other perks beyond basic reward types can make your rewards card experience even better, such as: 
A statement credit that reimburses all or part of eligible purchases from your current balance
A 0% intro APR gives you a period of interest-free financing for several months after account opening
Bonus category options that offer additional rewards when you make purchases in specific categories
A 0% balance transfer that offers you a period after account opening in which you can transfer an existing balance to your new card to save on interest charges
Airport lounge access, travel insurance, free checked bags on certain flights, and other valuable travel benefits
$0 fraud liability on unauthorized purchases
Free credit scores
Some or all of these perks can be found with cards from American Express, Discover, Visa, and Mastercard, whether it's a personal or business card. 
While an annual fee card may provide more perks, you pay for those benefits through the yearly charge. When you maximize your perks and minimize your costs, you set yourself up for success over the life of your card account.
Once you work your way up the credit score ladder, you can focus on cards that provide excellent rewards, such as the Citi® Double Cash Card, the Blue Cash Card from American Express, or one of the Chase Sapphire cards.
What's The Difference Between a Secured Credit Card and an Unsecured Credit Card?
A secured credit card requires a refundable security deposit for approval, whereas an unsecured credit card does not. While a large upfront cost may not seem appealing for new credit card users, these cards do have their perks.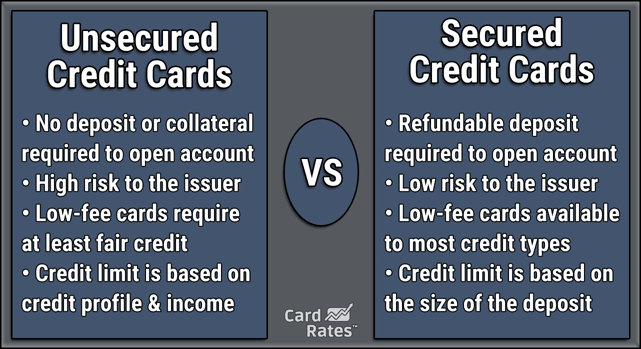 A secured card is a great tool for your first credit card because most of these cards will allow you to choose your credit limit based on the amount of your security deposit. 
While most cards designed for consumers with no credit history may only offer $500 or less in initial credit, you can raise your credit line into the four-figure range if you provide enough of a deposit when opening your account.
And you'll get a full refund of your deposit when you close your card account — as long as you have no balance or other debts associated with your card.
Secured cards work with online or in-person merchants that accept card payments just as unsecured cards do. These cards also report your payment and balance history to at least one credit bureau to help build your credit history.
Since your initial deposit secures your account against non-payment or default, you will likely have no trouble qualifying for a secured card — even if you have a very bad credit score.
When Is A Credit Card Annual Fee Worth The Cost?
You may want to consider an annual fee credit card if the perks the card provides exceed the cost of card membership.
For example, a travel rewards card that offers an annual statement credit to cover the cost of certain travel expenses can by itself offset your annual fee. Some travel cards may also reimburse the cost of TSA Precheck or Global Entry.
Your card may also have bonus category offerings that super-charge your cash rewards potential and make it easy to make money from your card.
Some cards may also offer a signup bonus that gives you additional cash back or other rewards if you meet certain spending thresholds within your first few months with the card.
Is Having No Credit The Same As Having Bad Credit?
Having no credit and having bad credit are two distinctly different things. But, unfortunately, some banks clump the two together for card qualification purposes.
You may regularly see credit cards or loans offered to consumers who have "bad credit or no credit." This unfairly punishes those who are simply new to the credit card industry.
Having no credit means you're credit invisible. It doesn't necessarily mean you've never had a credit card. 
Being credit invisible means you have no credit score generated under your name and Social Security number. This can happen if you've never had information reported to a credit bureau or if the information on file is too old. This is common for young adults.
Most lenders and credit card companies report your balance and payment history to at least one credit bureau every month. If there's no information to report, nothing will go on your credit report. 
Having bad credit means that you've made some financial mistakes in the past. These may include late payments, foreclosures, repossessions, charge-offs, or other negative credit report items.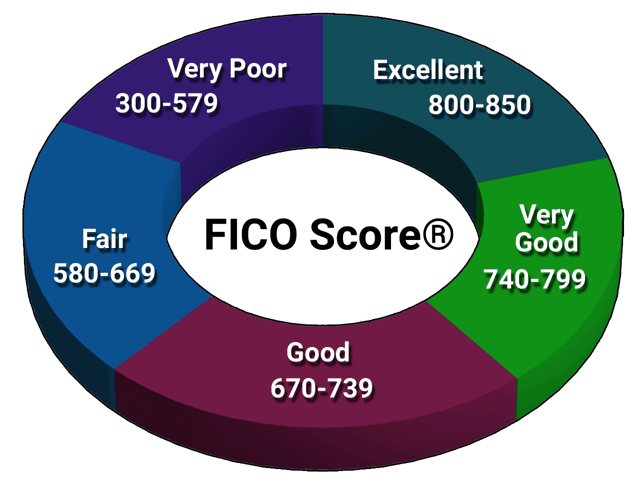 When a lender sees any of this information on your credit profile, it may consider you a higher risk and reject your loan application — or charge you higher interest rates and other fees to offset the risk.
Those who are credit invisible are still considered risky since the lender has no established credit history to base an eligibility decision. As a result, those new to credit may face the same higher interest rates and other charges as someone who has damaged credit.
While that may not seem fair, it's only a temporary hurdle. Establishing a good credit history from scratch may take less than six months of on-time payments and low balances. It takes much longer to repair bad credit than to establish good credit from the beginning.
How Do I Apply For My First Credit Card?
The internet makes it fast and easy to apply for a credit card — even if you've never applied for a card in the past. 
All of the cards listed above offer online applications that you can access through the links in each card description. An application typically takes less than five minutes to complete and should return a credit decision within seconds.
Each application will require you to provide basic identifying information that includes your:
Name
Address (physical and email)
Phone number
Social Security number
Employment information
Recurring bills
Income information
Once you submit that information, the bank will use automatic underwriting to make a near-instant credit decision.
If you're approved, the bank will reveal your account information — including your account number and credit line. You'll also have the opportunity to create an online profile to manage your account and scheduling payments.
The bank will also start the process of printing your card. You should receive it in the mail within seven to 10 business days and can begin using it as soon as you activate the card online or over the phone.
If the bank rejects your application, you'll receive an adverse action notice in the mail within seven to 10 business days. This brief letter will outline the reasons why your application was not approved.
While you can apply for another card right away — whether you're approved or not — you may want to consider limiting your credit card applications until you establish a credit history.
Do I Have to Be Enrolled at a University to Get a Student Credit Card?
Most credit card issuers require that student credit card applicants prove they are enrolled in some form of higher education before they are approved for a card. But that doesn't have to be a university or four-year college program.
Many banks advertise their student credit cards as great starter card options for enrollees of universities, community colleges, trade schools, or other secondary education institutions.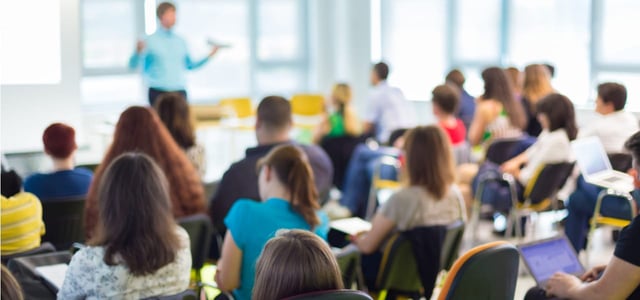 A bank may require you to reconfirm your enrollment periodically (every two or four years), but some will allow you to keep your student card for as long as you like — even after graduation.
These cards often provide great perks for younger consumers but aren't as valuable once you're more established. 
While you may be comfortable keeping the same card in your wallet for several years, you should consider other rewards card options once you have a steady income and a good credit history. New card offers hit the market all the time, one of which may better suit your spending.
Can I Get A Credit Card With No Fees At All?
Credit cards charge fees. That's how they make money. Without your fee money, there would be no bank or credit card options on the market. 
While you can often find a card that doesn't charge an annual fee (see the list above), other fees will still be attached to this card account, including:
Interest rate charges when you carry a balance from month to month
A late payment fee when you submit your payment after the stated due date
A balance transfer fee if you attempt to move an existing balance from an old credit card to your new account
A cash advance fee if you attempt to withdraw cash from an ATM or bank teller window using your credit card
An overdraft fee if you charge beyond your card's credit limit (if the bank allows such transaction)
A foreign transaction fee if you conduct transactions in a currency other than your own.
You may find other fees associated with your account, but you can avoid many of them with responsible behavior. You can avoid a late fee by scheduling your payments ahead of time or enrolling in an automatic payment program that deducts your payment from a linked bank account on the same day each month.
You can also avoid overdraft fees by managing your balance and not overspending. Cash advance and balance transfer fees only happen if you conduct certain transactions, which makes them easily avoidable.
You can avoid interest by paying your balance in full each month and not carrying any debt over to the next billing cycle.
So while it's impossible to find a credit card with no fees at all, it's possible to avoid most fees and enjoy free financing on your everyday purchases.
Can I Have More Than One Credit Card In My Name?
No rule limits how many credit cards you can have in your name. But that doesn't mean you'll qualify for as many credit cards as you wish.
Every time you submit a credit card application, you ask a bank for a loan. As with a traditional auto loan or personal loan, the bank can use any information it collects.
This means you may qualify for one credit card or 20. Many consumers maintain multiple credit card accounts so they can take advantage of different signup bonuses or rewards offers.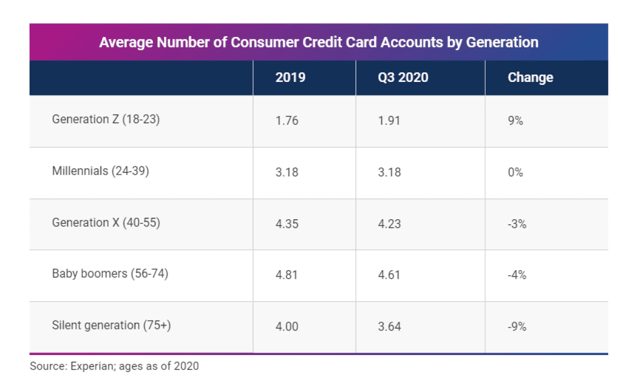 Just remember that every time you apply for a credit card, the issuing bank will require access to your credit history. Every time you grant access to your credit report, you'll add a hard inquiry to your history. This will stay on file for at least two years.
A few inquiries aren't a big deal, but if you accrue several within a short period, you could appear to be desperate for money, and lenders may see you as a greater risk. An abundance of inquiries can also temporarily lower your credit score.
What Happens If I'm Rejected For a Credit Card?
A credit card rejection can be embarrassing or cause a blow to your ego, but it doesn't have to impact your credit history.
When a bank declines your request for credit, you'll receive an adverse action notice in the mail within seven to 10 days. This brief letter will outline the bank's reasons for rejecting your application.
Nothing on your credit report will reflect the rejection, though you may have a hard inquiry on your credit report for up to two years that shows that you agreed to let a bank or lender access your credit report.
So while a rejected application may hurt your feelings, it won't necessarily hurt your credit score. Instead of taking it personally, accept it as a challenge to improve your finances and eventually qualify for an even better credit card.
Will A Credit Card Help Me Build Credit?
A credit card is a great way to build or rebuild your credit score. For that to happen, though, you'll need to make only on-time payments and maintain a low balance.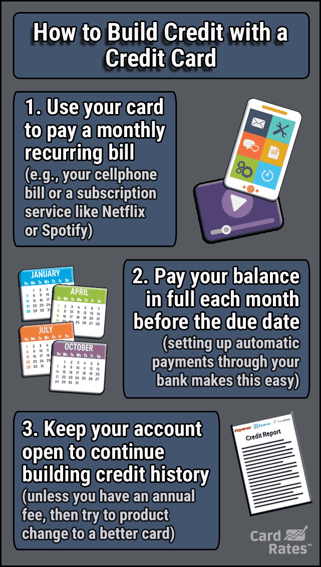 Your credit card issuer will report your payment and balance history to at least one credit bureau every month. This information forms your credit history and is used to calculate your credit score.
As you may expect, positive data, including a low balance and on-time payments, will improve your credit score over time. Negative data, such as a charge-off, late payment, or even a high balance, can lower your credit score.
If you have bad credit, timely credit card payments will help move negative items lower on your credit history helping to rebuild your credit score. Credit bureaus always give more weight to more recent information over older data.
So by adding only positive information to your credit report, you'll eventually push previous reports further down your credit history and reestablish yourself as less of a financial risk. 
What Credit Limit Will I Receive?
The credit limit on your new credit card will vary based on your credit score and the bank that issues your card. Your credit limit will vary depending on whether you have a secured or an unsecured credit card.
Most credit cards for no or limited credit offer lower initial credit limits until you can prove your financial responsibility with on-time payments and by not over-spending. 
Each card has a maximum credit limit allowable for new cardholders, and some may start every cardmember with the same credit limit.
The average maximum starting credit limit for the cards listed above will range between $200 and $500. 
But you can essentially choose your credit limit when you have a secured credit card. Most secured cards base your initial credit line on the amount of the refundable security you pay to the bank when you open your account.
While the bank may still have a maximum deposit amount allowable, those numbers usually stretch into the five figures. 
The best credit card for you will depend on your spending needs. You're more likely to find an unsecured card that offers rewards for eligible purchases, but you may find those purchases limited by smaller initial credit limits. 
With a secured card, you can expand your buying power to make larger purchases, pay bills, or do anything else that requires access to credit.
Can I Use A Credit Card Before I Receive It?
Maybe, it just depends on which card you're approved for. Some credit card companies allow you to use your new credit line before your card arrives in the mail, including most American Express and Chase cards.
Capital One only allows instant use if you already have another card with them, and Bank of America only allows instant use if you sign up and are approved for a card through its mobile app. Each issuer takes a different stance on the matter.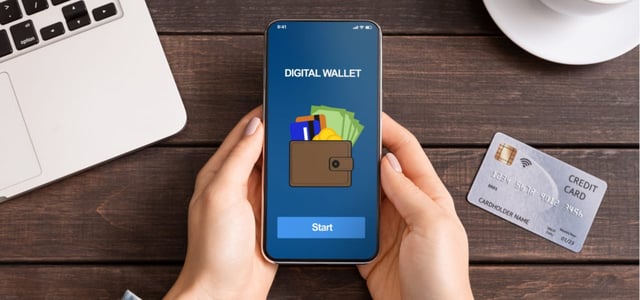 You'll still need to activate your new card over the phone or online once you receive it. 
In the meantime, you can set up an online profile to manage your card account, make payments, and track spending. 
Find The Best Credit Cards For Beginners With No Annual Fee Online
Applying for your first credit card is sometimes a nerve-wracking process. You want to make sure you're getting the best deal possible but not overpaying for the privilege of credit. An annual fee card can sometimes make this process seem far more expensive than it should be.
That's why we suggest you choose between one of the best credit cards for beginners with no annual fee. These cards can still offer you perks, help you build your credit history, and pave the way toward upgrades to more lucrative cards in the future.
Advertiser Disclosure
CardRates.com is a free online resource that offers valuable content and comparison services to users. To keep this resource 100% free, we receive compensation for referrals for many of the offers listed on the site. Along with key review factors, this compensation may impact how and where products appear across CardRates.com (including, for example, the order in which they appear). CardRates.com does not include the entire universe of available offers. Editorial opinions expressed on the site are strictly our own and are not provided, endorsed, or approved by advertisers.