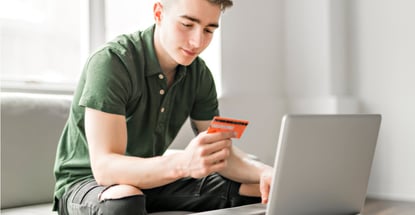 The best first credit cards can get you started on your credit-building journey and help set you up for a fruitful future.
The cards listed below not only consider applications from credit newcomers, but they also may allow you to upgrade your card over time as your credit score improves. With these upgrades, you can access more lucrative rewards, better interest rates, and other perks.
Each card reports your payment and balance history to the major credit bureaus — which helps you build your credit history with responsible credit management.
Unsecured Cards | Secured Cards | Student Cards 
Best Unsecured Credit Cards for Building Credit
An unsecured credit card doesn't require a deposit for approval. Some cards may charge an annual fee once you activate your account, but you won't need collateral or a security deposit for your new credit card.
Some unsecured credit cards for new credit users will start out with a lower credit limit until the cardholder can prove he or she can responsibly manage credit. Many banks — especially Capital One — will provide frequent credit line increases if you keep your balance low and consistently make on-time payments.
No annual or hidden fees. See if you're approved in seconds
Be automatically considered for a higher credit line in as little as 6 months
Help build your credit through responsible use of a card like this
Enjoy peace of mind with $0 Fraud Liability so that you won't be responsible for unauthorized charges
Monitor your credit score with CreditWise from Capital One. It's free for everyone
Get access to your account 24 hours a day, 7 days a week with online banking from your desktop or smartphone, with Capital One's mobile app
The Capital One Platinum Credit Card is perhaps the best starter credit card of all because it offers great value now and promises even more value in the future as you improve your credit score and earn card upgrades.
This Platinum offering includes a competitive interest rate and reliable security. Capital One also monitors all of its accounts and will check to see whether you qualify for a credit limit increase after only six months with the card.
Earn unlimited 1.5% cash back on every purchase, every day
No rotating categories or limits to how much you can earn, and cash back doesn't expire for the life of the account. It's that simple
Be automatically considered for a higher credit line in as little as 6 months
Enjoy peace of mind with $0 Fraud Liability so that you won't be responsible for unauthorized charges
Help strengthen your credit for the future with responsible card use
Earn unlimited 5% cash back on hotels and rental cars booked through Capital One Travel, where you'll get Capital One's best prices on thousands of trip options. Terms apply
For a small annual fee, the Capital One QuicksilverOne Cash Rewards Credit Card offers the same perks as the Platinum sibling above, but with cash back rewards for every eligible purchase that can make this card even more valuable to your wallet.
You can recoup your annual fee through cash back earnings by charging at least $2,600 per year — or $217 per month. Just make sure that you don't carry a balance from month to month because the finance charges will quickly negate your earnings.
The Surge Mastercard® potentially offers one of the highest unsecured credit limits on this list, but it also comes with a higher interest rate that can quickly add to your debt if you don't pay your balance in full each month.
You can also attempt to prequalify for this card through the issuer's website on the "apply now" link. The prequalifying form will not impact your credit score and can give you a better idea of your approval chances before you officially apply for the card.
Best Secured Credit Cards for Building Credit
A secured credit card requires a refundable security deposit for approval. The amount of your deposit is typically equal to your card's credit limit. Many secured cards charge lower fees and interest rates than their unsecured siblings.
The bank that issued your card will refund your security deposit when you cancel your account as long as you do not have an outstanding balance on your card. A secured card will also help you build credit by reporting your monthly payments and balances to the credit bureaus.
The Capital One Platinum Secured Credit Card is a rarity in the secured card space because it uses your credit history to determine your required deposit amount. Depending on your creditworthiness, you may only pay a fraction of your actual credit limit to secure your card account.
Capital One also monitors accounts and may increase your credit limit — with no additional deposit needed — after as few as six months if you keep your balance low and make only on-time payments.
Very few secured credit card offerings provide cash back opportunities for everyday purchases, and the Bank of America® Customized Cash Rewards Secured Credit Card may do it the best. This includes an unlimited, flat-rate rewards rate on all purchases and an elevated rate when you shop within a category of your choice.
As with most secured cards, the BoA card lets you set your credit limit based on the amount of your refundable security deposit. Deposits can range between $300 and $4,900 with no annual fee and a very competitive interest rate included.
The Savings Secured Platinum Rewards Credit Card from State Department Federal Credit Union (SDFCU) awards cardholders with Flexpoints Rewards for every dollar charged to the card. Cardholders can redeem points for gift cards, merchandise, and hotel and airline rewards at no extra charge.
This card has a low ongoing APR and a 25-day grace period that makes it an ideal choice for anyone who tends to carry a balance from month to month. You must have an SDFCU account to qualify, but you can apply for a bank account and card account at the same time.
Best Student Credit Cards for Building Credit
The following cards are unsecured credit cards for students, which means you must prove your enrollment at a higher-learning institution to qualify. These cards come with some of the best rewards and perks for credit applicants with little to no credit history.
The Journey Student Rewards from Capital One lets cardholders earn a flat and unlimited cash back rate on everyday purchases while helping them build credit and work toward a card upgrade after graduation.
Cardholders can also access the bank's award-winning mobile application that makes account management easy and fast.
You must maintain a Bank of America checking account or savings account to apply for the Bank of America® Customized Cash Rewards Credit Card for Students, but the perks are worth maintaining the account. This card has a competitive interest rate and offers a promotional APR of 0% for 18 billing cycles for new cardholders.
You can redeem your cash back rewards as statement credits, deposits to a Bank of America checking or savings account, or as credit to an eligible 529 account with Merrill.
The Bank of America® Travel Rewards Credit Card for Students offers all of the perks associated with the cash back rewards card listed above. The main difference is that you will earn bonus points instead of cash back.
These points can be redeemed for statement credits to pay for flights, hotels, vacation packages, cruises, rental cars, or baggage fees. This is a great option for students who frequently travel, but we generally think you can get more value from the cash back card above because it doesn't limit how your rewards can be used.
How Do I Get My First Credit Card?
Credit cards may seem confusing if you don't have experience with them. But these small rectangular pieces of plastic or metal are as important to your financial health as the dollar bills folded into your wallet.
That's why it's important to learn as much as you can about credit cards before you add one to your wallet. One mistake can harm your credit score or create debt that takes a long time to pay off.
If you're ready to apply for your first credit card, you can do so by choosing a card you like and heading to the card issuer's website. If you've chosen a card from the list at the top of this page, you can click on the "Apply Now" button in the card description to get started.
This will take you to the card's application page. Here, you'll fill out a short form that takes only a few minutes to complete. This form will require basic identifying information — such as your name, address, phone number, email address, and Social Security number.
You will also need to provide your employment and income information so the bank can determine how much debt you can realistically afford to repay. This plays a big part in calculating your eligibility and credit limit.
Once you complete the application and submit the form, the bank will use its automated underwriting software to run a credit check and make a credit decision. This typically takes fewer than 60 seconds.
The application page will eventually refresh with the bank's final verdict. If it approves your application, you will see a screen that will detail your account information and spending limit. The bank will then begin the process of printing and shipping your card. You should receive it in the mail within seven to 10 business days.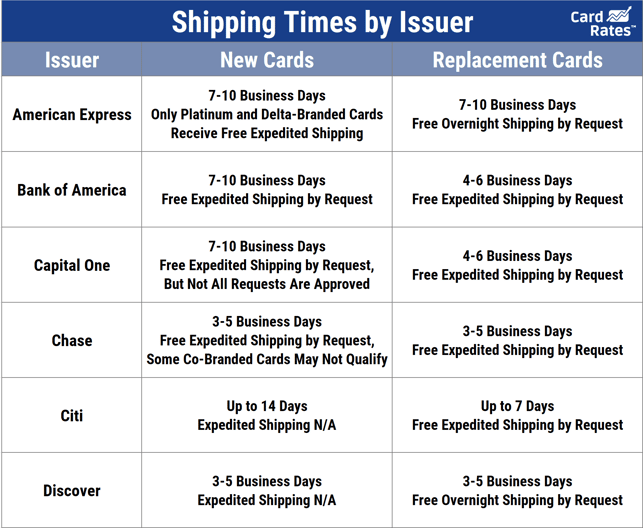 Once it arrives, you can activate the card over the phone or online and begin using it immediately.
If your application is rejected, the bank must send you an adverse action notice in the mail that details its reasoning for the rejection. Some notices will also give you some tips on what to work on to improve your chances of approval should you decide to apply again in the future.
You should receive this letter within seven to 10 business days after you submit your application.
In some instances, the bank's automated underwriting system will require more information to make a decision. This system may also flag your application and require a customer service representative to manually double-check the form.
This is not always a bad thing. Perhaps your address did not match what's listed on your credit report or the bank needs to confirm your income information. Whatever the case may be, the application page will be updated with a list of what the bank requires to make a decision — be it paperwork from you or more time to consider your application.
What is the Best Credit Card to Start With?
They say that every journey starts with a first step. But that first step is a lot easier if you're wearing comfortable shoes that will last throughout your journey.
The same goes for credit cards. If you start with a credit card that you will outgrow within a year or two — and one that does not offer a new card to upgrade to — you'll be stuck searching and applying for a new card every year or two.
That's why a Capital One card sits atop all three of the above lists for the best first credit cards. For years, Capital One has maintained one of the largest credit card portfolios in the industry.
Whether you need a starter credit card (Capital One Platinum Credit Card), a secured credit card (Capital One Platinum Secured Credit Card), a student card (Journey Student Rewards from Capital One), a travel rewards card (Capital One Venture Rewards Credit Card), or a high-end cash back credit card (Capital One Quicksilver Cash Rewards Credit Card), this bank has you covered.
This diverse selection of cards means you can start with an entry-level credit card and work your way up to the card of your dreams as your credit score improves over time.
Capital One even offers a full suite of business credit card options that can help to grow your operations and give you access to capital when you need it most.
Capital One also makes it easy to apply for one of its credit cards. You can even see whether you prequalify for a card by filling out a short form that will run a soft credit pull and will not impact your credit score. Within seconds, you can get a better idea of your chances of qualifying for a card if you decide to formally apply.
The popular bank also has an automatic credit limit increase program that provides regular account monitoring that can lead to a credit line increase when your account and credit score qualifies for the boost.
When you're eligible, Capital One will automatically increase your spending limit and send you a notification. You won't have to pay any added fees for this benefit and you can earn more than one credit limit increase over time.
What Do You Need to Qualify For a Starter Credit Card?
A credit card company looks at several factors to determine your eligibility for a credit card. This can include your credit score, previous financial history, current income, total debt load, and other factors.
A common misconception is that your credit score is the sole determining factor in your success or failure when applying for a card. There is no minimum credit score requirement that you need to pass for automatic approval.
For instance, someone may have a good credit score but not enough income to support adding more debt. In this case, his or her application would likely be denied.
Different credit card tiers are designed for specific consumers. These can include cards for excellent credit, cards for bad credit, and everything else in between. It's important to only apply for a credit card that's within your credit score range.
For example, someone who has fair credit would have little success when applying for a card that's meant for someone who has excellent credit.
In addition to your credit score, lenders will also want detailed information about your employment and income. A credit card is a form of a loan, and no bank wants to lend money to someone who cannot afford to pay it back.
Be honest about your income on your application because a bank may ask you to prove the numbers you submit. Don't assume that a low income will keep you from getting a credit card. A credit card company will still consider your application and approve you with a lower credit limit.
Over time, you can earn credit line increases with responsible use.
You will also likely need a Social Security number for approval. Very few banks provide credit cards for individuals who do not have a Social Security number because they are required by law to request official identifying documents from consumers applying for a credit card, debit card, or prepaid card.
If you do not have a Social Security number, some banks will accept an Individual Taxpayer Identification Number (or ITIN). You can apply for an ITIN if you do not have — or do not qualify for — a Social Security number.
What Should I Look For in a Starter Credit Card?
A starter card's primary purpose is to help you build credit — and it's nice if the card doesn't charge you an arm and a leg for the privilege.
If you're totally new to credit, here's what you should consider before choosing a card:
Consider cards from well-established banks with a long record of success for your first credit card. Larger financial institutions have more extensive customer support centers with staff agents who are patient and able to help you better understand your account. This will help ease some of the growing pains you may experience as you get your financial feet wet.
What is the Easiest First Credit Card to Get?
There are two main types of credit cards — a secured credit card and an unsecured credit card. A secured card is generally easier to get approved for, but that doesn't necessarily mean it's the right type of card for you.
These credit cards require a refundable deposit for account activation and may not even require a credit check for approval. Think of this as you would a security deposit when you rent an apartment. Your new landlord will hold onto this money until you move out. If you don't damage the home, you'll get your money back. If you do, the property owner will keep the money to cover the repair costs.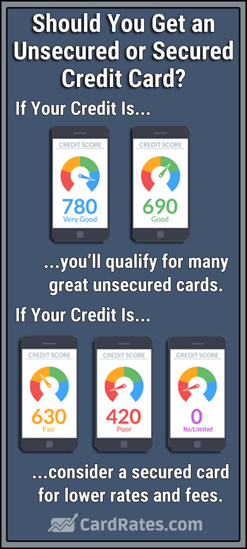 The same goes for your secured card deposit. If you cancel your account with no outstanding debts, the bank will send you a full refund of your deposit. If you owe the bank money when you cancel your account, it will subtract that debt from your deposit and send you any overage that may remain.
A bonus with secured cards is that you can essentially choose your own credit limit based on the amount of your deposit. For example, a $500 deposit will net you a card with a $500 credit line. Some cards have very low minimum deposit requirements of around $200. You may be able to make a deposit of as much as $5,000 with other cards.
Since your deposit acts as security for your account, you may qualify for a card with few hurdles. Some cards won't require a credit check and those that do have very relaxed approval standards.
Just remember that your deposit does not serve as payment. You will still need to pay all of the debts you incur using your card. So if you place a $1,000 security deposit to get a card with a $1,000 spending limit, and you charge $400 as soon as you get the card, you will have to pay that $400 off when your bill is due.
If a secured card — or at least the security deposit — isn't attractive to you, consider the Capital One Platinum Credit Card. This card is designed for consumers who have fair credit — meaning that their credit score falls in the 580 to 669 range (your FICO score can range between 300 and 850).
This is a perfect starter card because it has a very transparent fee structure and offers a path toward earning credit limit increases and future upgrades to more lucrative cards in the Capital One portfolio. And, since the card doesn't charge an annual fee, you don't have to worry about upfront costs to add it to your wallet.
Keep in mind that you cannot set your credit limit with an unsecured card like you can with a secured card. This means you may start with a lower credit line until you can prove your creditworthiness and start building your credit score.
What is the Best First Credit Card For Students?
The Journey Student Rewards from Capital One proves that Capital One is not only one of the best consumer credit card issuers, but it's also a top choice for students and those who are just starting out in the credit world.
This card does away with most of the pesky fees you see associated with other credit cards for fair credit or for students and replaces those charges with a flat cash back rewards rate that pays you.
Earn 1% cash back on all your purchases. Pay on time to boost your cash back to a total of 1.25% for that month
Enjoy peace of mind with $0 Fraud Liability so that you won't be responsible for unauthorized charges
Enjoy no annual fee, foreign transaction fees, or hidden fees
Lock your card in the Capital One Mobile app if it's misplaced, lost or stolen
Earn up to $500 a year by referring friends and family when they're approved for a Capital One credit card
Pick the monthly due date that works best for you
Just keep in mind that, as with many cards for consumers with limited credit, this offering comes with a higher-than-average interest rate. If you're planning on carrying a balance from month to month, this may not be the best card for you — and those finance charges will quickly eat up any cash back you earn with the card.
This card also comes with all the perks associated with Capital One credit cards. These include automatic account monitoring that can lead to credit limit increases after six months with the card and access to the award-winning Capital One mobile application to manage your account and monitor charges.
You'll also get free access to the bank's CreditWise® application that allows you to monitor your credit score and track your progress as you build your credit profile. And if your card is ever lost or stolen, you're covered with $0 fraud liability on any purchases you didn't make.
You'll also enjoy reporting to all three credit bureaus to help build your credit score faster. And after graduation, when you've already built your credit score up, you may qualify for a card upgrade to one of the more lucrative rewards cards in the Capital One portfolio.
If you're an international student who is traveling to the U.S. for school, you may want to consider the Deserve® EDU Mastercard.
This card does not have the Social Security number requirement that other credit cards have, which makes it more attainable for international students or others who do not qualify for a SSN. This offering provides cash back rewards and throws in a free year of Amazon Prime Student as a bonus when you charge at least $500 to your card within your first three billing cycles.
What is the Fastest Way to Build Credit?
When you're just starting out, it's easy to get excited — and a bit impatient — about building a good credit score. But just remember that great credit doesn't happen overnight.
A good credit score tells banks that you reliably make your monthly payments and manage your debts responsibly. You can't create that sort of track record overnight.
But you can do some small things to immediately set the table for larger growth to your credit score down the road.
Make all your payments on time: Few things can sink your credit score faster than late payments. A late payment is reported to each credit bureau as 30 days late, 60 days late, or 90 or more days late. The longer you go without making your payment, the more damage you do to your credit profile. You need to be at least 30 days late with your payment for it to report to the credit bureau. If money is tight, just make the minimum monthly payment. Your credit score doesn't care how much you paid — only that you paid it on time. Remember that this isn't only for credit cards. It also applies to student loans and any other debt-based bills you have.
Keep your balances low: Approximately 30% of your FICO credit score is determined by how much debt you have. The more you owe, the lower your score. This plays into your credit utilization rate. You can calculate your credit utilization by dividing the balance on all your credit cards by the total combined spending limits on those cards. For example, a card with a $1,000 credit line and a $500 balance has a 50% credit utilization rate. In other words, it's using 50% of its available credit. The higher your utilization, the lower your credit score. Keep your utilization ratio below 30% to maximize your financial potential. The lower the better.
Don't apply for too much credit: Every time a lender runs a credit check under your name, a hard inquiry is left behind on your credit report. Each inquiry lives on your credit file for two years. A few inquiries are fine. But once you get above three, lenders may flag your application as someone who is desperate for money. Too many inquiries can also cause a slight dip in your credit score. Only apply for a credit card or loan when you truly need it.
While these methods won't pile points onto your score overnight, they will ensure that you'll build a positive credit history. That will help to improve your score every month and make it easier to make larger gains after graduation when you start to add more loans and credit to your financial toolbox.
How Can I Build My Credit at 18?
Just like the saying, "You can't win if you don't play the game," you can't build credit without credit.
That means choosing one of the best first credit cards to add to your wallet. Depending on your financial situation and income, you may qualify for one of the cards listed above that work specifically with consumers who have no or limited credit.
You can attempt to prequalify for a card using the form on each issuer's website. This is not a formal application, but rather a short request the bank uses to pull a modified version of your credit report to see whether you qualify for the card.
This does not place an inquiry on your credit report and will not harm your credit score. Even better — it will give you a better idea of your approval odds if you decide to formally apply.
Once you get your credit card, you can build credit with responsible behavior. Many credit newcomers think that they must place a lot of charges on their starter card to build credit. That isn't the case.
The best thing you can do is to pay your balance on time and in full each month. Keep your balance at $0 and resist the temptation to make unnecessary charges on your card.
Your credit score reflects your financial responsibility. That means not going overboard with charges or being late with your payments. If you fulfill your obligations and don't go overboard, you'll start to see positive growth in your credit score within a few months.
That growth will continue as you keep adding positive items to your credit file each month. Just remember that one small mistake — such as a late payment — can undo all of your progress overnight.
Can You Get a Credit Card With No Income?
Credit card issuers look to avoid risk as much as possible and will not extend credit to someone who cannot repay their debt.
With that said, there's a big difference between having no job and having no income. If you're unemployed, you may still be able to qualify for a credit card. If you have absolutely no money coming in at all, a bank will likely deny your application.
But before you give up your search for a credit card, remember that income is not limited to money earned through a traditional job. Most banks consider income as any money that you receive in regular installments. This can include:
Government benefits
Disability benefits
Retirement benefits
Social Security benefits
Unemployment checks
Investment returns
Alimony
Child support
Structured Settlement payments
Annuity payments
Student Loans
Also, if you're over 21, the Credit Card Accountability Responsibility And Disclosure Act Of 2009 states that your application can include any household income to which you have a "reasonable expectation of access." This includes a spouse or partner's income as well as sources of nonwage income such as those listed above.
In other words, a credit card issuer will not penalize you for not having a job — as long as you can prove that you can pay your debts each month through some source of regular income.
How Many Credit Cards Should You Have?
There's no rule or law that caps how many credit cards someone can have. A general rule of thumb is to limit your credit access to the amount you can comfortably afford to repay each month.
That number will vary for everyone. After all, someone who makes six figures each year can likely afford to take on more debt than someone who makes $30,000 a year. But you may want to add more than one credit card to your wallet for several reasons. The average American has four credit cards.
Many consumers sign up for new cards to take advantage of introductory promotions that can pay out generous sums of cash back or rewards points when they meet certain spending thresholds within their first three months with the card. Other cards provide a reduced interest rate for a set period after card activation, such as a 0% APR on new purchases for 12 months.
And some consumers open an extra credit card to take advantage of balance transfer promotions that allow them to move debt from an existing credit card to a new card with a reduced interest rate to help them repay the debt faster.
If you only use your card for everyday purchases, you may opt to open a new account if you qualify for a card with a better interest rate. You can also add more cards to your financial portfolio to increase your total amount of available credit — consequently improving your credit utilization rate.
Or maybe you want to broaden your rewards horizons and add a travel rewards card to your collection of cash back and bonus points cards.
Whatever your reasoning, there's no harm in having multiple credit cards. Just make sure that you do not build balances on those cards and begin a debt cycle that could take years to escape. Plus, if you have multiple credit cards that each charge an annual fee for membership, you can expect to incur a hefty bill to keep several cards active. That expense may not be worth the benefits.
Should I Get a Student Credit Card or a Regular Credit Card?
Just like college, credit is less about where you are than it is about where you want to go.
When deciding which credit card is best for you, always consider your current financial situation and your future goals. That may mean choosing a card that fits your current budget but that allows you to expand and upgrade in the future.
A student credit card is a great way to get your feet wet in the credit world. These cards often have relaxed approval standards, realistic credit limits, low fees, and added perks such as cellphone insurance, access to Amazon Prime Student programs, or statement credits when you charge eligible streaming service subscriptions to your card.
Many banks also have a very broad definition of the term student. You may qualify for a student credit card if you're a recent graduate or currently enrolled as a full- or part-time student at any college or trade school.
After you graduate, the bank will usually convert your account to a different card. That's why you should stick with a student credit card from a bank that issues many different types of cards. This can help you easily move into a lucrative rewards card, such as two of our favorite cards, the Chase Freedom Unlimited® or the Citi® Double Cash Card.
Can I Keep My Student Credit Card After I Graduate?
When you sign up for a student credit card, the bank may require proof that you're currently enrolled in an eligible educational program. This may include a copy of your recent schedule, grades, or a school transcript.
Some cards will require you to reconfirm your student status every year or two — though not every card is as strict with this procedure. Most banks will allow you to keep your card for as long as you like, as long as you pay your debts on time and keep your account in good standing.
While that may be convenient, it's not always the most sensible choice to make.
Some student credit cards provide a host of rewards, but if you used the card responsibly while you were in school, you can likely find far more lucrative offerings in the consumer credit card space. If you've graduated from school, grown your credit score, and have a reliable income, you may qualify for one of these cards.
You can contact the bank and attempt to upgrade your account to another rewards credit card within its portfolio or find another card you like from a different credit card issuer. Quite often, you can instantly qualify for an upgrade if you go into your account portal and update your employment status and income information.
When the bank notices that you can afford to take on more credit, it will likely upgrade your account automatically or increase your credit limits to reflect your change in status.
Which Credit Card Builds Credit the Fastest?
If you're in credit-building mode, you want to stick to credit cards that report to all three major credit reporting bureaus.
There are three major credit reporting bureaus — TransUnion, Experian, and Equifax. You have a different credit score with all three bureaus since not every lender will report to each bureau.
Let's say you have a credit card that only reports to TransUnion. Your on-time payments and low balance will help to improve your credit score with that bureau. Now let's say you attempt to apply for a car loan with a dealer that pulls your Equifax credit score. Your credit card history will not be reflected on that credit report and may mean you won't qualify for a loan.
Unfortunately, you can rarely tell which credit bureau a lender will use to run your credit unless you ask. You can, though, get an idea of which bureau — or bureaus — a lender will report to.
Many small credit card issuers only report to one or two bureaus. That's yet another reason why you should consider sticking to bigger banks when selecting your first credit card.
Larger banks, including Capital One, Citi, Bank of America, and Chase, all report to the big three credit bureaus. This ensures that your responsible behavior will work on your behalf to build a positive credit history across the board.
These banks also provide a reliable path toward upgrading to better cards as your credit score and ability to take on more debt increases. These cards often provide generous rewards, fewer fees, and a better interest rate.
Is No Credit the Same as Bad Credit?
There's a substantial difference between having bad credit and no credit. Unfortunately, most credit card issuers still clump these two types of consumers together.
Having bad credit means that you've made financial mistakes in the past. That may mean a history of late payments, loan defaults, bankruptcy, or foreclosures.
Having no credit means that you are credit invisible and do not have enough recent information on your credit report to generate a reliable credit score. It doesn't mean you've made mistakes, it just shows that you're too new to have a reputation — either good or bad.
In their attempt to avoid risk, banks often group together people who have no credit and those who have bad credit and call them subprime borrowers. These are people who post a higher-than-average risk of default. As a result, these borrowers will likely only qualify for loans that have a higher interest rate and increased fees that offset the risk the banks take on.
While that may seem unfair, those who have no credit have an advantage over those who have bad credit. Since you don't have to overcome previous negative items on your credit history, you can build your credit score faster with responsible behavior.
In most cases, a low balance and on-time payments can help you develop a reliable credit score within three to six months. Depending on the severity of the negative items on your credit report, it could take substantially longer to see improvement if you're starting out with bad credit.
Do Credit Card Issuers Check Your Income?
A credit card company will not check your income at the time of your application since that data doesn't show up on your credit profile. But the bank does reserve the right to check your income — or request supporting documents to verify your income — if it chooses to do so.
This may happen if you submit a very large income number on your credit application. You may also raise a red flag if you have an existing credit card account and update your income information with a number that is substantially greater than what you previously reported.
In most cases, your income is only one factor a bank looks at when considering your credit application. Even if you make a great deal of money, you may still be rejected if you have substantial existing debt or a history of late payments or defaults.
On the other hand, you can still qualify for a credit card if you have a low income and a track record of responsible financial behavior.
Our best advice is to be honest with your income information when applying for a credit card. Although you may think that adding an extra zero to your income will move you to the head of the approval line, it may only cause more headaches for you if the bank wants you to prove your claim.
And remember that income is not limited only to a salary from employment. As stated above, you can include income from many different regularly occurring sources, including government benefits, Social Security, retirement accounts, lawsuit settlements, alimony, child support, or student aid.
Does Getting Denied For a Credit Card Hurt Your Credit Score?
Whenever you apply for credit — be it a credit card or loan — the lender will place a hard inquiry on your credit report to get access to your profile. This inquiry only shows that the lender had permission to view your credit history.
The inquiry will not show what your requested loan was for or how much money you required. It also will not show if your request was accepted or denied.
As a result, a denied credit application will not impact your credit score. That said, you may experience some credit score damage if you have too many recent credit applications on your credit report.
Hard inquiries live on your credit report for two years. Lenders expect that most consumers will have a few inquiries on their credit report. But once you surpass three inquiries, you may experience a slight drop in your credit score due to excessive credit requests.
This isn't a permanent decrease and will only impact your score for a year. Just be aware that too many applications — whether approved or denied — can have a temporary impact on your ability to qualify for more credit in the future.
Compare the Best First Credit Cards For Building Credit
As you begin your credit-building journey, you should remain aware of where you are, but also keep your eyes focused on where you want to go. That means creating a good foundation for a solid credit score so you can achieve your future financial goals.
You can get a great start on your mission by choosing one of the best first credit cards listed above. These cards can serve as the comfortable shoes you need to walk along the path to your fruitful financial future.
Just remember to keep your balances low to avoid pesky finance charges and never miss a payment. If you follow those two simple rules, your credit score will grow faster than you think.
Advertiser Disclosure
CardRates.com is a free online resource that offers valuable content and comparison services to users. To keep this resource 100% free, we receive compensation for referrals for many of the offers listed on the site. Along with key review factors, this compensation may impact how and where products appear across CardRates.com (including, for example, the order in which they appear). CardRates.com does not include the entire universe of available offers. Editorial opinions expressed on the site are strictly our own and are not provided, endorsed, or approved by advertisers.