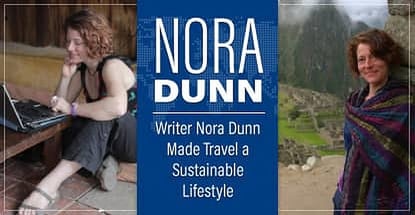 In a Nutshell: Over the last dozen years, former financial planner and travel enthusiast Nora Dunn (aka The Professional Hobo) has sustained her nomadic lifestyle by freelance writing and blogging about finance and travel. Through careful budgeting, a knack for travel hacking, and the judicious use of credit cards, Dunn has lived in and visited more than 55 countries. She has seen the world, experienced new cultures, survived natural disasters, and written about all of it. And through it all, the only constant is variability. Anyone can live a travel lifestyle, and they can do it however they want; Dunn is just one pathfinder trying to help everyone else discover their own way. //
In 2006, Nora Dunn — better known to her readers as The Professional Hobo — left her job running a financial planning firm in Toronto to live a life of adventure.
"I couldn't spend the next 30 years doing the same thing, waiting for a conventional retirement age, where I would then attempt to live out my real lifelong dreams," Dunn said. "And my long-term dreams were about culturally immersive, long-term travel."
Since then, Dunn has lived a financially sustainable travel lifestyle. She supports herself through her own blog, which is dedicated to her passion of globetrotting free living, and she has published three informational books on that topic. She also supplements her income through freelance writing for sites, like GOBankingRates and Creditwalk.ca, where she pens a column called "Dear Nora." She has also written on travel and finance for the Ingle International blog and for Wise Bread.

To date, Dunn has been itinerant for almost a dozen years, during which time she's visited and lived in more than 55 countries around the world.
"I've had the ability to do whatever I want, wherever I want," Dunn said. And as Robert Frost wrote, taking that path less traveled has made all the difference.
Staying Sustainable on the Road
Living a sustainable travel lifestyle has its challenges, not the least of which is finances.
"I have always been financially minded. It's ultimately why I became a financial planner — because I always had the kind of tendencies to manage my money very consciously," Dunn said. "So, it's definitely helped me along the way, and ideally, it's helped me help other people, as well."
Dunn says that there are two fundamental aspects to making the travel lifestyle financially sustainable. The first is income: "How much money are you making, how much money are you bringing in, and consequently, what's in your budget?"
The second, of course, is spending. "How much money are you spending, and are you spending within your means? As an entrepreneur who has been living on the road for the last 12 years, I have certainly learned the money that I make, and consequently the money that I spend, has varied greatly," Dunn said.
Obviously, careful budgeting is the foundation of living as a traveler. "I track everything," she said. "It's probably my biggest financial aid with regard to staying on budget."
Of course, there's no budget without an income, and Dunn knows a thing or two about how people can earn while traversing the globe.
"With regard to earning money, it really depends on your experience, your expertise, and the sort of things it is that you want to do — both careerwise and travelwise," Dunn said. "What you want to do to earn a living can vary greatly, and it's a world that is opening up — exponentially so — every day."
According to the report, Freelancing in America 2017 — commissioned by Upwork and the Freelancers Union and conducted by Edelman Intelligence — the majority of US workers will be freelancers by 2027. This means much more opportunity to find work without being tied to a permanent location.
"The US workforce will have the ability to be location independent and, consequently, if they want, digitally nomadic within the next few years," Dunn said. "A former group of lifestyle travelers is now becoming a bona fide demographic."
However, digital work isn't the only route lifestyle travelers can go to earn income. "There are so many different ways that people can live on the road. You don't have to actually earn money online in order to sustain yourself with a travel lifestyle," Dunn said. "There are all kinds of jobs that you can do along the way as you work on the ground, as it were."
But, on its own, an abundance of opportunity doesn't necessarily make travel financially sustainable. Luckily, Dunn's experience has provided her with some tips and tricks that help make travel a more viable lifestyle choice.
Spending, Saving, and Sticking to a Budget
Dunn is one of the original travel hackers — people who use financial shortcuts to save money while traveling.
"I believe the term was originally coined to incorporate strategies mostly around the use of frequent flyer miles," Dunn said. "So, you could fly in style for way less money than you would need if you paid cash for a ticket."
She offers the example of booking long-haul flights in business class for less than the cost of an economy ticket. "That would be a classic travel hack," said Dunn. This is one of her own strategies, which she's been using since her early days as a working nomad.
"Since then, people seem to use the term 'travel hacking' much more generally, and much more ambiguously," she added. "Now, travel hacking seems to be anything you can do to get a little more value for your money when you travel."
No matter how you do it, disciplined money management is crucial for sustainable travel. One of Dunn's key tools is using credit cards. "Credit cards are very useful to me in my full-time travel lifestyle for a few different reasons," she said, "one of which is, of course, I have hand-picked credit cards that will passively help me accumulate frequent flyer miles — which obviously help subsidize my cost of transportation."
Credit cards also help Dunn stick to a budget and increase the ease of international travel. "Using credit cards in general, whether I'm traveling or not, is a great tool for keeping good records of my expenses and for paying for things," she said. "Especially as a traveler, if I'm bouncing through a lot of different countries, I don't like to use cash. Because inevitably, when I leave that country, I've got coins or little bits of cash that I can't exchange."
In sum, credit cards help Dunn reduce expenses, mitigate the efforts involved in bookkeeping, and lets her bypass the line at the currency exchange. As a result, her smart travel tactics have freed up time for all manner of unlikely adventures.
The Rewards of Living as the Professional Hobo
When asked about the most rewarding aspect of living on the road, Dunn told us, "My travel lifestyle has changed 10 times over in as many years. I guess, in many ways, that's been one of the most rewarding aspects." For someone who values personal freedom and novelty, this is undoubtedly a major draw. But for Dunn, the benefits extend beyond the personal.
"I've had the good fortune to be a part of some very significant international fundraising and humanitarian efforts," she said, "one of which I kind of accidentally spearheaded in Thailand." She's referring to the relief fund she started for victims of Cyclone Nargis, which hit Burma in 2008. Dunn was across the border in Chiang Mai at the time, where she put her travel plans on hold and began fundraising.
"Another came as a result of me actually being caught in the middle of Australia's worst-ever natural disaster," Dunn said. "This was back in 2009."
That's the year the Black Saturday bushfires swept across Victoria, where Dunn found herself in the midst of the flames. She spent three weeks as a refugee, struggling to outmaneuver the fires while aiding others doing the same. "The ability to help was really very rewarding," she said. Dunn's journal of the experience is available on her website.
"I've also filmed two television shows in three countries," Dunn said. "That's been great fun."
But Dunn's greatest value has come from her immersion in world cultures. "I have the ability to say that I've lived around the world. That's probably the biggest thing," she said. "In the last 12 years, I've set up home bases in a variety of different countries that have allowed me to explore from there. I lived a couple of years in the Caribbean. I lived a year and a half in Australia, a year in New Zealand, a couple of years in Peru, a year in Ecuador."
This sort of journey is available only to the lifestyle traveler. "These have really been very culturally immersive and rewarding experiences that I would not have been able to take advantage of if I was simply taking a vacation," she said."
Taking the Plunge into Travel
Dunn told us many of her readers write to her asking how they can live the financially sustainable travel lifestyle. Others also voice concerns about whether this lifestyle is right for them. Dunn's advice for the latter is, "You'll know you're ready to do it when your soul tells you."
Dunn herself knew when she was done with her stationary life as a financial planner. "It dawned on me: I couldn't continue. I simply could not continue the way I was going," she said. "That, in itself, really helped me overcome the very natural fears that then arise when you do something unconventional, like selling everything you own to travel the world."
Once the prospective traveler works through this doubt and finds conviction on the other side, a world of possibilities are open to them. "The beautiful thing about travel as a lifestyle is it's absolutely different for everybody," Dunn said. "Some people like to travel quickly, and their theme is adventure travel. Other people's themes are house sitting. Others are volunteering. Some people just like to rent apartments and live cheaply in countries using the principles of currency arbitrage. Everyone has a different style."
As noted above, it's crucial for travelers to find employment and income options to support their chosen style if they choose to take this less-traveled path. For those who need some inspiration, Dunn's website features a series called Financial Case Studies. "It profiles the lives and finances and careers of people who travel full time," Dunn said. "I have almost 100 financial case studies, and every single one is incredibly different."
Dunn is quick to note that preferences and styles — including her own — can change over time. Luckily, something as inherently versatile as life on the road can easily accommodate these changes.
"That's the beauty of the travel lifestyle: there's no one answer. There are only vague guidelines," Dunn said. "And everybody can be a trailblazer if they want."
Advertiser Disclosure
CardRates.com is a free online resource that offers valuable content and comparison services to users. To keep this resource 100% free, we receive compensation for referrals for many of the offers listed on the site. Along with key review factors, this compensation may impact how and where products appear across CardRates.com (including, for example, the order in which they appear). CardRates.com does not include the entire universe of available offers. Editorial opinions expressed on the site are strictly our own and are not provided, endorsed, or approved by advertisers.