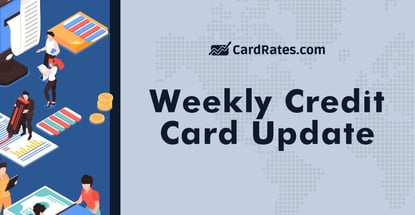 For media inquiries on these stories and more, contact credit card expert and industry analyst Bill Hardekopf at (205) 985-9725 or billh@cardrates.com.
1. Lenders Say Americans Are Ready to Use Their Credit Cards Again

Leading credit card lenders in the US are welcoming signs that customers are poised to increase their borrowings after paying down balances during the Covid-19 pandemic. Depositors are reducing the cash cushions they built up during the crisis with the help of government stimulus payments and debt forbearance programs.
Any increase in credit card borrowing would be good news for the banking industry, which has struggled to find profitable uses for the cash piling up on its balance sheets amid tepid loan demand. JPMorgan Chase, the biggest US bank by assets, said credit card users who were most likely to carry balances before the pandemic were now reducing their deposits at a faster clip than other customers, which could lead to faster loan growth.
• Story In: Financial Times
2. Justice Department Probes Visa's Relationships With Fintech Firms

The Justice Department is scrutinizing Visa's relationships with large financial-technology companies as part of its antitrust investigation of the card giant, according to people familiar with the matter. Antitrust investigators are looking into the financial incentives that Visa gave Square, Stripe and PayPal. Investigators want to know if those deals kept the payments firms from using other card networks or money-movement technologies.
• Story By: AnnaMaria Andriotis, Brent Kendall, and Peter Rudegeair, The Wall Street Journal
3. Stripe Strikes Tie-Up with Klarna After Frenzy of Rival Deals

Stripe will allow retailers to add Klarna's buy-now-pay-later service as a purchasing tool for customers, a deal that pairs up two of the world's most valuable financial technology startups. Merchants that use technology from Stripe, last valued at $95 billion, will be able [to] integrate Klarna's payment methods on their websites.
The move will vastly increase Klarna's potential network of sellers, while retailers with Stripe can access flexible spending options to boost their sales. Stripe competes with Square and PayPal, both of which have inked sizable deals with Klarna rivals. In August, Square said it would buy Australian buy-now, pay-later company Afterpay for $29 billion, while PayPal bought Japan's Paidy for $2.7 billion in September. 
• Story By: Ivan Levingston, Bloomberg
4. Bank Overdraft Fees Hit Record Highs During Pandemic

Overdraft fees that banks charge for withdrawals exceeding funds in a checking account grew to their highest amount ever last year, as American households struggled financially during the coronavirus pandemic. The average fee for overdrawing an account was $33.58, a 22-cent increase over the past two years, according to a Bankrate survey.
U.S. banks have generated about $9 billion annually in revenue from overdraft, ATM and other fees in recent years. The fees have become somewhat of a cash cow over the past 20 years. Some federal lawmakers are pushing to shrink those billions, arguing the fees are siphoned primarily from low-income customers and households of color. 
• Story By: Khristopher J. Brooks, CBS News
5. Consumers Turn to Buy Now, Pay Later, Stoking Worry About Repayment Ability

Well-established companies such as Goldman Sachs and Mastercard are diving headlong into a financial technology product that some critics fear poses risks to consumers. The service, known as "buy now, pay later," is a twist on the old-fashioned layaway plans once offered by retailers. The difference is that consumers get their goods right away, and many of the plans may come from their financial companies, not the sellers.
Experts say the rapid expansion is sure to draw the attention of regulators. Some of the regulatory reaction so far includes the Consumer Financial Protection Bureau in June advising consumers of the benefits and pitfalls, and the U.K.'s Financial Conduct Authority's announcement that it will oversee the BNPL industry.
• Story By: Steven Harras, Roll Call
6. Why Your Credit Card Company Wants to Give You Crypto

Cryptocurrency was first created as an alternative to traditional financial institutions. Now, it's gone mainstream enough that Mastercard is offering its customers access to cryptocurrency digital wallets, cryptocurrency-branded debit and credit cards, and even cryptocurrency-based loyalty rewards programs.
These tools are part of the partnership Mastercard announced with Bakkt, a platform for buying and selling digital assets like crypto. Banks and financial institutions that offer Mastercard credit and debit cards can now enable customers to pay down their balance and earn loyalty points with bitcoin. Merchants including restaurants and retailers will be able to offer bitcoin as an alternative to the traditional loyalty points that credit cards often offer users. At the same time, these Mastercard customers will have the option to convert rewards points they already have into bitcoin and store it in a Bakkt digital wallet.
• Story By: Rebecca Heilweil, Recode
7. Mastercard Introduces Accessible Card Design for Blind Users

Mastercard is introducing a new card for people who are blind or have vision impairment. Different varieties of the card, which will become available in 2022, will use physical notches to help people use touch to distinguish among them and discern the correct way to insert them into scanning machines.
The debit card will have a squarelike notch, the credit card will have a rounded notch, and the prepaid card will have a triangular one. Some banks and other card issuers already offer designs with a notch on the side and other features. Barclays provides a notched debit card with a bright stripe and arrow to indicate which way to insert the card.
• Story By: Ann-Marie Alcantara, The Wall Street Journal
8. Pandemic Widens Mobile's Lead as Preferred Way to Bank

Mobile banking was already the most popular method for American consumers to interact with their bank accounts before the Covid-19 pandemic struck. But since March 2020, the proportion of customers using mobile platforms has jumped 11 percentage points, according to a survey. 
The proportion of customers for whom in-branch visits were the top option for banking fell by the same margin — 11 percentage points—in the same time frame. About 10% of users preferred to visit a brick-and-mortar location post-Covid, compared with 21% before. Online banking with a laptop or personal computer ranked second both pre- and post-Covid, with 24% of respondents preferring that method before the pandemic, and 26% since.
• Story By: Robin Bradley, Banking Dive
9. Jaw-Dropping Stats About the State of Debt in America

A survey conducted by Inside 1031 found that 55% of people carry a credit card balance from month to month. In addition, 40% haven't been credit card debt-free since before 2018, and 15% have had credit card debt since before 2006. The survey found that 49% of Americans depend on credit cards to cover essential living expenses.
According to the survey, 57% of Americans have missed at least one credit card payment. The most common reason for missing a payment was simply forgetting (37%), but the next most common reason was paying for food and groceries (32%).
• Story By: Gabrielle Olya, GO Banking Rates
10. Small Business Owners to Toss First Pitch at World Series

Three small business owners will enjoy the opportunity of a lifetime later this month, having received the Priceless chance to throw out a ceremonial first pitch at Game 3 of the World Series thanks to the latest partnership between MLB and Mastercard. The three winners will be taking a trip to the Fall Classic in honor of small businesses across America who have adapted and overcome the challenges of the pandemic.
Each winner received a grand prize of $10,000, one-on-one mentorship from Mastercard small business experts and a Mastercard Digital Doors toolkit, plus other prizes such as hosting opportunities and customized stadium signage in each business's local market.
• Story By: Michael Guzman, Major League Baseball
11. Bank of America Adds New Cash-Back Business Credit Card

Bank of America has added a new cash-back credit card to its lineup of business credit cards. The new Business Advantage Unlimited Cash Rewards credit card offers business owners who prefer Bank of America an option that doesn't involve keeping track of bonus categories. The card offers a decent 1.5% rewards rate and $300 welcome offer, with the opportunity to earn more rewards for select Bank of America customers.
• Story By: Ben Luthi, Investopedia
12. You'll Soon Be Able to Earn American Airlines Elite Status Entirely with Your Credit Card

Earning American Airlines elite status will soon be easier. Starting in 2022, you'll be able to earn status with your American Airlines credit card without even stepping foot on an airplane. American announced its new outlook on loyalty, adopting a currency called Loyalty Points to track customers progress toward elite status.
The redesigned AAdvantage program will allow most earned miles to count for elite status with the airline, a process that's usually hard and requires time spent in the air. With the new AAdvantage program, for every qualifying AAdvantage mile earned, you'll earn one Loyalty Point, which includes miles earned with American credit cards issued by both Citi and Barclays.
• Story By: Jennifer Yellin, CNN
Advertiser Disclosure
CardRates.com is a free online resource that offers valuable content and comparison services to users. To keep this resource 100% free, we receive compensation for referrals for many of the offers listed on the site. Along with key review factors, this compensation may impact how and where products appear across CardRates.com (including, for example, the order in which they appear). CardRates.com does not include the entire universe of available offers. Editorial opinions expressed on the site are strictly our own and are not provided, endorsed, or approved by advertisers.