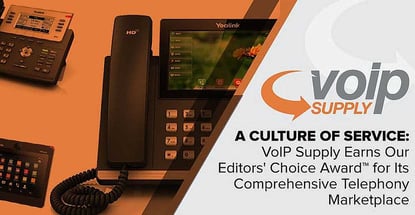 In a Nutshell: Many businesses turning to modern technologies for voice communications need help making the switch from landlines to voice over IP (VoIP). As a massive marketplace for voice hardware and solutions, VoIP Supply helps companies identify and order the products and services they need — all in one place. VoIP Supply also promotes a culture of sustainability and service — for both customer and community — that differentiates it in the VoIP space. For its commitment to helping business implement voice solutions, VoIP Supply earns our Editor's Choice Award™ for its Comprehensive Telephony Marketplace.
Voice communication is so vital to businesses that many have clung to legacy landline technology more out of necessity than loyalty. Now, more businesses are turning to voice over IP (VoIP) to run phone calls through the internet without sacrificing call quality.
But the most significant benefit of VoIP could be cost savings, as businesses that make the switch can see a 23% reduction in the cost of telephone services. VoIP also enables employees to be more productive by unifying communications into one channel that can be accessed remotely. A company with 100 or more employees can save nearly 50,000 hours a year using VoIP as part of a unified communication strategy.
Since 2002, VoIP Supply has been helping companies get started on the path to unified communications and responsive customer support for every need through its vast VoIP hardware and services marketplace.
"We pride ourselves on choosing the perfect solution for our customers, we listen to the needs of our customer and fit them with the ideal hardware and service," said Mary Cheney, Marketing Supervisor at VoIP Supply.
While VoIP Supply is known for its telephony hardware, the company is focusing more on the hosted solutions that businesses are shifting to for savings in resources and IT time.
"That is why our slogan is 'everything that you need for VoIP.' With hosted solutions becoming more predominant in the industry, we've adjusted our focus for our customers," Mary said.
VoIP Supply's dedication to customers begins with a company culture rooted in a sense of family, togetherness, and service that goes beyond the telephone. That commitment, and a vast selection of hardware and services, has earned VoIP Supply our Editor's Choice Award™ for its Comprehensive Telephony Marketplace.
Ingenuity and Sustainability Built Into VoIP Supply's Company Culture
VoIP Supply wants customer service to be an extension of the company's values and mission, which is why it went through the rigorous process of achieving B-Corporation certification.
To become a B Corp, a company must prove its dedication to environmental and social performance, as well as transparency and accountability, among other many virtues and values. VoIP Supply has implemented many initiatives to meet its goals of being eco-friendly, from reducing printing in its offices to re-using boxes for shipping.
The company also runs a Reclaim and Refresh program to buy back old VoIP equipment for refurbishment, which keeps it out of landfills and gets it back into the market.
"We like to look at ourselves as a sustainable business and being a B Corp is a great opportunity to emphasize that," Mary said.
But VoIP Supply's impact goes beyond the environment. The company is active in the community and encourages employees to volunteer — even while on the clock — and nominate charitable organizations for company donations.
And, sometimes, VoIP Supply sees a community member in need and jumps at the chance to help. When Dog Ears Bookstore, a second-hand bookseller in Buffalo, New York, was burglarized and had all of its computers stolen, VoIP Supply came to the store's aid.
"Their computer center is for people in the community to use the internet and find jobs," Mary said. "So, we replaced their computers, equipment, and installed security cameras for them. When we see people in need, we try to help. It is something the company encourages, and we're proud of."
That kind of commitment to service goes into everything the company does, and it begins with the marketplace it has built for businesses to fulfill every VoIP need.
Hardware, Software, and Cloud Voice Solutions for Any Size and Type of Business
While VoIP Supply works mostly with resellers, the company wants to help any business easily implement VoIP. And the company works with its customers — whether resellers or retailers — to find the most practical solutions.
"The resellers we work with serve SMBs, but we deal with end users as well," Mary said. "That is unique, because we will help a mom-and-pop shop set up VoIP."
VoIP Supply has an extensive hardware marketplace where customers can research and purchase phones, headsets, cameras, PBX appliances, gateways, and more. The company also has software to handle everything from multi-party HD video conferencing to managing an entire hotel's phone system.
As technology and business needs have evolved, VoIP Supply has updated its offerings to satisfy both. One major shift has been in the direction of hosted exchanges, which are off-premise and insulated from many common on-premise predicaments.

"For small businesses, it is especially important to consider scenarios and emergency situations where they would still need to keep their business up and running," Mary said. "Our hosted solutions are great for those situations."
Because many industries are heading to hosted solutions, VoIP Supply created  the CloudSpan Marketplace to match customers with products and services that best fit their objectives. Through VoIP Supply's partnerships, businesses can research exactly what they need and select the right service provider.
"The VoIP industry is heading into cloud services, and that is the case across technologies," Mary told us. "We are bringing new representatives to handle cloud offerings and cloud solutions because that is where we see the most growth."
The company takes service seriously and is prepared not only to help customers select the right equipment and plans but also give them the knowledge to implement a system and the support to keep it running.
Responsive Support and an Extensive Knowledgebase
VoIP Supply is passionate about helping businesses solve communications inefficiencies, and one of the main ways it accomplishes that is through knowledge. And it starts with sales.
"Our sales team has a combined 60 to 70 years of VoIP experience, and some of them have been with us since the beginning, which says a lot about the company," Mary said. "We have the knowledge businesses need."
And when team members want to learn more about emerging technologies, or anything that sharpens their knowledge, VoIP Supply is more than supportive.
"We promote further education, not only within your job but also the areas you are interested in," Mary said, "So if a team member sees something that sharpens their focus, the company supports that."
Customers can also access a range of buyer guides on the company's website and keep up with news and trends on the VoIP Insider blog. VoIP Supply knows that by providing knowledge before, during, and after the sale is a big differentiator in the space, and by building learning into the company's culture, it can sustain that responsive support.
"A lot of times you end up with companies that don't know enough about the equipment or can't help you once you get it," Mary said. "If you end up buying something and you don't have the right team behind you helping with that solution, it can be a real nightmare. The fact that we have this culture is such a huge advantage of partnering with us."
An End-to-End Resource for Any VoIP Need
As businesses look to save money without sacrificing productivity, they often turn to modern technology for help. Some good tech investments, like the switch from legacy landlines to VoIP, can start providing ROI immediately.
VoIP Supply recognizes the importance of voice communications and helps resellers and retailers connect with the products and services they need to implement VoIP easily. Mary, for one, has seen the changes in voice communications and is excited to be in the VoIP industry.
"Phones drive business and help people in emergency situations," Mary said. "It is a unique industry to be in. It's fast-paced and constantly evolving, which is all the more fun."
By keeping both customers and employees happy — while also showing its commitment to sustainability as a B Corp — VoIP Supply is setting an example for the entire industry to follow.
For this, VoIP Supply has earned our Editor's Choice Award™ for its Comprehensive Telephony Marketplace.
Advertiser Disclosure
CardRates.com is a free online resource that offers valuable content and comparison services to users. To keep this resource 100% free, we receive compensation for referrals for many of the offers listed on the site. Along with key review factors, this compensation may impact how and where products appear across CardRates.com (including, for example, the order in which they appear). CardRates.com does not include the entire universe of available offers. Editorial opinions expressed on the site are strictly our own and are not provided, endorsed, or approved by advertisers.