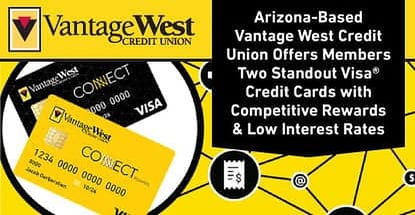 In a Nutshell: Southern Arizona natives already know Vantage West Credit Union as the largest member-owned financial institution in the region. Now, thanks to two generous rewards-based credit cards, members have even more to love about the credit union. Its most recent offering, the Vantage West Connect Rewards Visa Signature, boasts a generous rewards program with 5X points on a category of each member's choosing, 3X on gas, 2X on groceries, and 1X on everything else. For members who often carry credit card balances, the Vantage West Connect Visa offers exceptionally low APRs and no fees on cash advances, balance transfers, or applications. These card offerings prove Vantage West's commitment to helping members get more out of their money. //
Thanks to the exploding popularity of credit card rewards, issuers are constantly trying to one-up each other with rewards programs to gain the loyalty of consumers. More than two-thirds of credit card balances are held on rewards cards, and nearly 80% of all credit card spending comes with some form of rewards redeemable for travel perks, cash, statement credit, gift cards, or some other bonus.
When used properly, these rewards can really come in handy. Recurring monthly bills, like utilities, car payments, grocery store trips, and cell phone charges, need to be paid one way or another. I've always made a habit of putting all of those charges on my best rewards card and then paying them off as soon as the charge posts. Cash back accrues over time, and if you're patient and disciplined, the total can grow substantially over the course of a year.
I've funded entire vacations off rewards earned from purchases I'd already be making. Some people allow rewards to build until December and let the rewards cover their holiday shopping. I know people who cover one mortgage payment each year simply by stacking cash back rewards.
With rewards cards being all the rage in the credit card space, new offerings enter the market all the time. What really catches consumers' attention, though, is when rewards programs are generous, flexible, and carry no annual fees.

Vantage West Credit Union, the largest credit union in southern Arizona, serves it members in a variety of ways — one of which is through its competitive credit and debit card offerings. The Vantage West Connect Rewards Visa Signature and Vantage West Connect Visa credit cards may have been designed with different target audiences in mind, but each offers versatile rewards and unique benefits to those who qualify. Vantage West also recently introduced its Rewards Plus Checking Account that stacks reward points onto cardholder's accounts for debit card activity (one point for every $5 in qualifying purchases).
"We built our new credit and debit rewards programs with our members in mind, and the cards perfectly align with our new branding, 'When our members thrive, we thrive together,'" said Jill Casey, AVP Communications & Content Marketing. "The more engaged our members are, the more it benefits the credit union and our overall value proposition to the members.
"In the spirit of collaboration, we create value to earn and reward member loyalty. When our members thrive, we thrive with them. By offering such a rich rewards program, we are able to reward members for their loyalty. What it all boils down to is prosperity on the horizon, for all."
Vantage West Connect Rewards Visa Signature®: Up to 5X Rewards Points in a Category of Your Choice
Vantage West's standout card is the Connect Rewards Visa Signature. It starts with a six-month 0% APR, which is as low as 14.74% after the introductory period. Rewards rack up quickly with one point for every dollar spent on any purchase.
Bonus points are earned on items you'd already be buying, like groceries (two points per dollar), gasoline (three points) and five points per dollar on a category of your choice each quarter. Those categories include travel, restaurants, utilities, wholesale clubs, department stores, hardware and home improvement stores, charitable organizations, pharmacies, and Amazon.com.
The 5X points bonus is good for up to $1,500 in purchases. If you maxed out the 5X bonus through each period, you'd earn $300 in cash back every year just on those purchases. And those rewards only multiply when you use the card for regular purchases like gas and groceries.
Many cards with robust rewards programs charge annual fees that negate some of the earnings you'd accrue from using them. Vantage West's card is attractive because it has no annual fees or charges for signing up, transferring balances, or cash advances.
On top of the rewards available through Vantage West, the card also comes with the benefit of Visa Signature®, which grants cardholders access to the 24-hour Visa Concierge, as well as travel discounts, emergency assistance, and insurance on auto rentals.
With rewards and perks these generous, it's perhaps not surprising that members with lower credit scores might not qualify for the Connect Rewards Visa Signature. The good news is that members can still have access to rewards and low APRs with Vantage West's other offering.
Vantage West Connect Visa®: Earn Rewards While Regaining Control of Your Finances
The Vantage West Connect Visa is designed as a gateway rewards card for members who tend to carry a balance. While the rewards aren't as robust as the Signature card, with one point for every $2 in qualified purchases, its lack of fees and exceptionally low APRs make it attractive to Vantage West members.
Its introductory rate is as low as 2.99% for the first six months. After that, the rate increases to as low as 9.25%, depending on creditworthiness. That's 5.5 points lower than its Visa Signature sibling. If you carry credit card balances from month to month, the difference in interest fees would negate most of your cash back earnings, making this card more profitable over the long run.
On top of low APRs, the card has no charges for balance transfers, cash advances, or applications. If you're currently carrying credit card debt at a high interest rate, the Connect's no-fee balance transfers make the card an excellent option for moving over existing debt at a lower rate, while also earning rewards for future purchases. Credit lines for the Connect card begin at $500, and cardholders will also receive travel accident insurance and roadside assistance through Visa.
Reward Yourself with a Vantage West Credit Card
Vantage West's Connect Rewards Visa Signature and Connect Visa credit cards both have rewards and rates that are among the best in their classes, depending on members' needs and creditworthiness. Vantage West cards are available only to credit union members who live, work, worship, attend school, or volunteer in (as well as all businesses located in) the institution's southern Arizona region.
Rewards cards are no fad. With consumers expressing their highest approval rating ever with their credit cards, the offerings should only improve as competition among issuers increases for market share. That's reason to celebrate for anyone who's looking to get something back for their loyalty.
Advertiser Disclosure
CardRates.com is a free online resource that offers valuable content and comparison services to users. To keep this resource 100% free, we receive compensation for referrals for many of the offers listed on the site. Along with key review factors, this compensation may impact how and where products appear across CardRates.com (including, for example, the order in which they appear). CardRates.com does not include the entire universe of available offers. Editorial opinions expressed on the site are strictly our own and are not provided, endorsed, or approved by advertisers.