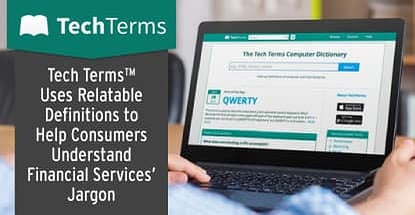 In a Nutshell: Navigating the complex language on financial platforms can cause headaches, but having access to an easy-to-understand, free dictionary of technology-related terminology can reduce your dependence on Tylenol. TechTerms is an online glossary that's consistently updated with definitions written in a language anyone can grasp. Through featured daily terms and quiz questions, regular visitors to the site can enhance their knowledge of complex words. The website's founder, Per Christensson, regularly maintains the site to reflect the most current, relevant definitions, and users can suggest new terms to add to the site if they do not find what they're looking for. //
As technology continues its forward march, keeping up with associated terms and language can be a daunting task. This is largely because there is no one area — no singular industry or trade — not touched or influenced by technology.
This is most certainly true of the financial services industry. The world of finance is oftentimes inherently esoteric and difficult to understand — just try reading the fine print of any credit card or mortgage application. Though financial platforms for credit ratings, investments, and loans attempt to curate easy-to-understand content, there can still be terms and concepts most consumers may not be familiar with.
TechTerms is a free, interactive glossary of words related to modern technology, including many that can be found on financial platforms. The site features nearly 1,300 useful terms ranging from the commonplace (blog, processor, and Bitcoin) to the more arcane (CPC, P2P, and captcha). The majority of potentially unfamiliar language on most personal finance sites stem from the fact that these sites require consumers to provide personal, sensitive information, and the terms used can be confusing.
TechTerms was founded by Per Christensson in 2005. Per's academic background is in computer science, and he worked various jobs in the tech industry before starting TechTerms. Throughout his career, Per began to realize he liked helping people understand complicated terms and concepts.
"I really enjoyed explaining computer terminology to people and making the definitions easy to understand," Per said. "I felt like TechTerms was a really good way to share my knowledge with a large number of people over the internet."
Its commitment to quality over quantity sets TechTerms apart from competing dictionary sites. Per and his team take great care in researching and refining each definition they feature on the site.
"Some dictionaries out there have tens of thousands of terms, but the definitions aren't always great," Per said. "My focus has been to create a technology dictionary with the best definitions possible. I want to provide the most useful definitions as opposed to creating as many as I can."
From 'CPC' to 'Encryption,' TechTerms Explains Complex Words & Acronyms in Layman's Terms
As we've noted, the majority of potentially unfamiliar terminology that consumers typically encounter on financial services or commercial platforms are security related. With the growing level of threats to personal security online, it's important to ensure consumers have access to explanations of difficult terms explained in simple, easy-to-understand terms.
For example, what does it mean exactly when you're guided to a secure "payment gateway?" There are several kinds of online gateways, and it's important to understand where you're going and how to avoid becoming a victim of fraud.
According to TechTerms, "a gateway is a hardware device that acts as a 'gate' between two networks. It may be a router, firewall, server, or other device that enables traffic to flow in and out of the network." In the case of a payment gateway, it's simply a service provider that authorizes credit card payments, acting as an intermediary between a website and a bank.
And speaking of security, what does it mean when something is encrypted? You may have come across different sites requesting personal information while reassuring you that your information has been securely "encrypted." TechTerms offers this explanation: "Encryption is the process of converting data to an unrecognizable or 'encrypted' form. It is commonly used to protect sensitive information so that only authorized parties can view it. This includes files and storage devices, as well as data transferred over wireless networks and the internet."
One of the more interesting things about TechTerms is how new words find their way onto the site — Per adds new terms as a need arises, but he also accepts suggestions from users.
"I would say the vast majority of new additions come from user suggestions," Per said. "If you search a term and it's not found, there's a contact form you can fill out to suggest it. We get between one and five of those suggestions a day on average.
"Some of the ones we get require me to do a lot of research to make sure that the information we provide is correct. I'm a programmer, and I do my best to provide definitions based on my own knowledge. That's easier with some definitions than others. For example, if you're talking about something like "bandwidth," it's fairly easy to describe. But if I'm talking about a certain protocol, like "HTTPS," it's very important that I have very specific, accurate information about the way it works."
Per assigns a Tech Factor to each definition on the site where terms are ranked from 1 to 10, according to difficulty and complexity. For example, Tech Factor 1 features fairly common terms like "file" and "laptop," while Factor 10 includes words and acronyms like "iSCSI," "Microkernel," and "Thyristor." These factor rankings are a good way to discern how basic or complicated a certain term is, according to subject matter experts like Per.
Quizzes & Terms of the Day Prompt Return Visits to the Site
TechTerms' most fun feature is arguably its daily quizzes. These quizzes offer a way to test your own knowledge and grow your vocabulary. Per got the idea for these quizzes because he enjoyed other sites that offered them.
"I thought of adding the quizzes because it's something I enjoy doing on other websites, and it's been a big success on TechTerms," Per said. "When you go to the homepage, there's a daily quiz that changes every 24 hours, which gives you more reasons to come back, and there's also a term of the day there, as well. We initially intended it to just be a daily quiz, but people keep coming back.
"Currently, it's really popular now to take a 10-question quiz and share the results on Facebook, so that's something we've been talking about doing in the near future. I wouldn't be surprised if teachers and other educators are using our site to get ideas for their quiz questions."
Students will certainly find the citation feature of TechTerms a welcomed component. Anyone who's written a lengthy research paper or essay can attest to the fact that correctly constructing a works cited page is no picnic. For each term on the site, buttons exist that instantly generate a citation for the term per MLA, APA, and Chicago style guidelines. There are also buttons that generate HTML and standard links.
The web has evolved significantly since Per first started the site, and he has made a concerted effort to ensure TechTerms remains relevant. When mobile devices became more ubiquitous, he redesigned the site to be simpler and more responsive to work on any handheld, in addition to the development of a mobile app available for iOS and Android.
TechTerms: 1,200+ Regularly Updated Definitions & Counting
In today's fast-paced, tech-saturated world, it's easy to feel overwhelmed and out of the loop. But your personal finances are far too important to let complicated terms and jargon impede your financial wellbeing.
Resources like TechTerms are integral to educating yourself and establishing a firm grasp on unfamiliar language. In an effort to help its users get more from the site, Per has recently added a valuable new feature. Anyone who's used Google is familiar with autocomplete, though many may not even notice its presence. Autocomplete works by suggesting the most likely words as users type them.
"It's a really useful feature, and it helps people find the terms they're looking for more easily," Per said. "We were getting a lot of emails from people who would think that because they spelled 'encryption' wrong, for example, we didn't have it on the site. The fact that it now corrects spelling has helped out that problem a great deal. This feature also has the added benefit of offering suggestions of other related terms they might want to look up."
Technological innovation isn't going to slow down anytime soon, especially in the realm of financial services. To ensure you stay armed with the best, most up-to-date knowledge, resources like TechTerms provide an excellent means of educating yourself.
Advertiser Disclosure
CardRates.com is a free online resource that offers valuable content and comparison services to users. To keep this resource 100% free, we receive compensation for referrals for many of the offers listed on the site. Along with key review factors, this compensation may impact how and where products appear across CardRates.com (including, for example, the order in which they appear). CardRates.com does not include the entire universe of available offers. Editorial opinions expressed on the site are strictly our own and are not provided, endorsed, or approved by advertisers.