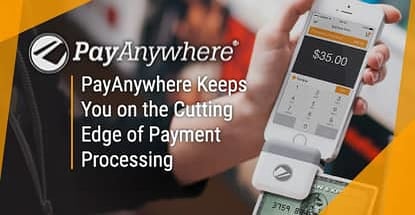 In a Nutshell: In the modern world, the ability to accept any payment type your customer has — easily and securely — can give them the feeling of doing business with a credible, professional company. The PayAnywhere products helped level the playing field for small and medium-sized businesses by letting them accept payments, anywhere they needed to be — including being the first to offer a mobile point of sale solution compatible with Apple Pay. Today, PayAnywhere works to keep businesses competitive by providing the latest in payments technology, including a 3-in-1 EMV- and NFC-capable card reader and dynamic reporting software. The company's focus is on anticipating the trends in payments security and technology — and being the first to implement them. PayAnywhere's world-class engineers and in-house processor mean never having to wait to get things done. //
While I give my best to every interview, the truth is after a while, you can sometimes predict how people are going to respond to certain questions. Not to say they don't all have unique companies or visions, just that — there are only so many reasons businesses usually do something. All that being said, when I asked Jim Parkinson, CIO, and Lori Jones, Marketing VP, of PayAnywhere, what prompted the development of the company's credit card processing products, I didn't receive the well-rehearsed response about research and market shares that I expected.
Instead, they laughed. It turns out, the products are a personal project of Marc Gardner, the CEO of PayAnywhere's parent company, North American Bancard Holdings, LLC (NAB). One about which he feels a lot of enthusiasm.
"Marc really believes in the PayAnywhere model," explained Jim. "He really drove the development, and he's involved in every single bit of it, every day, just because he believes in the product."
"It was really his foresight of the industry," agreed Lori. She described Marc's inspiration for creating the PayAnywhere product line. "The need on a merchant level — for consumers and small businesses — to accept payments on the go, became necessary. We thought we could provide a solution that could serve the marketplace in a way others could not."
Marc, who also acts as CEO of PayAnywhere, has been fully immersed in the payments world for over 20 years. Often heard saying "technology is changing constantly, and it's our job to be at the forefront," he strives to keep his businesses on the cutting edge.
That drive to stay current has allowed PayAnywhere to make a huge impact on the payments landscape, the company offering in-store and mobile credit card solutions for all types of businesses. Their ability to quickly — and effectively — adapt to the changing marketplace is setting them apart from the pack.
"When Apple was launching Apple Pay, we were the first ones that were able to put a certified app and reader within stores," said Lori. "And now we have that for Samsung and Android, too."
"The advantage we have in this space is the fact that part of our company is a processor," explained Jim. "I don't have to wait in line for certifications or anything because I have engineers on both sides." In the fintech world, it's not just about who can put out the best software or technology — it's about who can do it first. "Because we don't have to wait, we can get things done a lot faster. If we see an advantage for our clients, we are able to quickly implement it."
Flat Rates & Easy-to-Use Equipment Streamline the Process
Given the team's dedication to meeting the needs of the marketplace, it's no surprise that PayAnywhere's products are all at the leading edge of fintech. PayAnywhere was the first to offer 3-in-1 readers, capable of accepting the new EMV (chip) and NFC (tap) payment types, as well as the traditional magnetic strip cards. The PayAnywhere Storefront product also supports Bluetooth printers and cash drawers, allowing for full register functionality.
All that technology doesn't make the products difficult to use, however — or expensive. In fact, the traditional magstripe reader is free and the 3-in-1 reader is $39.95 with a $5,000 processing offer. PayAnywhere Storefront merchants receive a free 10″ tablet and stand reader when they sign up with PayAnywhere. Pricing has always been of concern to Marc Gardner, who knows that the prospect of having to buy new equipment can be intimidating to small business owners.
"Many businesses have been slow to adopt EMV since the liability shift, primarily due to perceived cost," explained Marc. "Our focus is to help merchants accept all forms of payment securely, without becoming a burden to their bottom line." That philosophy extends to their pricing model, which includes flat rates based on the type of transaction (swiped vs. keyed).
Detailed Reporting Lets You Focus on Making Sales, Not Tracking Them
Not to be outdone, the software behind all of that hardware is packed full of features to make everything easier, even beyond checkout. A variety of information is accessible through the application interface, reporting on everything from inventory to customer analytics. The software can even monitor multiple users, letting you keep track of your entire team.
To start, the PayAnywhere app includes an item management tool that lets you catalog all of your products — with pictures, modifiers, multiple prices, and more. This means PayAnywhere eliminates the need to enter the product information every time you make a sale. With a few button clicks, you can simply select the item from the inventory list, adjust the product amount, and head on to checkout.
The real gem of the software has to be the comprehensive reports, available at your fingertips through the app and PayAnywhere Inside. Want a snapshot of your day? Try the flash report, which gives totals for net sales, including tax, tips, and returns — even down to the payment method. Need to find out which items are flying off the shelf, and which are flops? The product sales report breaks down your sales by item and category. These reports, as well as the transactions and itemized lists, can be downloaded as PDFs for easy recordkeeping.
For more specific information, custom reports can be produced from the Activity page, where the date selection and search functions can be used to filter results. The keyword search is the quickest way to find specific information, but combining the date and advanced search functions allow for completely custom reports. Advanced searches can filter information by using a long list of categories, including customer email, tip amount, or the last four digits of a credit card number. You can even create custom reports on your team, searching by user to see who sold what.
You Worry About Growing Your Profits — They'll Worry About Making Them Secure
Of course, all the awesome hardware and software in the world isn't going to matter if the products aren't secure. As with other aspects of the changing market, PayAnywhere is always quick to respond to the demands for cutting-edge security technology. The features are centered around the core idea that data should be decrypted in as few places as possible. Jim described the process simply, stating, "I fundamentally believe, if you don't create the opportunity for data to leak — it won't."
While it may sound simple, maybe even a little obvious, the actual execution is anything but simple. It all starts with encryption — making sure the data is encrypted during as much of its journey as possible. In fact, the only place data is decrypted is at the transaction processor. "The best way to make this stuff safe is to not let it be in lots of places," stated Jim.
In addition, every application goes through rigorous stress testing, undergoing a gauntlet of networking and penetration tests performed by specialized third-party companies. "The safer I make my merchant's customers, the better off I am," said Jim, adding, "security is going to drive behavior at the end of the day."
Jim also expressed a lot of excitement for the brand new set of fraud protection tools, just recently added to PayAnywhere and its sister companies within NAB. The tools have revamped PayAnywhere's fraud detection, with each transaction seeing multiple levels of analysis. "We do fraud protection in two places," he explained, "we do fraud protection before settlement, and we do fraud protection during settlement."
Gazing Into the Fintech Crystal Ball
Just as there are some answers you expect to hear as an interviewer, there are likely a few questions you come to anticipate as an interviewee — like being asked about the future. "Ah, the crystal ball question — it always gets me in trouble," joked Jim.
As CIO, it's probably little surprise that Jim's predictions centered around software and security. "It will be interesting to watch EMV and NFC, and how those two things are accepted in the industry," he admitted. PayAnywhere was one of the first companies to support the new card types, and the team maintains a close watch on the evolving technologies. "We focus on watching what's going on with the industry — making sure that we understand it, and are on the leading edge of implementing it."
Regarding PayAnywhere's specific plans, they wouldn't get into details — but Lori was enthusiastic when she discussed upcoming new features, which center around add-ons being built into the platform to expand the reporting and tracking capabilities. "It's a lot of bringing the data to the business owner," she said, "letting them have access to their customers."
"We're building some really great stuff," agreed Jim. "Keep an eye on us."
Advertiser Disclosure
CardRates.com is a free online resource that offers valuable content and comparison services to users. To keep this resource 100% free, we receive compensation for referrals for many of the offers listed on the site. Along with key review factors, this compensation may impact how and where products appear across CardRates.com (including, for example, the order in which they appear). CardRates.com does not include the entire universe of available offers. Editorial opinions expressed on the site are strictly our own and are not provided, endorsed, or approved by advertisers.