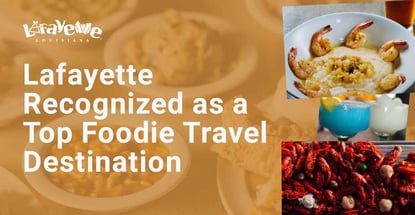 Our experts and industry insiders blog the latest news, studies and current events from inside the credit card industry. Our articles follow strict editorial guidelines.
In a Nutshell: Many travel spots describe themselves as cultural melting pots. But in Louisiana, the city of Lafayette is more like the flame underneath — it's a crossroads for cultures that all manage to project their unique identities. Among many things, that makes Lafayette a foodie paradise. Cajun staples abound, but folks from all over call Lafayette home, and the restaurant scene embraces cooking from across the globe. For revering food culture enough to let it stand on its own, Lafayette earns our Editor's Choice™ Award as a top foodie travel destination.
Louisiana's Cajuns have a complex history, which may contribute to their reputation for welcomeness. They originated as French emigrants to the Acadia region in Canada. Many trace their ancestry to the "Great Expulsion" of French speakers from Acadia by Great Britain in the 1750s-60s.
By the time some trickled to French-speaking New Orleans, France had ceded the colony of Louisiana to Spain. Soon, the Spanish began settling the Acadians in regions west of New Orleans.
If anything, the story then grew more incredible. As Acadians melded with native people, people of African ancestry, and French, Spanish, and English settlers, a new culture emerged in what many now call Acadiana — Cajun Country.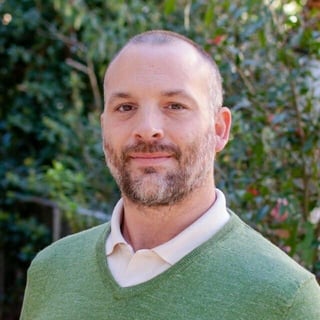 And if there's only one thing you can say about Cajun Country, it's that everybody lives together as individuals.
The city of Lafayette is in the center of it all. In addition to standing as a Cajun and Creole cultural touchstone, Lafayette builds on its Cajun tradition of acceptance to welcome people from all over the world.
"There's a certain perseverance that comes from being expelled from your homeland and having to assimilate to a place with a different climate, people, and way of life," said Jesse Guidry, Vice President of Communications for Lafayette Travel. "I think that's why the cultures that shaped Lafayette Parish are so resilient and still thriving down here. They really had to work to make a life for themselves and are very proud of their living cultural history."
So folks just keep on keeping on, bringing energy and joy to what they do and how they express themselves. From Cajun old-timers to new Lafayette populations, including people from Laos in Southeast Asia, everyone gets a seat at the table.
That big table makes food in Lafayette something special. For restaurant enthusiasts looking to sample Cajun heritage while experiencing the unexpected, Lafayette takes the cake, earning the city our Editor's Choice™ Award as a top foodie travel destination.
Boudin, Gumbo, Crawfish: Pillars of Lafayette Cuisine
Guidry considers his job a labor of love. As a vice president for the tourism engine for all of Lafayette Parish, he's steeped like sassafras tea in Lafayette and knows all the cracks in the city's sidewalks.
The way Guidry sees it, foodies first need to learn the lay of the land to understand the restaurant scene in Lafayette. In Cajun Country, that means pulling all the nourishment out of the land it can give.
There's likely no better way to get a sense of that than through Lafayette Travel's Foodie's Guide to Lafayette, a primer on what makes the city's cuisine endlessly buzzworthy.
Things start with boudin (boo-dan), which is more of a concept than a dish. In keeping with Lafayette's convoluted history, boudin is a sausage with German heritage. But in the city's tradition of making do, it takes on new forms as needed and is usually an amalgam of pork, rice, and whatever's handy.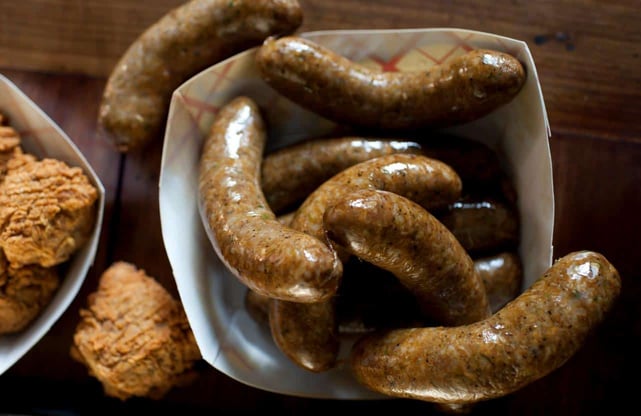 Lafayette Travel's Cajun Boudin Trail puts visitors in charge of their sausage experience. Every October, Lafayette holds a boudin cookoff.
"We've definitely made it our own," Guidry said.
Gumbo is a considerably more famous dish that's right up there with boudin in the hearts of residents. Most people know gumbo in a sort of generic cajun context. True to form, Lafayette restaurateurs put their unique spin on the classic.
Perhaps the quintessential example of taking everything the land can give is crawfish, which people from more northern regions may consider an aquatic bug. But the little crustaceans are a delicacy best sampled in seasonal gatherings known as boils or maybe breaded and fried in a po'boy sandwich.
Plates and Dancehalls Connect to Food Traditions
There's so much more to know to put this food in the proper context. Visitors to Lafayette who want a deeper exploration of everyday fare may opt for a plate lunch experience. Plate lunch is traditional fuel for making Lafayette go and consists of meat, gravy-covered rice or some other starch, veggie sides, and bread.
It's something like a "meat and three" you might find throughout the South, with roux gravy thickened in the gumbo tradition setting it apart — perfect for doling out, cafeteria style, for working folks.
This is not humble food. In plate lunch houses across Cajun Country, folks serve it with pride and finesse.
"Through plate lunch and other traditions, we're living our history," Guidry said. "You don't need to go to a museum."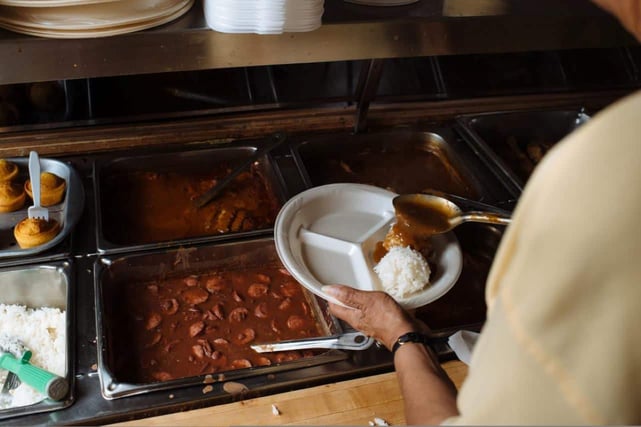 Plate lunch houses served as homes away from home. Another "third space" integral to everyday life in Acadiana is the dancehall, and immersion in the dancehall tradition is an excellent way for travelers to connect with foodways through music and the routines of everyday life.
In the tradition, dancehalls weren't just party places, although they were certainly that. During the day, they functioned more like community centers and as after-school gathering places. Many dancehalls offered groceries and served plate lunch. And on Sundays, many housed worship services.
Today, locals and visitors revere Cajun Country's dancehalls as venues for enjoying great food and drink and tapping along to music. From what the Cajuns called "la-la music" to zydeco and swamp pop, it's all there.
"On the weekends, the neon would come on, there would be music, and they'd open up the windows," Guidry said. "They called these dance parties fais-dodos, and while the adults were dancing up a storm, the older kids would be watching the younger ones."
Lafayette: A Global Foodie Celebration
Lafayette also has more than its share of bars and pubs, distilleries, gastropubs, and breweries, including where local legends produce award-winning products that reach far beyond Acadiana.
It's too simplistic to view this melange of traditions as a melting pot, Guidry said. Instead, as a jumping-off point for Cajun culture, Lafayette serves as the flame underneath the pot, adding dynamism to a welcoming world that continues to transform itself as new migrants introduce themselves into the mix.
The tradition of welcomeness lets everyone enjoy the benefit of their mutual company in the freedom to be who they are.
"We're a mix of different communities that all contribute to the nurturing culture we enjoy," Guidry said.
That's why foodie travelers to Lafayette should understand that visiting Cajun Country doesn't have to mean immersion in all things Cajun.
Lafayette Travel's global cuisine survey provides ample evidence. No matter where visitors to Lafayette come from, they'll likely find food like the kind they eat back home.
For example, a retired anesthesiologist introduced northern Indian cuisine to Lafayette. There's soul food drawing on African roots, a Venezuelan cafe, and a Cuban place.
Visitors will find a Lebanese market and restaurant tucked into an antique store. And there's Thai food, a classic French pâtisserie, an elegant Sicilian restaurant and wine market, and Spanish tapas.
Festivals and events in Lafayette offer opportunities to connect to old and new traditions. The Celtic Bayou Festival gathers purveyors of Cajun Celtic cuisine. The Lao New Year Celebration highlights clothes, jewelry, music, and food from Southeast Asia. And food is integral to the Latin Music Festival.
Maybe the only thing for sure is that repeat foodie visitors will surely encounter something new.
"It's choose your own adventure," Guidry said. "People leave feeling they just scratched the surface."