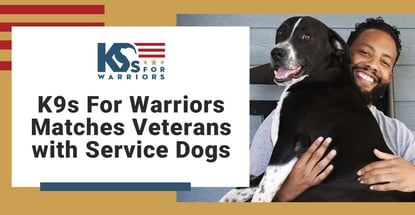 In a Nutshell: As many as 30% of U.S. military personnel have experienced some form of post-traumatic stress disorder as a result of combat deployment. K9s For Warriors has helped hundreds of PTSD-disabled vets get a new lease on life back home through a bond of loyalty with an accredited service dog. Your credit card reward donations support K9s For Warriors as it rescues promising dogs from shelters and pairs them with vets during a three-week, in-house training program. The invisible wounds of PTSD may never truly heal, but a lasting friendship with a service canine gives many struggling vets exactly what they need to move forward.
After the 9/11 attacks against the U.S. in 2001, soldiers began to see combat deployment with more frequency and for longer periods of time. Counterterrorism personnel were sometimes doing tours in war zones as many as four or five times during a single enlistment.
The result for these full-time warriors is that they have a much greater chance of experiencing trauma that can be extremely challenging to overcome.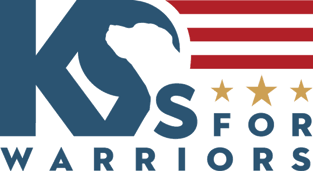 Much of this trauma falls under the category of post-traumatic stress disorder (PTSD), a formal diagnosis since 1980 that manifests as a range of acute and chronic symptoms. But thousands of soldiers also suffer psychological symptoms stemming from traumatic brain injury (TBI), including concussions, caused by explosions within close proximity.
And, whether they were deployed for combat or not, military service people are disproportionately likely to manifest symptoms of military sexual trauma (MST) stemming from unwanted sexual experiences, including sexual assault and harassment.
Whole industries have stepped up to help returning vets suffering from trauma, but there's not a single solution that works for everybody. Since 2011, however, K9s For Warriors has brought a measure of relief to hundreds of service people who have sacrificed much of themselves in service to their country.
K9s For Warriors — the nation's largest provider of service dogs for disabled American veterans — relies on a variety of financial support avenues to continue its important work of pairing trained and accredited service dogs with veterans who have been clinically diagnosed with PTSD, TBI, or MST. Folks looking for a way to leverage their credit card rewards into positive change may be able to take advantage of cash back programs to receive a statement credit, then donate the cash they saved to K9s For Warriors.
"Up to 30% of veterans will experience PTSD in some way, shape, or form," said Greg Wells, Manager of Programs at K9s For Warriors. "Over time, our dogs can help transform those wounded warriors into something that's better than what happened to them."
Standards-Based Training Prepares Dogs for Service
The Florida-based K9s For Warriors got its start when Founder Shari Duval saw symptoms of PTSD in her son, Brett, who had worked as a civilian K9 police bomb dog handler in Iraq after serving for years as a law enforcement officer.
"She watched him working with his retired police dog when he was home on leave and noticed that the suicidal ideations and other problems she was seeing creep up on him were lessened," Wells said. "And she realized the connection."
There's a double benefit in supporting K9s For Warriors with your credit card rewards donations because about 90% of the dogs that participate in the program are rescued from shelters. The carefully selected dogs are taken to facilities in Florida and Texas for formal training and accreditation in accordance with standards maintained by Assistance Dogs International, the leading authority in the assistance dog industry.
"Unlike emotional support animals, service dogs are protected by federal and state law so that anywhere the general public can go, a disabled veteran with a service dog can go," Wells said.
The dogs are preparing to do a serious and important job, using their better-than-human sense of smell and their attunement to respond to signs of turmoil in their human partners.
"For people with PTSD, TBI, or MST, our dogs react to the smells of panic and anxiety attacks and other symptoms," Wells said. "Learned proprietary grounding commands allow you to go find yourself a spot to chill out, and you can work through the issue with your dog and maintain your lifestyle that way."
Helping Veterans Regain Dignity and Independence
The onus isn't all on the dogs, however — credit card rewards donations bring dogs and their eventual human partners together at K9s For Warriors' beautiful Florida facilities for an immersive three-week training and pairing program.
Both dogs and vets enjoy the facilities free of charge. And K9s For Warriors always provides service dogs to its clients at no cost for the duration of the relationship.
Just as there isn't a typical veteran who applies to the program (aside from the clinical trauma diagnosis), there isn't a typical dog. K9s For Warriors looks for dogs with a suitable temperament rather than a particular breed.
But even that is more nuanced than one might expect because K9s For Warriors gets to know the vets who apply and the dogs who participate to pair them appropriately.
"You may need a dog who's more energetic because you have a super-energetic lifestyle," Wells said. "But if you're super energetic and you've told us that you need to learn to chill out, we may give you a dog who has some energy but who also loves to relax."
The point is there's no one-size-fits-all solution, and K9s For Warriors is completely in charge of the ultimate pairing. At the end of the training, partners graduate together and begin a transition to everyday life.
"The idea is to pair our vets with the dogs they need, not necessarily the dogs they want," Wells said. "At this point, we have rescued over 1,300 dogs and served more than 670 veterans."
Card Rewards Donations Can Help Rescue Dogs and Vets
Suicide is common among PTSD-disabled American military service veterans, but it's really only the tip of the iceberg of social alienation, isolation, dependency, and homelessness. Medications and talk therapy, for all the good they may do, only go so far in alleviating the very real traumas of the past for some people.
Academic research has shown that service dogs provided by K9s For Warriors mitigate PTSD symptoms and reduce reliance on medications. Credit card donations and other forms of financial support demonstrably benefit some of the people who need it most, while granting many deserving dogs a joyful life in service.
As COVID recedes and a level of normalcy returns, K9s For Warriors has two big problems. First, the cost of selecting, training, and accrediting a deserving dog and pairing it with a deserving vet is $27,000. Second, vets now wait up to 18 months for placement in the program because there aren't enough dogs to go around.
Watch on
"People have been getting animals because they're home, and the family wants a pet, and the shelters have been emptying," Wells said. "But as we've reached out further and further beyond our home base in the Southeastern U.S., we're seeing shelters open back up, and we're starting to find some more talent, if you will."
COVID had an impact on the money side as well, with donors tightening their purses amidst the uncertainty of the pandemic.
"I always say, 'Who doesn't want to help out veterans, and who doesn't want to help out dogs?' Well, we don't think you have to choose — you can do both at the same time," Wells said.
Advertiser Disclosure
CardRates.com is a free online resource that offers valuable content and comparison services to users. To keep this resource 100% free, we receive compensation for referrals for many of the offers listed on the site. Along with key review factors, this compensation may impact how and where products appear across CardRates.com (including, for example, the order in which they appear). CardRates.com does not include the entire universe of available offers. Editorial opinions expressed on the site are strictly our own and are not provided, endorsed, or approved by advertisers.