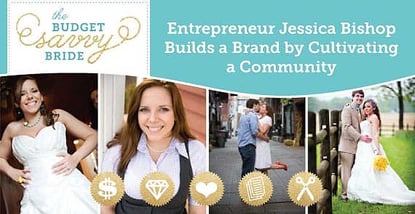 In a Nutshell: Jessica Bishop, founder and editor of The Budget Savvy Bride, built a brand around helping couples on a budget plan and save for their weddings. By providing compelling content to a niche community, partnering with brands that align with her message, and being passionate about helping others, Jessica grew her site from a part-time hobby to a full-time, successful business. Jessica's reliance on a passion statement rather than a mission statement allowed her to stay the course, and she continues to expand her brand's reach today. 
Brand building isn't easy. We've heard it before: it takes hard work and determination to grow a business. While that's definitely true, most entrepreneurs are inherently determined, hard workers. So, what is it that separates some entrepreneurs and their brands from the pack?
In an article on creating a "red hot" brand, Richard Branson, the famous founder of Virgin, one of the most recognizable brands around, says the success of a brand relies on three things. "From Virgin Records to Virgin Hotels, it's the Virgin brand. It's personality. It's people, and it's purpose."
Branson's record label paved the way to bring us rock-n-roll, but some people thought he was crazy for trying to extend his brand into other arenas. He soon proved that having brand credibility and an established identity can translate across industries.
Branson had already built a community of loyal followers. He had personality, people, and purpose. He had an audience, and they were captive.
Jessica Bishop, founder and editor of The Budget Savvy Bride, is not much different from Branson. Her website was started eight years ago as a personal journal to help her keep track of ideas about how she could save money on her wedding day. But, because of her passion, her site began to attract the attention of other couples looking to save.
After years of cultivation, her website grew into a successful and recognizable brand. Jessica now has a community of followers fostered by her personality and purpose.
Passion vs. Mission — Brands are Built with Devotion
One of the biggest contributors to Jessica's success is that she didn't necessarily begin with a mission statement. Rather, her achievements are the direct result of her passion for helping people.
"I started The Budget Savvy Bride as a hobby," Jessica said. "It was my site. It was a passion project about me and my wedding. But over time, it shifted and grew into a resource and, as a result, a business."
Though the money wasn't flowing in at first, she quickly found that she was being rewarded in other ways. "If I have a slow month here or there, I'll get an email from a bride telling me how much my website helped her save money on her wedding," Jessica said. "Things like that really helped keep the passion going."
In the early days of The Budget Savvy Bride, Jessica noticed that many other bloggers and websites in the bridal industry were dropping off. She attributes this to a possible loss of interest by some, or that they may not have had the drive to keep at it while making so little money.
"It took me many years of hustling on the side before it really became a viable business," she said. "It was four and a half years before I was able to quit my day job to do this full time. But it was something I was passionate about, so it worked."
For Jessica, her passion statement was much more effective than any mission statement could have been, and that's why she was able to stick around and create a popular, successful brand.
"I love helping couples save money on their wedding so they can spend a beautiful life together," Jessica said. "That's my outlook and my passion."
Growing a Business Through Relevant Partnerships
The community that Jessica built gave her an audience because of her credibility. Jessica was just like them, someone looking to save money without compromising quality, and that's why people listened.
As a content-based website, Jessica knew she could make a decent amount of money, but she also knew that she would need to pursue different revenue sources that would leave her credibility intact.
"I thought that brand-based partnerships would be a great way to grow my business," she said. "When I'm considering partnerships or revenue streams, I perform due diligence to make sure the partner fits with my brand."
People are visiting The Budget Savvy Bride for insider tips on planning weddings on a budget, and that's a huge market that brands want to get in front of. Jessica is sure not to sacrifice the presentation of value to partner with an affiliate who hasn't been thoroughly vetted.
To keep her community engaged and retain their trust, Jessica only partners with brands that are authentic fits for her audience. Brands have to provide value, be relevant, and be cost-friendly for couples on a low budget.
"I do feel like a gatekeeper for my audience in a lot of ways," Jessica said. "I have brands reaching out to me daily wanting to partner or share content on my website, and many times I have to say no."
Jessica's partnering decisions often come down to her own ethical values. If a company wanting to be affiliated with her brand doesn't fit with her beliefs and align with the basic principles of her website, she will turn down the partnership.
"One thing that I feel really strongly about when it comes to planning a wedding is that you shouldn't have to take on any debt," she said. "Lately, I've been contacted by wedding loan and financing companies, and I give them a hard 'No, I'm not doing that. I don't believe in it.'"
Because she is so vigilant in vetting partners, making sure that they provide real value for her community, Jessica's message carries integrity behind it and positions her brand as trustworthy and authentic.
Real Content Makes Marketing Seem Effortless
Successful brands make marketing seem like an afterthought. In the most effective marketing campaigns, the actual marketing message is almost invisible, as readers are consumed by the value of the content presented to them.
This is why Jessica's content is so attractive to brands wishing to partner with her.  Jessica makes no secret that some of her tips contain partnership links. In fact, she places a disclaimer at the top of any post where they appear.
Her posts are filled with valuable information; she's not just presenting her readers with a product or service in the article, she's giving them detailed instructions about how these products or services can be used to save couples money.
A recent post on the Budget Savvy Bride's DIY page shows readers how to make their own earrings for bridesmaids. The content is all about instruction and not the company selling the materials required for making the earrings. These types of posts are simultaneously marketing and content pieces, as they add value for readers while directing them to the best products that are associated with the topic.
The effectiveness of Jessica's content is why she was approached by About.com to serve as their resident wedding expert.
"They wanted someone who had a more practical, down-to-earth approach, Jessica said. "The wedding industry, in general, can be really pressuring for couples in terms of pushing a lot of expensive 'must haves' on them. So, I was able to provide a more pragmatic voice for their site, and it's been great."
Jessica's presence on About.com has worked to further her credibility as an authoritative voice in the industry. This has allowed her to share her content with a broader audience, which effectively strengthens her message, image, and brand.
Consumer Engagement Remains the Path to Success
Just as Richard Branson built Virgin around personality, people, and purpose, Jessica's kept her community together and engaged by providing them with a passionate message, compelling and credible content, and authentic partnerships. Jessica's method of brand building is exemplary and is looked at as a model for entrepreneurs looking to give their brands captive audiences.
Jessica's audience not only benefits from the advice and resources on the site, they also benefit from one another. Users on The Budget Savvy Bride regularly give back to their community, sharing stories about how they've used the tips on the site when planning their own weddings.
This active engagement is crucial to Jessica's brand, as it is a direct reflection of just how effective Jessica's tips are. The community that she's cultivated on The Budget Savvy Bride is what has allowed her to grow the site from a hobby to a full-time business.
"There are many types of business people and businesses," Jessica said. "You can be in it just to make money and not give a hoot what your product or service is, or even who your customers are. But, if you can find something that you're actually passionate about, you'll be so much more fulfilled. You'll find that the money will come when you're focused on your purpose."
Advertiser Disclosure
CardRates.com is a free online resource that offers valuable content and comparison services to users. To keep this resource 100% free, we receive compensation for referrals for many of the offers listed on the site. Along with key review factors, this compensation may impact how and where products appear across CardRates.com (including, for example, the order in which they appear). CardRates.com does not include the entire universe of available offers. Editorial opinions expressed on the site are strictly our own and are not provided, endorsed, or approved by advertisers.