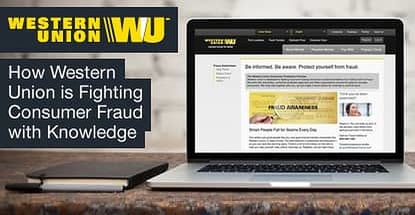 In a Nutshell: While modern technological advances have improved many aspects of our lives, they've also given rise to new avenues for fraudsters and con-artists to scam us out of our hard-earned cash. For nearly 150 years, Western Union has helped Americans transfer money, and the company knows that knowledge is half the battle in the fight against fraud. With that in mind, Western Union is arming consumers with a comprehensive fraud awareness campaign to teach them the warning signs, and offers fraud reporting hotlines and online forms in dozens of countries. From notices of prizes that are too good to be true to hot romances that are actually cold hard fraud, Western Union can help you learn how to protect yourself from scammers seeking to steal your savings. //
For every poor soul who has been the victim of a felonious fraudster, there usually exists at least one snarky observer to comment, "Who actually falls for that stuff?" As obvious as the ploy may appear from the proverbial bleachers, however, anyone can fall victim to a well-played scam. In fact, people have been tricking each other into parting with their pennies for literally thousands of years — well before we even, technically, had pennies at all.
Furthermore, despite its ancient and infamous history, the prevalence of fraud has hardly diminished over the years. If anything, it has easily kept pace with the growing consumer marketplace and fast-paced globalization of commerce, and the technological advancements of the last century are only giving fraudsters and con-artists more avenues into our finances.
Originally established as a telegraph service, Western Union has been in the money transfer business for nearly 150 years. From its prime vantage, Western Union has witnessed just about every type of financial fraud, including the newest tricks used by modern thieves to take advantage of the booming digital age.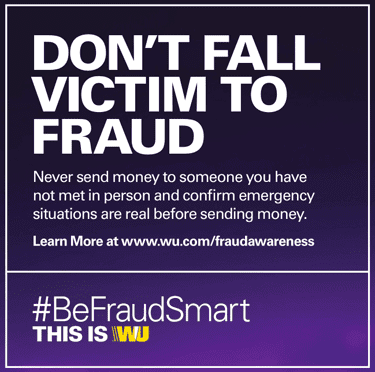 "We've really seen a rise in consumer fraud that is running in parallel with technological advances," described Dan Marostica, Western Union's Vice President of Consumer Protection.
"Those advances have changed how we, as human beings, communicate with people and interact with each other. The wonderful benefits of smartphones, software apps, and social media, of online shopping and online dating — all those wonderful things that are helping us, are also being used against us by fraudsters," he added.
But there's hope. When it comes to fighting fraud, being forewarned is most definitely being forearmed, and Western Union is working to arm as many consumers as possible against fraud. Its fraud education campaign, consisting of comprehensive fraud awareness resources and reporting information, is designed to help consumers protect themselves by teaching them to identify the warning signs.
"We want to get the word out so that maybe we get to the consumers before the fraudsters do," Dan said. "That way, they are better armed for when that call or email comes from a bad guy, and they're able to react in the right way to those scams."
Reporting Fraud Early Improves Chances of Thwarting Scammers & Getting Your Money Back
While the best way to deal with consumer fraud is to prevent it through education and awareness, Western Union isn't relying solely on scam-savvy consumers to fight fraud. The team uses in-house software to identify fraud patterns in the money sent through its network, then takes action to stop and prevent fraudulent transactions.
"We have custom algorithms that are running behind the scenes in our system, which are patterned after those known fraud patterns that we see," explained Dan. "We're able to immediately stop questionable transactions, if that's appropriate. Or we can put them on hold and contact the sender and ask a few questions to determine if they're potentially the victim of consumer fraud."
That said, it is still important for consumers to do their part by reporting fraud to Western Union. To make it easy, consumers can file a report with Western Union through a simple process involving a quick phone call or a few minutes with an online form.
"In the US and Canada, they can call our fraud hotline number at 800-448-1492. Or they can go to our website and fill out the online form," Dan said. "We also have fraud hotlines in 87 other countries — and we continue to add to that number, and continue to add online forms to our websites in other countries, as well."
Even if you don't recognize the fraud right away, reporting it to Western Union can help prevent the fraudsters from committing another scam on someone else by getting them placed on Western Union's block list. Better yet, you may actually recover your cash if you catch your mistake before the scammers on the other end get their dirty mitts on your money.
"Money transfers are often sent and paid pretty quickly, but we do stop millions of dollars of fraud each year just by consumers contacting us and letting us know they've fallen victim to fraud," revealed Dan. "Because the first thing we do is check to see if their money transfer has paid out yet — and sometimes it hasn't. In those cases, we're able to immediately cancel that money transfer and return the funds to the consumer."
Anyone Can Fall Victim to a Scam Under the Right — or Wrong — Circumstances
Although we're all likely familiar with the infamous foreign royals out to get our money, those princes in peril who haunt our inboxes are hardly the only fraudsters looking to swing a scam. And, despite popular opinion, anyone can fall victim to a scam, and fraudsters are coming up with new angles and stories all the time.
"A key challenge for any company addressing the phenomenon of consumer fraud is that people don't generally think it's going to happen to them — it's always the other guy," said Dan. "We hear about certain scams being perpetrated and we go 'Wow, that's really dumb,' but the reality of it is that anyone can fall victim to fraud, given the right circumstances. Fraudsters will target anyone they can."
Where once upon a time you might deal with the occasional piece of snail-mail claiming to be something it's not, today's consumer can be defrauded across more platforms than ever before. This includes the wide world of internet scams, with all manner of fraudulent financial requests showing up in your inbox, social media feed, and browser banners.
The Missing Purchase
"There are a lot of different scams but of the ones we're seeing the most of right now — and have been over the last few years — number one is the category of purchase scams," Dan described. "The consumer thinks they've contacted someone online who is selling something, and send them money for the purchase. But, they don't get the merchandise they're buying. Instead, they send the money and it gets picked up by the bad guy."
To help prevent getting caught in a false sale, Western Union recommends never using a money transfer to pay a business or individual with whom you are not familiar. Instead, stick to legitimate online shopping vendors or use a payment method with more built-in protections, such as a credit card, that will allow you to cancel a fraudulent transaction.
You should also be wary of anyone contacting you after you've lost an online auction attempting to sell you a similar product in exchange for a wire transfer of funds, as this is likely a variation of the purchase scam. Be sure to contact the auction site to report users attempting to commit fraud to help prevent the user from scamming anyone else.
The Manufactured Emergency
Another common type of fraud falls under the category of emergency scams, also sometimes called Grandparent Scams due to the frequent targeting of seniors. Coming in a few flavors, emergency scams create a sense of urgency in the victim that often causes them to act without proper consideration of the risks.
According to Dan, emergency scams have been around in one form or another for a long time, with the modern version commonly taking the form of a two-part scam designed to con not just you, but many of your friends and family members. It starts with an initial email masquerading as a credential verification letter from your email provider, perhaps suggesting your account will be deleted without this verification.
"When people respond to that email, they're actually supplying their credentials to the bad guy, who then immediately goes into the account and changes the password to lock them out," explained Dan. "Then, the bad guy proceeds to send emails to all of your contacts saying, 'Hey, I'm in another country. I was in an accident, can you send me money through Western Union?'"
In reality, the vast majority of email providers will never email you asking for your login information. If you do receive such an email, contact your provider directly through a trusted web form or phone number. Additionally, Dan cautions consumers to independently verify any supposed emergency situation before wiring funds, even if the email seems to come from a friend or loved one.
The Mandatory Fee
Thanks to the fine print many of us deal with on a regular basis, the idea of being stuck with a handful of fees for a service has become the norm. Unfortunately, scammers have caught on, creating a variety of advanced fee or prepayment scams designed to prey on our tolerance for fees.
"In these scams, you'll get a phone call and someone says you qualify for a loan or for a government grant or some other type of funding — but there are some processing fees associated with that," Dan said. "You're told you need to pay the fees, then the principal amount of the loan or grant will be disbursed to you. Victims pay the money, but they never see the loan or grant."
So, what to look out for? For starters, always be wary of unsolicited lines of credit from companies you've never heard of, and always thoroughly research a potential lender before entering an agreement or sending any funds. Furthermore, most legitimate sources of funding, be it from the government or the private sector, will be unlikely to specifically ask for a money transfer as payment.
The Mysterious Grand Prize
Every day, millions of people put their dollars into the pot for a local or national lottery, hoping for the big payday that will make them wealthy. Unfortunately, that human faith in impossible odds powers not just the legitimate lottery, but also a series of lottery and prize scams promising rich rewards — with just a little catch.
"In one of the major prize scams, you're informed that you won the Jamaican lottery (which you never actually entered, and doesn't really exist)," Dan said. "All you have to do to get your million dollars is to pay some taxes and fees, and they ask you to do that through a money transfer. But, of course, there is no prize."
Other versions of the false prize scam involve an unsolicited check, accompanied by the request to deposit the check and immediately wire back some portion of the money as a processing fee. After several weeks, the victim finds that the check was fake and they are now on the hook for the funds they withdrew.
The best way to avoid falling victim to a prize scam, according to Dan, is simply to apply a few common sense rules. The most important? If it sounds too good to be true — it probably is too good to be true.
The Misbegotten Love
Perhaps the most cringe-worthy of the modern digital scams take advantage of the eternal quest for love. As if the world of online dating weren't scary enough, fraudsters have developed various romance scams to con devoted digital daters out of their dough.
"This one is particularly vile in my book because it's perpetrated over a long period of time and a relationship is developed online, through emails, chats, even phone conversations. The victim is really strung along emotionally with this," Dan described. "Then, maybe six months down the line, come the requests for money. 'I want to meet you finally, but I don't have the money. If you could send me money for a ticket, we can meet at the airport.'"
Sometimes strung along for months or even years, victims of romance scams will often send out money multiple times, believing their paramour will pay them back in time — but that time never comes. Instead, fraudsters flee, leaving heartache in their wake when the victims finally cut off the funds.
While Western Union can't protect people from a broken heart, it does offer a few tips for avoiding breaking the bank at the same time. Specifically, the site recommends you never wire money to anyone you haven't already met in person. It also suggests making purchases yourself when you can, such as buying the plane ticket for a visit directly and putting it in your guest's name, instead of wiring money.
Knowing is Half the Battle in the Fight Against Fraud
Of course, as scary as it can be to think about the number of ways contemptible con artists can capture your cash, they aren't quite as prevalent as we often fear. In fact, according to Dan, only a small percentage of Western Union's money transfers actually involve fraud.
"The incidence of consumer fraud associated with Western Union money transfers is extremely low, and involves around 0.1% of our money transfer transactions," he said. "And over the last five years, the dollar value of the reported fraud in our consumer money transfers has dropped by 60%."

That said, it never hurts to be prepared, and the best way to be prepared against fraud is to know what to look out for — and what to do when you find it.
"Our customers work really hard for their money, as we all do, and it's really important that they protect themselves from fraud," said Dan. "And we'll keep doing our part. It's very gratifying for me and our entire team to be able to return money to victims, and to keep the bad guys out of our system. And we strive to do that better each day."
Advertiser Disclosure
CardRates.com is a free online resource that offers valuable content and comparison services to users. To keep this resource 100% free, we receive compensation for referrals for many of the offers listed on the site. Along with key review factors, this compensation may impact how and where products appear across CardRates.com (including, for example, the order in which they appear). CardRates.com does not include the entire universe of available offers. Editorial opinions expressed on the site are strictly our own and are not provided, endorsed, or approved by advertisers.