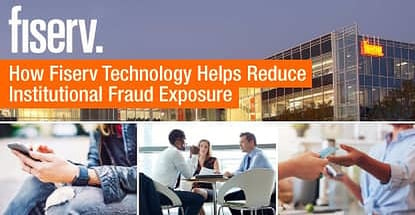 In a Nutshell: From complicated phishing scams to simple pick-pocketing, fraudsters seem to never run out of ways to get their hands on your credit, debit, or prepaid card information. Thankfully, companies like Fiserv are fighting back — and helping consumers fight back, too. With massive predictive models and highly trained fraud detection teams, Fiserv is a big part of the fraud-fighting infrastructure of more than 3,000 institutions around the country. They're even encouraging consumers to be proactive with CardValet, an app offered by more than 1,000 financial institutions to their cardholders. Fiserv and CardValet are helping cardholders battle fraud with advanced card security settings and push notifications that could cut credit card fraud in half. Everyone can fight fraud better — and faster — with Fiserv. //
In today's digital world, it can be remarkably easy to become the victim of fraud or identity theft; card fraud, in particular, costs U.S. card issuers $8 billion annually. While the new EMV (chip) cards being introduced have proven effective at helping to reduce in-store use of fake cards, chip technology does not stop all fraudulent transactions, particularly card-not-present transactions.
In fact, according to the Association of Certified Fraud Examiners (ACFE), numbers from the U.K. — which saw full-scale implementation of EMV technology earlier than the U.S. — showed online fraud rose 79% in the first three years after EMV became standard. Canada and Australia also reported similar increases in online fraud after the transition.
Part of the problem facing both cardholders and issuers is the amount of time it can take for automated systems to detect fraudulent activity. Fraudsters can rack up quite the bill in just a few transactions, so every transaction counts.
"If you think about a fraud event for a cardholder, typically, it's two or three or even four transactions before the system can identify that something odd is going on with the cardholder," said Patrick Davie, Vice President of Risk Solutions for Card Services at Fiserv.
For companies like Fiserv, the battle against card fraud comes down to two things: finding the fraud as soon as possible, and doing so without impacting legitimate cardholder purchases.
"We try to balance those circumstances where the card is declined when it shouldn't be, with making sure we're doing as good a job as possible identifying — and stopping — fraud quickly."
Comprehensive Fraud Analysis that Balances Fast Detection with Cardholder Impacts
While the old adage, "if you want something done right, you need to do it yourself," may hold true in many arenas — certainly, no one makes my scrambled eggs quite as well as I do — fraud prevention isn't really one of them. In fact, when it comes to credit card security, you're going to want a specialist.
"Fiserv has a group of risk analysts who are Certified Fraud Examiners (CFEs) — and that's a challenging certification to get," explained Patrick. "They have a lot of in-depth experience in understanding fraud trends in the market, what fraudsters are attempting to do, and the vectors they use to try and attack."
Though Fiserv has over 3,000 institutional clients, they form an independent strategy for each one with the help of their team of specialists. According to Patrick, each risk analyst has a portfolio of specific issuers they work with consistently, eventually developing a strong understanding of the issuer, their goals — and their cardholder base.
"Our job is to make sure the rules we create are working, such that they can identify the fraudulent transactions — the suspicious transactions — as early on in the fraud process as possible," explained Patrick. "To do that, we have massive predictive models in place that, over time, begin to learn the normal behavior of the cardholder."
In essence, the better the model knows how you spend your money, the better it can tell when something is off in your spending. For instance? If you spend around $100 at the grocery store every Tuesday, then suddenly spend $500 there on a Friday, that will likely trigger a response in the model. The model then puts out a score for the transaction, indicating how strongly it believes it to be fraudulent.
| Date | Location | Amount |
| --- | --- | --- |
| Tuesday, 12/1 | Grocery Shack | $100 |
| Tuesday, 12/8 | Grocery Shack | $95 |
| Tuesday, 12/15 | Grocery Shack | $105 |
| Friday, 12/18 | Grocery Shack | $500 |
Of course, no model is foolproof, so the team works to minimize the inconvenience to the real cardholder. "We have to make sure we keep in mind the potential impact to legitimate cardholder transactions, or what the industry calls false positives," said Patrick. "We take the output of the model — and we wrap business rules around it."
The business rules will determine the particular response the transaction receives, and if it is allowed to proceed. "When something happens that makes that transaction look suspicious to us, we might decline the transaction," Patrick said. "Or we might approve the transaction, but reach out afterward and ask, 'Is that transaction yours?'"
Putting the Power to Prevent Card Fraud in the Hands of the Consumer
At the end of the day, though, no one has as much power over stopping card fraud as you — the cardholder. And, as we all become more aware of the potential for fraud and the need to keep tabs on our identities, consumers are becoming more interested in joining the fight.
Fiserv is helping take the fight to the consumer with CardValet.
"We're starting to see in the market, cardholders — or the end customers — really wanting to be engaged in managing their card," said Patrick. "CardValet enables the cardholder to become part of the fraud fighting team along with the card issuers, and folks like us."
Despite its widespread integration, many users likely don't know they're using the product. CardValet can be incorporated into (or entirely make up) the mobile banking apps of Fiserv client issuers, complete with the client's branding.
"What CardValet allows cardholders to do, among other things, is create their own settings for card security," Patrick described. "One example might be, I want to get a push notification every time my card is used. Or, I want to reject mobile or e-commerce transactions out of the country of Turkey, where they have a lot of fraud."
While many likely use the settings for more mundane reasons — perhaps limiting the purchases of your new college freshman to school books and not a new stereo — the potential to stop fraud in its track is huge.
"In the environment where the cardholder isn't set up to be alerted on every transaction, it's completely incumbent on the risk team to identify when transactions are suspicious," said Patrick. "If the cardholder is getting notified every time their card is used, they might notice immediately — after the first transaction instead of the third or fourth. They will, in turn, notify the institution, and, at that point, we can restrict the fraud immediately. By partnering with the cardholder like this, we can dramatically reduce fraud."
Financial Institutions are Fighting Fraud with Fiserv
Whether your card is chipped or magnetized, present or not present, it can be used to perpetrate card fraud — almost $8 billion worth. With the help of analytics and technology from Fiserv, however, financial institutions are detecting — and stopping — that fraud a lot sooner. And you can help.

"If your financial institution provides a mobile app like CardValet, I would strongly encourage the cardholder to download the app," stressed Patrick, "because they really can take a huge chunk of fraud out of the system by doing that."
Advertiser Disclosure
CardRates.com is a free online resource that offers valuable content and comparison services to users. To keep this resource 100% free, we receive compensation for referrals for many of the offers listed on the site. Along with key review factors, this compensation may impact how and where products appear across CardRates.com (including, for example, the order in which they appear). CardRates.com does not include the entire universe of available offers. Editorial opinions expressed on the site are strictly our own and are not provided, endorsed, or approved by advertisers.