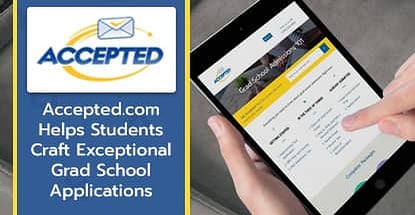 In a Nutshell: Linda Abraham's time spent obtaining her MBA from UCLA's Graduate School of Management led her to start Accepted.com — but not in the ways you may think. Despite a top-notch business education, Abraham most enjoyed her undergrad work as a writing tutor and helping her fellow students craft résumés and cover letters. Years after graduation, she put those skills to use with Accepted, which consults with around 800 students from around the globe each year to compose résumés that have been approved by some of the top graduate school programs in the world. Accepted's team of consultants works with clients on each step of the application process using their years of experience to include the information most admissions officers look for in a prospective student. //
Linda Abraham obtained her MBA from UCLA's Graduate School of Management in the late 1970s. As an undergrad, she supplemented her income by serving as a writing tutor and helping students compose résumés and cover letters. Little did she know that the side job would ultimately lead her to a greater purpose.
By the early 1990s, her real estate career was on hold as she raised a family. During her sporadic downtime, she brainstormed businesses ideas that would be enjoyable and still work within the framework of her family life. Her thoughts kept going back to the time she spent tutoring writing.
"I found I was working and looking into writing personal experience pieces," she said. "That's when I realized that if you use the same techniques journalists employ when writing personal experience stories, it would be a more effective document. That's how Accepted started."
Accepted.com began as Linda Abraham and Associates in 1994 to help students craft applications that gained them acceptance into top college programs. Not long after founding the business, though, she realized her name didn't offer many branding possibilities.
The internet in the mid-'90s was very different than it is today, when good domain names are now nearly impossible to find for cheap. A quick search back then showed Accepted.com as available. The rest is history.
"Over time, the focus of the company changed from the personal statement, or goal statement, to more of an admissions consultancy and supporting the process from the time someone has a GPA and a test score," she said.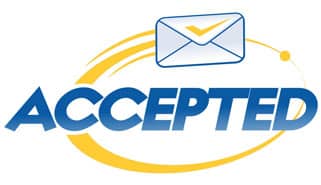 Today, Accepted consults with hundreds of students from around the globe each year to prepare successful applications for admissions to institutes of higher learning. Abraham has personally helped students gain entrance to prestigious programs at Harvard, Stanford, Wharton, Columbia, Kellogg, and MIT, while her staff of consultants has helped students get accepted to top colleges worldwide.
While Accepted's consultants help with admission to most major programs, their success with business school and financial education clients is impeccable.
"We can advise clients on overcoming a low GPA, low test scores, lack of experience, or other issues that may come up in the application process," Abraham said. "We can also help them optimize their application by helping with different components like essays, short-answer questions, résumés, interviews, and videos — which are becoming more common."
Up to 800 Students Worldwide Helped Each Year
Abraham and her staff help hundreds of students each year reach their goals. Though most of the applications they consult on are for US colleges, she says her client base has diverse backgrounds and experiences.
"We have clients from all around the world," she said. "We work with people in Mongolia, Indonesia, Argentina, and South Africa. You name it and we've probably worked with someone from there."
Accepted's one-on-one consultancy remains its main service offering, but the company also provides a wealth of free tools and information designed to help students in all stages of their educational career.
"We provide information on a general level to applicants of both undergraduate and graduate programs," Abraham said. "We provide articles, free downloadable guides, webinars, podcasts, and interviews with current students and administrators that give insight into trends in education."
For international clients, Abraham and her staff perform face-to-face meetings via popular internet programs like Skype, Google Hangouts, and FaceTime.
Helping Students Get a Head Start Before Business School
The business and finance fields remain two of the most competitive sectors of today's working world. Competition in the field starts in college, where applicants to top schools take every advantage they can to one-up each other in the eyes of college admissions officers.
Abraham uses her own experience of attaining an MBA from UCLA, as well as numerous consultancy jobs with business and finance students, to help her clients stand out.
"You have to have outstanding quantitative skills," she said. "That's really, really mandatory. Business schools also want people who can communicate — for MBAs, in particular, it's important to have people skills."
The skills necessary for aspiring investment bankers vary slightly but still require balancing quantitative and qualitative abilities.
"Initially you're probably going to be working on spreadsheets and financial models," Abraham said. "As you move up, people skills certainly become much more important. You're kind of in this space where you need quantitative skills, but depending on the direction in which you want to take your career, you also have to have some qualitative, analytical, and communication skills."
Accepted also offers a free guide, "Prep for B-School: A 4-Year Guide for College Students & Recent Grads," for students thinking about going into business, but who are still four or five years away from applying for MBA programs. The guide provides a comprehensive layout of what is needed for students to meet the admission requirements for most schools.
"Most MBA students have four or five years of post-college work experience," Abraham said. "There are also programs that help students in the pre-experience stage. All of these programs, though, like to see some previous exposure to business."
Abraham suggested students considering a future in business seek an internship around their sophomore or junior year of college to begin compiling the necessary experience and to see if the work is interesting to them.
"If you're aiming for the more quantitative degrees, like a Master's in Finance or a Master's of Data and Analytics, the internship is very important both to test your interest in that field before you invest in that degree, plus the schools and employers want to see you're serious about it and have previous experience in the field," she said.
Abraham also pointed to in-school programs that offer experience if traditional internships are hard to find.
"More and more schools are starting incubators and programs that are entrepreneurially oriented," she said. "Check them out. Use your college time to get as much experience in what you think you may want to go into."
Balancing Quantitative and Qualitative Skills for Success
Abraham and her team of consultants have helped thousands of students get a head start on their graduate school success. The experience Abraham has gained since establishing Accepted.com in 1996 has helped her become a regular speaker on the college circuit. Wherever she goes, she leaves students with one piece of simple, yet vital advice.
"Grades count," she said. "Academics count. Your test scores are going to count. Most schools will understand if you had a bad freshman year and did well the rest of the way through, especially if you combine your GPA with a high test score. But don't expect to party your way through college and then get into an elite business school without any evidence of elite academic performance. That's not realistic."
Around 800 students hire Accepted to consult on their graduate school applications each year. The company works with students to craft successful essays, short-answer questions, and other application components that are praised by the largest programs in the country.
So while it's been a few decades since Abraham left UCLA with her MBA, she hasn't strayed far from college campuses, where she regularly helps students get their own head start on life.
Advertiser Disclosure
CardRates.com is a free online resource that offers valuable content and comparison services to users. To keep this resource 100% free, we receive compensation for referrals for many of the offers listed on the site. Along with key review factors, this compensation may impact how and where products appear across CardRates.com (including, for example, the order in which they appear). CardRates.com does not include the entire universe of available offers. Editorial opinions expressed on the site are strictly our own and are not provided, endorsed, or approved by advertisers.