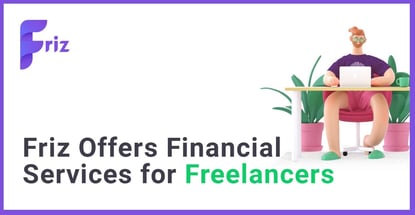 In a Nutshell: Freelance workers may not have formal business entities, but they market themselves, manage revenue, and pay taxes as a business does. But traditional banks may overlook them as candidates for credit because they don't have fixed employment or income. Friz overcomes that roadblock for freelancers in Singapore by using nontraditional forms of financial data, including work activity and invoicing history, to demonstrate creditworthiness. That enables Friz to offer debit cards, credit lines, and cash advances to freelancers, which increases their financial flexibility.
As a Mastercard executive in Singapore in 2018 and 2019, Nirali Zaveri designed credit products for small businesses. The creditor saw SMBs as traditionally structured firms holding assets and inventory and operating under business models with a degree of financial predictability.
But Zaveri couldn't assist the many freelance gig workers who came to her. Unlike traditionally structured companies, freelancers don't have assets or inventory and may receive payments. They aren't good candidates for consumer credit either because they don't have fixed incomes.
Instead, freelancers often fall through the financial cracks with minimal access to the types of products businesses and consumers rely on to withstand financial bumps and invest in the future.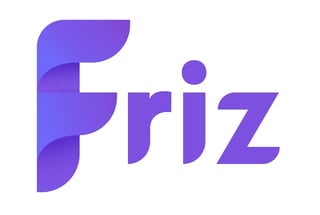 Zaveri knew freelancers could be reliable and responsible credit users, so she Co-Founded Friz, a credit platform for gig workers based in Singapore. Drawing on the financial data freelancers create in their day-to-day work, Friz offers debit cards, credit lines, and advances on unpaid invoices available to freelancers as if they were traditional companies.
"Freelancers are essentially businesses, and anyone that says they aren't just doesn't understand this whole phenomenon," Zaveri said.
Zaveri initially saw the potential after looking at the activity on freelance platforms including Fiverr, Upwork, and Freelancer.com. About 70% of the freelance content creators and developers supplying the global employment marketplace are based in South and Southeast Asia, including Singapore.
Gig workers may not be organized as formal businesses, but they have the same financial needs. Zaveri tried to interest Singaporean banks in this potential new market, but the banks didn't know how to judge the creditworthiness of gig workers. They also tended not to trust them.
"They told us they didn't think freelancers could be good customers because they seemed so lazy," Zaveri said. "Why weren't they just holding down regular jobs?"
Debit Cards Pay Rewards for Services Freelancers Use
Freelancers are called on to deliver high-quality work while looking for clients, marketing themselves, and handling accounting and other administrative responsibilities. They're dependent on clients to pay on time, and when that doesn't happen, they need access to convenient financial services.
"When they go to consumer banks, they get turned away because they don't have fixed, full-time employment. And business banks don't understand them because they aren't very savvy — they don't come across as business owners," Zaveri said.
Friz steps in first with a virtual debit card issued instantly when a user opens a Friz account. The Friz debit card has no monthly salary or minimum spending requirements and no fees.
Watch on
Transferring funds from any other Singaporean or foreign bank is fast and easy. The card works everywhere Mastercard is accepted, and it links with GPay for contactless mobile payments.
The Friz debit card also pays 1.75% cash back rewards on all transactions. That means using the card daily can quickly add up to significant rewards, which are seamlessly credited back to the account.
"People are drawn to good debit products that can earn them rewards," Zaveri said. "We're comfortable paying out cash back to customers who sign up, try us, and develop that consistency."
The card pays rewards from platform partners in addition to the 1.75% cash back on everyday transactions. Exclusive perks for partner services include virtual assistants, virtual phone numbers, social media marketing, and sales engagement tools, which are credited instantly after redeeming rewards.
"We're building out additional rewards partnerships, and that leads to more exclusive discounts for services freelancers tend to use often," Zaveri said.
Data Touchpoints Qualify Workers for Credit Lines
Opening an account gives the platform access to more nontraditional financial data for judging creditworthiness. Gaining those data insights means Friz can issue credit lines of up to $10,000 to gig workers.
Credit lines work through the Friz virtual card and enable freelancers to invest in tools and resources to manage projects, protect against income fluctuations, and build a credit score. Friz reports to private credit bureaus in Singapore that provide financial information to other lenders.
The most important transactional data source comes from the jobs platforms, including Fiverr, Upwork, and Freelancer.com, where freelancers advertise services and connect with potential employers and partners. That activity acts as income data and helps Friz determine whether the applicant is steadily employed.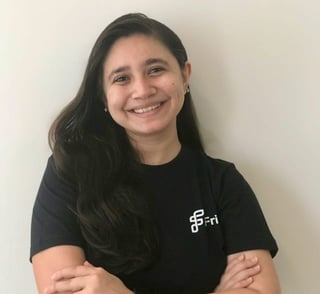 Freelancers also interact with traditional banks, and Friz draws on that data to form a picture of creditworthiness. In general, no single bank has a complete picture of how much freelancers earn because they tend to have multiple accounts.
Those accounts could include digital e-wallet solutions commonly used in Singapore, such as PayPal, Payoneer, and TransferWise, as well as local bank accounts.
"We stitch together a complete picture from all of these different accounts," Zaveri said.
Singaporean regulations require freelancers to register with the government as business entities, and that registration info comprises a third data source.
It's free to apply for a Friz credit line, and there are no requirements beyond holding an account with the platform. The card carries a transparent 2% flat fee on transactions and no hidden fees, and the credit line can be repaid in full on each billing cycle or set up to revolve by paying the minimum amount.
Friz: Financial Solutions for an Evolving Workforce
Friz strives to become a one-stop shop for freelancers in Singapore, and a big step in that direction is its invoicing service. Low-fee Friz invoicing allows vendors to conveniently pay freelancers with their cards. And Friz invoicing tools enable workers to obtain advances on outstanding invoices in return for a 5% fee.
"Ideally, we want to be that go-to account for all the income freelancers are receiving," Zaveri said. "Incomes fluctuate a lot, which is why we're building products along these lines."
Together, those invoicing options present an attractive alternative to taking out onerous payday loans to even out income streams and increase access to cash for investment. That's because Friz works with banking partners that can raise capital at relatively cheap rates. The platform can undercut payday lenders by 50% or more.
Before the COVID-19 pandemic began to dominate the economy in March 2020, Friz was already well established as a provider of financial solutions for freelance workers. It tapped into a tech-enabled transformation that increased the attractiveness of remote work on supply and demand sides.
The COVID-19 pandemic accelerated both. On the demand side, corporations understand remote work could be more productive as long as the right technologies were in place. In those circumstances, gig workers enable massive cost savings.
Workers clearly find gig work exciting and liberating. In Singapore, Friz benefits from an influx of workers seeking supplementary income to replace funds lost due to economic disruption.
Freelancers also enjoy the comforts of working from home. In Singapore and around the world, workers are shifting toward being more in charge of the projects they work on — and their own time.
"We think this is a workforce trend that's here to stay," Zaveri said. "Our vision is to become the indispensable financial platform for freelancers in South and Southeast Asia."
Advertiser Disclosure
CardRates.com is a free online resource that offers valuable content and comparison services to users. To keep this resource 100% free, we receive compensation for referrals for many of the offers listed on the site. Along with key review factors, this compensation may impact how and where products appear across CardRates.com (including, for example, the order in which they appear). CardRates.com does not include the entire universe of available offers. Editorial opinions expressed on the site are strictly our own and are not provided, endorsed, or approved by advertisers.