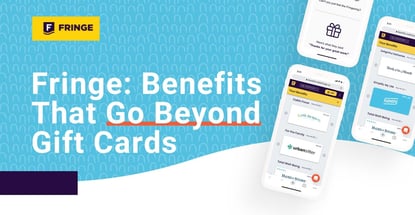 In a Nutshell: Paid time off, sick leave, and healthcare have become standard fare as far as employee benefits are concerned. Companies are often looking for new ways to recognize and reward their employees, and Fringe offers a modern, convenient way to do just that. Rather than handing out gift cards that may or may not ever be used, Fringe operates in a points-based marketplace that lets employees choose their own rewards. The company offers selections from more than 100 partners, from subscription services to self-care services.
Certain benefits have come to be expected by employees who work full time. Healthcare, paid time off, sick leave, and the occasional free lunch are pretty much standard fare for any company that wants to attract and hold on to good employees.
These kinds of benefits help make employees feel appreciated and add comfort and security to their lives. And keeping employees happy and making them feel valued should be a no-brainer. Not only is it the right thing to do, but happy employees are also more likely to be more productive and speak well of the company they work for.

They may also stick around longer, meaning it's more cost-effective to put in a little extra effort to help employees feel special, rather than having to frequently train new hires.
But in today's competitive marketplace, meeting an employee's minimum expectations in a benefits package may not be enough. Some companies step it up by offering other perks, like gift cards, free snacks, pet insurance, flexible hours, and remote work options.
These are all great advantages, but not every business is positioned to easily throw in added benefits for employees. Companies are often focused on meeting goals and working to achieve their missions. Keeping up with an appropriate level of engagement and recognition for tens or even hundreds of employees can be challenging.
Fringe is a company that offers a modern employee reward and recognition program that goes beyond gift cards and thank-you notes.
The innovative platform operates on a points system that allows employees to accumulate points and use them in any number of ways. They can redeem points for various rewards from services geared toward mental and physical wellness to Netflix subscriptions.
We recently spoke with Fringe Co-Founder and CEO Jordan Peace to learn more about the company's background and how the platform benefits businesses and employees.
Introducing a Fresh Take on Employee Benefits
Peace discussed how the idea for Fringe came about while he was working as a financial advisor.
"I got the opportunity, over the course of seven or eight years, to sit with individuals and couples and talk about money," he said. "I started out talking about the typical things, retirement, and 401k, things like that."
Peace said he eventually left the large company he was working for and started his own firm where he launched a fee-based business model.
"You just paid us a monthly fee, and then we could talk about anything you wanted," he explained. "So, without any kind of products on the shelf, it really opened me up to talk about any topic. I ended up talking about things like credit cards and how to use them wisely, and so forth."
Another frequent topic of conversation among employees was the world of benefits.
"People would always say, 'I have no idea what to choose from my 401k. I get something called restricted stock, I don't know what that is. I don't know the difference between the deductible and maximum out-of-pocket,'" Peace said.
After hearing these and similar queries over a number of years, Peace had a realization.
"Companies are spending tens of thousands of dollars each year, in many cases, on traditional benefits, and employees don't understand them, much less appreciate them," he said.
Peace said he still believes that these more traditional benefits are great. But he saw a need for more tangible benefits that employees receive on a regular basis.
After researching and consulting with a number of businesses, the Fringe team came up with the idea for a benefits marketplace — not unlike a marketplace used to redeem credit card rewards.
"The idea was to let HR departments give the employees funding via points and let the employees choose what's most relevant to their lives," Peace said.
Offering a Variety of Rewards That Can Be Personalized to Please Any Employee
Peace's vision of a points-based rewards marketplace was fully realized with Fringe.
"Give benefits that can be personalized to support employees' lifestyles and reduce stress, give time back, impact the family, and spark joy," according to the company.
Unlike gift cards that collect dust or benefits that only pay off when certain conditions are met, Fringe rewards employees in near real time with products and services they can benefit from on a regular basis.
"With Fringe, you get more than a doctor visit; you get to pick lifestyle benefits — like a monthly coffee subscription — from your company that you and your family can use now," according to the company.
Fringe calls its rewards lifestyle benefits, and they are tailored to the recipient.
"We get it. You're tired of getting a watch or a toaster or a coffee mug," according to the company. "Get perks and lifestyle benefits that actually mean something to you when you have over 100 options to choose from."
Peace said Fringe is used in a myriad of ways within companies.
"It's a benefit, it's a reward, it's a peer-to-peer giving service at times," he said. "There are also direct managers who just want to do something special for their people in the moment."
In one instance, Fringe employees held a March Madness pool, and the top three winners received Fringe points, Peace said.
"There are new ways it's being used all the time," he said. "Now, we're seeing recruiting bonuses in some companies, like if you refer a friend as a potential employee you get a Fringe bonus."
Meanwhile, employees can simply accrue points for future use.
"Employees might get them monthly or in some regular interval, or as rewards for accomplishments," Peace said. "But when they log in, they can just kind of go shopping however they want through one of our partners. If they don't have enough points for something they want, they can actually put in a credit card to cover the difference."
Companies Can Boost Employee Morale and Productivity While Showing Appreciation
Of course, it's nice to give employees benefits they can actually use, and that keep them happy. But a rewards marketplace like Fringe comes with plenty of benefits for the company as well.
For one, Fringe can offer a competitive advantage for recruiting departments.
"Recruiting is tough. You found the perfect fit, but they went with another company. Differentiate yourself with benefits none of your competitors can match, and send the most compelling offer letters," according to the company.
The company makes onboarding quick and convenient as well.
"Everybody wants something different. 94% of employees want benefits customized to meet their needs. That's why we're here. To walk you through the simplest benefit implementation ever, and to give you 100+ options for your people." — Fringe
"I don't know how many implementation processes we've had with vendors but this has been the easiest of any of them," wrote an HR Leader in Chicago.
And a CFO in Philadelphia wrote, "I've rolled out a lot of benefits, but this one had people reaching out and saying 'thank you for this!"
Naturally, an employee who feels valued and appreciated will also be more likely to go the extra mile for his or her employer.
"Motivate your people by caring for them well," according to Fringe. "Sales is hard. Keep the morale of your team high by incentivizing them with impact they will feel at a personal level."
If you're a company leader who has been looking for a modern rewards program that goes beyond a plastic gift card that may gather dust, consider Fringe, with its tailored lifestyle benefits and simple redemption system.
Advertiser Disclosure
CardRates.com is a free online resource that offers valuable content and comparison services to users. To keep this resource 100% free, we receive compensation for referrals for many of the offers listed on the site. Along with key review factors, this compensation may impact how and where products appear across CardRates.com (including, for example, the order in which they appear). CardRates.com does not include the entire universe of available offers. Editorial opinions expressed on the site are strictly our own and are not provided, endorsed, or approved by advertisers.