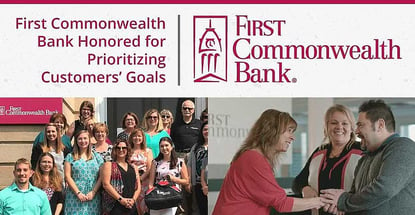 In a Nutshell: With locations across Western Pennsylvania and  throughout Ohio, First Commonwealth Bank strives to improve the financial lives of the people, businesses, and communities it serves. First Commonwealth Bank maintains a diligent focus on building financial confidence in its customers through various initiatives, including designating an employee position devoted to financial education. The bank's dedication to customers is also evident in the products and services it provides, like a free savings account and attractive mortgage options, including a special program for first time home buyers. First Commonwealth Bank makes giving back to its communities a priority through community events, volunteering, and the Education Improvement Tax Credit program. We are recognizing First Commonwealth Bank's efforts with our Editor's Choice™ Award as a strong client advocate that maintains a focus on integrity and accountability. //
When a bookshelf pulled free from the plaster in the wall and nearly hit Sarah Abbott's two-month-old daughter as she lay in her crib, Abbott decided it was high time to move. Abbott, her husband Sean, and their four children had been living in the declining rental in the Bloomfield neighborhood in Pittsburgh for long enough.
Abbott said she began contacting mortgage companies but was discouraged because the companies did not seem like the right fit. She felt like just another customer. The companies she spoke with didn't seem trustworthy and Abbott was not comfortable giving them a lot of personal information over the phone.
Finally, a friend recommended she speak with Evan Zuverink, Community Mortgage Loan Originator at First Commonwealth Bank, and everything fell into place. The Abbotts were able to leave the rental behind and become homeowners in a safe environment for their family.
"It was amazing. He talked to us like people instead of customers," Abbott said. "Evan and First Commonwealth, they made us feel confident that we were making the right choice."
And at First Commonwealth Bank, confidence is something that comes up a lot. Equipping customers with the tools and knowledge to make confident financial decisions is built right into the bank's mission of improving the overall financial lives of its customers and the businesses it serves.
First Commonwealth Bank operates 140 branches across 22 counties in western and central Pennsylvania and Ohio, with its headquarters located in the Pennsylvania borough of Indiana. The institution claims $7.6 billion in assets and is considered a medium-sized community bank.
"Even more important than those numbers for us is the community part of community banking," said Anna Frank, the Financial Education Program Coordinator for First Commonwealth Bank. "It's very much part of our identity. It's how we go to market, it's how we train our employees, and it very much influences how we design our products."
First Commonwealth Bank's approach also means the bank is a strong client advocate that maintains a focus on integrity and accountability, which is why we're recognizing it with our Editor's Choice™ Award. From helping finance dream homes to aiding in retirement planning and keeping the American Dream alive for entrepreneurs, First Commonwealth Bank stays focused on its company mission.
First Commonwealth Bank's Financial Education Efforts Instill Confidence and Support Customers
Following the 2008 financial crisis, Frank said First Commonwealth Bank decided to bolster its financial education efforts to assure clients that as a community bank, it remained stable and wasn't going anywhere.
The bank created Frank's position to focus on equipping employees to help tell First Commonwealth Bank's story and educate its customers and communities.
"We want to make sure a young person understands why it's so important to start saving for retirement when they're still in high school," Frank said. "Or why it's so important for a senior citizen to ask lots of questions when they get an email or phone solicitation, or why it's so important for the small business owner to really understand their cash flow."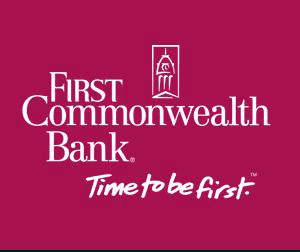 One of the main ways First Commonwealth Bank strives to educate and instill confidence in its customers is by putting its own employees on the front lines.
"It's critically important for us to have employees that are financially confident in their own lives because we care about them as people," Frank said. "Everybody knows how bad it is for your health and your life and your happiness if you're financially stressed."
She said by ensuring that employees have the knowledge to manage their own financial situations with confidence, it carries over to them sharing their knowledge and confidence with customers. First Commonwealth Bank equips its employees through its Confidence Cash initiative, which encourages employees to take action in their financial lives by increasing their 401(k) contributions or setting up automatic savings contributions. They are also required to meet financial education requirements through live sessions, webinars, or online videos.
"We decided there's nothing like a little financial incentive," Frank said. "So, if they take action and educate themselves, we give them a little bonus — they can earn up to $160 a year for those actions. Then, we enter everybody to win one of 20 $500 prizes, broken down to five winners per quarter."
First Commonwealth Bank created a financial education curriculum for its direct customer and community outreach by combining its own resources with the FDIC Money Smart program and materials from the American Bankers Association, she said. This approach ensures consistency and a level of authority throughout the bank's education efforts.
Frank said the bank follows this curriculum when it teaches financial literacy at local schools or other community organizations.
The Bank's Customer Commitment Carries Through to Its Products and Services
Securing basic banking services, getting a loan approved, or qualifying for a credit card is generally a breeze for people with high incomes, established credit histories, and good credit scores. But for those who may have had some financial trouble in the past or who don't earn a high income, getting these types of financial products can be very difficult.
In keeping with its commitment to helping customers improve their financial lives, First Commonwealth Bank makes its products and services accessible to a broad audience in a number of ways.
Frank said a customer can open a Hometown Checking account with no monthly service charge for those who receive electronic statements. The bank also offers a completely free Hometown Savings account with no minimum deposit required. Additionally, customers who have both accounts can get free overdraft protection between their Hometown Checking and Hometown Savings accounts.
"Of course, the checking account comes with a debit card, online banking, and mobile banking, so it's a full capability of banking products," she said.
The bank also offers a secured credit card as well as student cards for those looking to establish or rebuild credit. Frank said the student cards often come with a lower spending limit than some of its other cards, but student cardholders can still earn rewards in the same way as regular cardholders.
"We also have a very robust first-time homebuyers loan program, where we offer $2,000 closing cost assistance, with only a 1% down payment requirement," Frank said. "There are some income limits that are applicable for this loan, but it is also very much intertwined with our financial education goals."
The loan program is known as First@Home, and those education goals are woven in through credit repair counseling and financial confidence planning and resources, according to the First Commonwealth Bank website.
Supporting the Community is a Top Priority
Another key factor in First Commonwealth Bank's role as a community bank is its community involvement.
"We love supporting our local communities and the organizations that change the lives of our neighbors, from food banks to chambers of commerce," according to the bank's website. "Our local teams are empowered to provide support to events and organizations in their neighborhoods as they understand the unique needs of their neighbors."
The bank's community events calendar reveals a robust lineup of activities, including a library fundraiser, charity runs, and community festivals. Up next is the Kiski Valley Turkey Trot 5k Race and 1 Mile Fun Walk on Thanksgiving morning.
"All proceeds support the local charity Kiski Area Youth Network dedicated to helping youth in our community by providing the opportunity for spiritual, emotional, intellectual, and civic growth," according to the event website.
First Commonwealth Bank also participates in the Education Improvement Tax Credit (EITC) program, which supports organizations dedicated to educating young people.
The bank's website also plays host to a wide range of resources for customers and the general public. Its Financial Library offers in-depth information under the topics of, "Managing the Money You Make," "Saving and Investing Your Money," "Borrow Only the Money that You Need," and "Protect the Money You Can."
In addition, free and downloadable Quick Guides provide information on making smart investment decisions, protecting your family's financial resources, and paying for college, among other topics.
Finally, the First Commonwealth Bank Fraud Center offers resources for consumers to receive their free annual credit report and connects them with other apps and programs that can help protect their finances.
First Commonwealth Bank Maintains Focus on Confidence and Looks to Expand Its Education Offerings
The Abbott's story is just one of many among happy First Commonwealth Bank customers. A number of these stories that prove its commitment to people over and over again are documented on the bank's website.
Frank said the bank plans to continue its focus on instilling financial confidence and supporting its customers as best it can. One way it hopes to accomplish this is by expanding access to its customer base of some of the engaging financial education tactics it offers its employees.
"In the future, we're looking at potentially making some of the fun little educational things we do for our employees available for our clients, or really anybody who visits our website," Frank said.
Advertiser Disclosure
CardRates.com is a free online resource that offers valuable content and comparison services to users. To keep this resource 100% free, we receive compensation for referrals for many of the offers listed on the site. Along with key review factors, this compensation may impact how and where products appear across CardRates.com (including, for example, the order in which they appear). CardRates.com does not include the entire universe of available offers. Editorial opinions expressed on the site are strictly our own and are not provided, endorsed, or approved by advertisers.