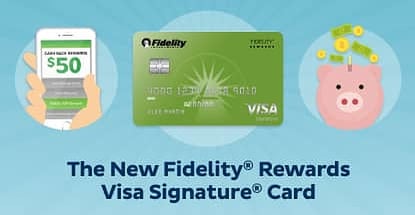 In a Nutshell: The Fidelity® Rewards Visa Signature® Card lets its users enhance their future spending with cash-back rewards that can be deposited into one of five Fidelity investment accounts. Fidelity's current 500,000 cardholders save an average of $1,500 annually toward their retirements, children's college funds, and other future goals. With a "set it and forget it" solution to investing, the Fidelity® Rewards Visa Signature® Card offers the opportunity to save without seeing, and feeling, money deducted from each paycheck — all while earning compound interest. With new Visa branding, a host of new features and benefits have been introduced including compatibility with Apple and Samsung Pay, with more features to come in the latter half of 2016. //
The first "reward" I ever received from my credit card was a knife set.
I've always fancied cooking, and anyone who cooks regularly needs a good set of knives. I was in my early twenties and living on my own, so my place was pretty barren of kitchen utensils (and furniture, among other things).
I had racked up enough points on my first Visa to start perusing the things I could redeem my points for, which wasn't much, when I saw the knife set. If my memory serves me right, that knife set could be mine for around 4,000 points. And if my memory still serves me right, I earned one point for each dollar spent, meaning I had to spend $4,000 — plus interest — to even qualify for that not-so-fancy knife set.
At the time, it felt like a win. Free knife set, yeah! Thankfully, I know a lot more about credit cards today to know better. I know whether what a card is offering — rewards, APRs, fees, cardholder benefits, etc. — makes for a good deal or not. So when the new Fidelity® Rewards Visa Signature® Card was unveiled earlier this year, I made it my mission to learn everything I could about this particular card's unique offerings.
The card itself isn't new, but Fidelity's partnership with U.S. Bank and Elan Financial Services is — this means a host of new offerings for current and future Fidelity cardholders.
I sought out and spoke with William "Sam" McLimans, Senior Vice President of Fidelity's Cash Management and Credit Card Business. I quickly realized upon getting him on the phone that I didn't know whether to call him William or Sam. He laughed and said that no one calls him William, and that he could talk about the new Fidelity Visa card all day — that it's his passion.
I knew then that Sam was the man I was looking for to tell me about this card's impressive rewards and savings program.
The Fidelity Card Lets You Deposit Your Cashback Rewards Directly into 5 Eligible Fidelity Accounts
The Fidelity® Rewards Visa Signature® Card offers a market-leading 2% cash-back on every purchase. While that in itself is nice, what Fidelity allows its cardholders to do with their cash-back rewards is where the card excels.
"The 2% cash back is all predicated on being able to enhance your spending for your future," says Sam, alluding to the fact that earned cash-back rewards can be deposited directly into a Fidelity account of your choosing.
"The thing that's so great is that people have the opportunities to put their cash-back rewards directly into their 529 plans, their retirement accounts, their new Fidelity Go account, and take those savings and be able to compound its growth over time," Sam explains.
On average, eligible Fidelity cardholders earn $1,500 in cash-back rewards annually. So instead of receiving that money in the form of statement credit or using it to buy uber-inflated merchandise and travel through the issuer, you can put your savings into a compounding-interest account where your earnings will continue to grow.
Save For College, Retirement, or Contribute to a Loved One's Account
Cardholders can choose from up to five eligible accounts, or divide the savings among several:
Brokerage Account
Fidelity Cash Management Account
Fidelity-Managed 529 College Savings Plan
Retirement Account
Family or Friend's Account
Though most deposits go toward retirement accounts due to the size of the retirement fund population on Fidelity (followed closely by 529 plans), Fidelity is excited to see a rise in popularity of its new Fidelity Go account when it becomes available to the public this summer.
A "Set It & Forget It" Solution to Investing
Fidelity is offering a "set it and forget it" solution to investing, which Sam says can be especially beneficial to parents who want to save for their children's future college tuition.
"When you start out with a new child and you want to start saving for college, putting that extra money away is tough sometimes. By being able to get rewards off your card and put it in a 529 college savings plan, in 20 years you could have a nice chunk of your college tuition ready to go," he explains.
And let's not forget the millennials who are struggling to save for retirement — a credit card with this ability can be a good solution to jumpstart a retirement account for a generation whose wages aren't aligned with today's cost of living. The Fidelity card allows its users to save without seeing, and feeling, the money deducted from each paycheck.
Cardholders earn two points for every dollar spent, and for every $2,500 spent, 5,000 points are earned, which equals $50 in accumulation. You can set up an automated sweep, or make deposits on your own in the various accounts based on what your preferences are. Those rewards then get transferred into your Fidelity accounts as you reach various thresholds in each category. Cardholders can view their progress within the cash dashboard on Fidelity.com.
"It really adds up quickly," says Sam. "Even starting at a lower threshold, especially when it's automated, it really starts to show, and it's been very well received. With the opportunity that we've put forward, we see this as being around for a very long time."
Fidelity provides an illustrative chart that exemplifies how typical spending translates to Fidelity rewards and savings. Of course, actual savings are dependent on individual purchases.
| Purchases | Spending | Points Toward Fidelity Rewards |
| --- | --- | --- |
| Groceries | $400 | 800 |
| Dining out | $180 | 360 |
| Drugstore purchases | $75 | 150 |
| Clothes & home furnishings | $375 | 750 |
| Entertainment | $100 | 200 |
| Your monthly total | $1,250 | 2,500 |
Based on the above chart, this cardholder would earn $50 every two months, or $300 each year, plus compounding interest. Additional benefits of the card include no annual fee, EMV chip technology, zero fraud liability, and 24/7 support.
The Biggest Change — American Express to Visa Means More Acceptance
The most obvious change, and what many believe to be the biggest benefit in Fidelity's transition from FIA Card Services to Elan Financial Services, is that the card is ditching the AMEX brand for Visa. This means the card will now be accepted at approximately 38% more locations, according to NerdWallet expert Sean McQuay.
According to Sam, this is resonating very well among its users, and the new Visa Signature is his personal favorite feature of the card.
"The acceptance from the research that we've done is tremendous," he says. "It's resonating very well with not only our new customers, but also with existing customers, and the Visa brand covers a number of strong segments for us."
Additionally, the new card supports NFC technology and is compatible with both Apple and Samsung Pay.
"One of the reasons we chose Elan Financial Services was to be able to have a dedicated platform and customer-service focus for our customers, providing them Fidelity-brand service and the ability to utilize new, innovative aspects in payments that the card is going to play a very big piece of, and Visa is also a very important piece of that for us," Sam says.
Additional Features to be Unveiled Later This Year
While staying mum on exactly what Fidelity has in store, Sam told me that Fidelity does have plans to initiate additional product features and servicing aspects into the third and fourth quarters of this year.
For those who already carry the American Express Fidelity card, a new Visa-branded card will be shipped this summer as the transition to Elan Financial Services nears completion.
And for those who are curious — yes, I still have that knife set on my kitchen counter today. I did spend $4,000 on it, after all.
Advertiser Disclosure
CardRates.com is a free online resource that offers valuable content and comparison services to users. To keep this resource 100% free, we receive compensation for referrals for many of the offers listed on the site. Along with key review factors, this compensation may impact how and where products appear across CardRates.com (including, for example, the order in which they appear). CardRates.com does not include the entire universe of available offers. Editorial opinions expressed on the site are strictly our own and are not provided, endorsed, or approved by advertisers.