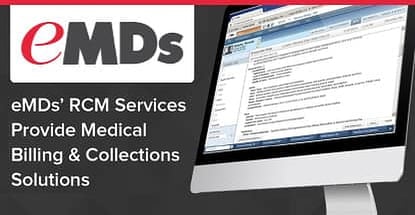 In a Nutshell: Physicians spend years in classrooms and hospital rooms before they earn the right to see patients on their own. But the constant stream of red tape related to medical coding, as well as patient billing and collections, often monopolizes the time providers spend in the office at the expense of their patients' needs. Now eMDs offers an award-winning suite of healthcare solutions, including its Revenue Cycle Management services that take on the hassle of dealing with insurance claims and collecting payments so healthcare providers can focus on their patients. The solution can be used in conjunction with eMDs Electronic Health Records software or integrated with a physician's existing EHR software. //
The post-graduate time required to become a medical doctor ranges between 11 and 16 years when you factor in the completion of medical school admission requirements, medical school coursework, and the dreaded residency period. That's a lot of sleepless nights and long study sessions.
Most students go into medicine with the thought of helping patients and making the world a better — and healthier — place. They soon discover that a large chunk of their day can be spent dealing with coding, billing, and collections issues. After all, you can't heal the world if you can't pay your bills.
Several options exist for outsourcing practice management (PM) services, but overall physician satisfaction scores with electronic health records (EHR) vendors continue to drop every quarter. An outlier in that trend, eMDs has seen a steady increase in its satisfaction scores for nearly two straight years.
"A big thing is our commitment to the customer experience," said Michael Liter, VP of Revenue Cycle Management (RCM) services at eMDs. "There are things the client needs to do and things that we need to do. It's like a marriage — there are positive times and negative times. I think the honesty and transparency with our clients has resonated."

Based in Austin, Texas, eMDs provides outsourcing services for both EHR and RCM that work through a virtual private network (VPN) that meets HIPAA requirements and makes typical office tasks easier.
The services can be bundled together or acquired separately, depending on the client's needs.
Appointment Auto-Reminders Cut No-Show Rates and Increase Revenue
Liter said the first step eMDs takes toward helping a provider get paid is to make sure the patient shows up for their appointment. To make that happen, eMDs sends auto-remind notifications to patients leading up to his or her appointment date to decrease the odds of a no-show.
"We make sure we're engaging the patient through multiple avenues so they show up for their appointment," he said.
Once the patient checks in for the appointment, eMDs RCM system goes to work before services are rendered.
"We're checking the patient's eligibility to make sure their insurance plans are up to date and effective for that day of service," Liter said. "We're also looking at any outstanding deductibles so we can educate the patient on their potential liability for the service."
The work eMDs puts into a claim before the patient leaves the offices helps mitigate the risks of denied payments and helps the company achieve a 99% first-pass acceptance rate.
"The way the EMR facilitates the provider documentation helps with the coding," Liter said. "That allows us, with claims scrubbing, to make sure the claim is as clean as possible before it leaves the system and gets to the clearinghouse."
Once the claim reaches the clearinghouse, the second level of verification gives eMDs a high assurance the claim will be paid. From there, the claim is filed with the payer. If by some chance the payer denies the claim, eMDs Denial Mitigation Agents work to resolve any issues.
Throughout the process, the RCM team regularly checks automatic payments from insurance carriers to monitor against the contractual compliance and make sure providers get paid the proper amount for services rendered.
"There can be anomalies in the payer's system or the payer can have the wrong information and consistently pay at the wrong rate — whether it's 75 cents or a dollar less," Liter said. "If you amortize that across many payments, you can have significant underpayment in cash and not even know it."
An RCM Solution that Works with Any EHR Software
eMDs' award-winning EHR software suite can work as a standalone product or integrate with its RCM solutions for a bundled package. The company can also run its RCM product with clients' existing EHR software on the institutional or professional side.
That flexibility in service helps eMDs consistently improve its customer satisfaction ratings.
"If a client wants to use their EHR and PM, and it's not one of the platforms we currently support, we'll work with them to get the integration from API calls with our proprietary denial workflow solution," Liter said.
"They have full visibility as if there was someone sitting right next to them in the office doing the work for them," Liter said.
Delegate the Hassle of Claims and Compliance with eMDs
Physicians don't spend over a decade completing their post-graduate studies so they can chase down payments and track insurance claims. With the US already working its way through a troubling physician shortage, practicing healthcare providers need to spend more time curing than they do coding.
To help in the process, eMDs offers a revenue cycle management service that helps manage and improve revenue streams while dealing with tricky HIPAA laws that closely guard patient records.
eMDs takes security seriously and makes it clear to clients from the start that no confidentiality issues are at risk through their partnership.
"We can't manage anything through the secure VPN that we're not privy to access," Liter said. "Everything is locked down and every user has their own username and password. All of our security and compliance agents go through a very thorough and intensive HIPAA training program. We also work with the client to make sure their security environment is up to par with what we expect."
Fees for eMDs solutions vary depending on the services used and the patient volume. RCM services are billed as a percent of the client's net collections, minus any refunds being disbursed to patients. Bundling RCM and EHR software results in a low monthly fee per provider that covers the software costs and its hosting.
"I'd put our cost against any competitor in the market and expect us to compete," Liter said. "While that may not necessarily be our main goal — we strive to provide a quality outcome and a quality partnership with our clients — but it just so happens that our clients save money with the partnership."
Advertiser Disclosure
CardRates.com is a free online resource that offers valuable content and comparison services to users. To keep this resource 100% free, we receive compensation for referrals for many of the offers listed on the site. Along with key review factors, this compensation may impact how and where products appear across CardRates.com (including, for example, the order in which they appear). CardRates.com does not include the entire universe of available offers. Editorial opinions expressed on the site are strictly our own and are not provided, endorsed, or approved by advertisers.