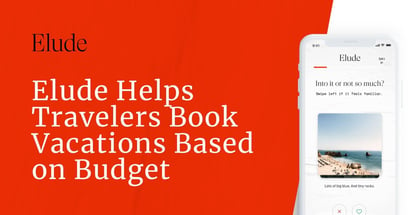 In a Nutshell: Many would-be travelers don't know how far their budgets can take them, but the Elude travel app solves that dilemma. The platform allows users to search for domestic and international destinations that fit their time frames and budgets. Then, the app recommends flights, hotels, and itineraries that users can customize to their preferences. Next, users can book trips automatically through the app while still earning the credit card rewards, points, or miles they would by making the reservation themselves.
Travel apps and platforms can often be overwhelming for users who know their budget and time frame. They may have to sift through options far above and well below their price range to find a suitable alternative.
The Elude app aims to eliminate that traditional travel app frustration by narrowing the results to what the traveler needs. Users only need to open the app, add their booking dates, and set their budget. Elude then pulls up a list of destinations and itineraries for that time frame — including airfare and hotel.
Elude suggests cities in the United States and abroad, and users can select any proposed itinerary and modify the flight options. They can also decide if they want to upgrade or downgrade the number of stars their hotel should have to alter the travel package's price.
That degree of flexibility often leads users to visit destinations they hadn't considered before using the app.

Elude Co-Founders Alex Simon, Frankie Scerbo, and Ivan Smirnov created the app to give would-be travelers a sense of where their budget can take them.
"We've seen a lot of people who go to locations they would never have picked themselves, including Singapore, Sweden, and Croatia. A lot of people booked these locations they wouldn't have thought about otherwise. Opening up your mind to travel is what we're proud of," said Simon, who also serves as the company's CEO.
Elude was launched in 2020, and the app is rare in that it answers the question: "Where could I travel within my budget?" And it has found an enthusiastic user base.
Since many workers now have hybrid or remote policies at their offices, they can travel more often — even to work. Many have taken advantage of that flexibility to work from beaches or mountains rather than staying at home. Millennials, for instance, spend $200 billion annually on travel.
Elude helps those travelers diversify their options, stay within their budgets, and spend less time planning.
Intuitive App Simplifies Travel Booking
Simon and Scerbo are big travelers themselves. In their corporate careers, they would often travel for work and pleasure.
"Every weekend I had off, I wanted to get away and see something different. It was about getting me to a new location, letting me experience the food and the people," said Simon.
The two decided to combine their passion for travel to create Elude. At first, the two designed a website, but had to do most of the manual work themselves. In those early days, they often manually created itineraries for clients while sitting at a coffee shop in California .
They soon recognized that clients were interested in seeing where they could go with their budgets.
"We did this early web data about demand, but we needed to scale the demand and create a business," said Simon.
Watch on
Eventually, they developed an app that automatically created itineraries based on budget. Simon suggested travelers view the app as the old-fashioned practice of going to the airport and seeing the options on a destination board — and then hopping on the plane.
Once users decide when they can travel and how much they can spend, they can book the entire itinerary directly through the app.
"We manage all payments. We don't push you to a third party to transact. We're not like KAYAK, where you find a great flight, but then it pushes you to a third party for that transaction. You can book directly through Elude," Simon told us.
After the app books a user's flights and hotel, Elude sends out a completed itinerary. Users also receive codes from the airline and hotel, confirming their reservations.
Earn Card Rewards on Hotels and Flights
Most Elude users are younger travelers who are new to the workforce and new to discretionary income. Many are millennials and members of Gen Z who are starting to earn more money in their first few years after college.
The app is also still building a robust client base. Most of Elude's growth has come from its social media presence, including Instagram, Facebook, and TikTok.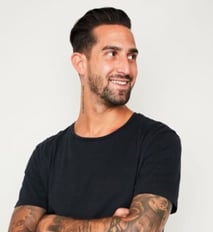 Elude also distinguishes itself through its booking process. When users decide where they want to go, the app completes both bookings automatically. Some travelers may worry about losing their credit card points or miles if they don't make reservations themselves, but Elude ensures its users still receive their card rewards.
"Every booking on Elude, on the airline and hotel, is eligible for card points. Some online travel agencies don't allow you to put in your card rewards program, but Elude can capture those points for you as well," said Simon.
Elude users also don't have to factor transaction fees into their budgets because the app doesn't charge any. The company's travel partners connect to the world's largest flight and hotel data provider. So the app makes a commission on each transaction, as other travel platforms do.
Users also save time and money in the search process. If they come in with a budget, they may spend hours looking through flights and hotels for the destinations they consider. That means they may not know how far their budgets will go.
"After someone hits search, it becomes an aha moment. They say, 'I didn't know I could get to X, Y, or Z. That desire to experience other locations is always going to be there," Simon told us.
Helping People Get Out of Their Travel Comfort Zones
When users sign up for Elude, they start by completing a questionnaire, so the app only suggests destinations that they find interesting.
"The idea is that, over time, we can curate destinations you would like to go to, rather than recommending cities you would never visit. If you hate long flights and beaches, Thailand doesn't make sense," said Simon.
Users can search for destinations through the main interface. They can input how much they want to spend, designate their local airports, and note their travel dates.
Though Elude does not focus on spontaneous travel — or planning trips on the fly — users can find options for the next week. They can also plan many months in advance.
Searches return destinations where users can afford to travel. But the itineraries are not set in stone, and users can alter any aspect that doesn't fit into their schedule.
"Everything is fully customizable. You can get in there and say, 'I can't leave until 7 p.m., not 7 a.m. If we put you in a four-star hotel, but you only want to stay at a five star, you can customize that, too," Simon told us.
Customization and accruing card rewards are perks on Elude, but the app's most significant benefit is providing users with a better sense of where they travel within their time frames and budgets. Users may discover that they can fly to destinations more quickly than they had realized. Or they may find that an international city offers more affordable lodging than they had expected.
"That discovery angle pushes people toward countless destinations where they haven't thought about going," said Simon.
Advertiser Disclosure
CardRates.com is a free online resource that offers valuable content and comparison services to users. To keep this resource 100% free, we receive compensation for referrals for many of the offers listed on the site. Along with key review factors, this compensation may impact how and where products appear across CardRates.com (including, for example, the order in which they appear). CardRates.com does not include the entire universe of available offers. Editorial opinions expressed on the site are strictly our own and are not provided, endorsed, or approved by advertisers.