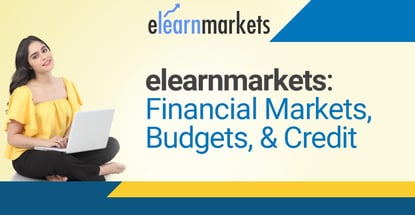 In a Nutshell: Possessing a basic understanding of the fundamentals of finance is key to gaining financial success. Elearnmarkets offers an array of online resources to help anyone gain a better understanding of the world of finance. The company's offerings range from free material that covers the basics like budgeting, credit cards, and managing debt, to premium courses and webinars that offer valuable insights into how financial markets work. Elearnmarkets partners with some of the top exchanges in India to certify its courses and help users gain a leg up in the job market. The company also launched StockEdge, which provides information and facilitates an online community around all things stock market-related.
The importance of financial literacy cannot be overstated. Understanding how finances work, from planning budgets to accessing credit and managing debt, is key to financial success.
And, no, financial success doesn't have to mean becoming a millionaire and jet-setting around the world to fancy locations. Financial success can simply refer to living within your means and providing yourself and your family with a stable life.

But whether your sights are set on private jets and vacation homes or being able to help your children pay for a quality education, financial literacy provides the foundation. Unfortunately, financial education has not been taught as often or as widespread as other basic topics, and people around the world have suffered because of it.
Thankfully, companies like elearnmarkets are making it easier than ever to access a wealth of financial literacy resources to help people lay that solid foundation.
The India-based company educates users on any number of finance-related topics, including finance basics like budgeting and managing credit as well as more complex topics like stock trading.
We recently spoke with elearnmarkets Co-Founder and CEO Vineet Patawari to learn more about the inspiration behind the platform, the resources it offers consumers, and its new foray into educating people about the stock market.
"We realized that there is this widespread lack of understanding about personal finance and money in general and how to manage your personal finances well," Patawari said. "So we started this platform called elearnmarkets which was to bring all financial market education in one place."
Patawari said that in addition to bringing finance basics to consumers, the company focuses on teaching people how to analyze companies to determine whether they are a good investment.
Educating People on the Basics of Finance
"We started almost six years ago and now we have 500,000 verified registered learners on the site — mostly from India because we are really targeting an Indian audience," Patawari said. "But we do have people from all over the world, we have students across the globe learning about the basis of the financial markets."
Patawari said it's also very important to the company to provide quality educational materials on finance basics, to lay that solid foundation to understand the markets better.
"We are generating a lot of content to educate people on the basics of finance, like how to use a credit card properly or something as basic as how to use an ATM properly," he said. "Or, let's say if you want to go for a loan — a payday loan, a home loan — how do you do it?"
Patawari said elearnmarkets is educating a lot of people through this free content, and attracting a lot of new users. After all, learning how to manage credit and debt is a crucial step toward financial success. For people who want to take their financial journey to the next level, elearnmarkets offers a trove of premium content as well.
"We can upsell our premium products to people who are very serious about learning stock market trading and investing," he said.
Elearnmarkets offers three paid webinar plans that allow users to explore various facets of financial markets.
The Starter Plan costs 2,499 rupees and is valid for 90 days or seven webinars. Next, the Pro Plan costs 4,999 rupees and is valid for 180 days or 15 webinars. And, finally, the Plus Plan costs 9,999 rupees and is valid for a full year or 30 webinars.
"Choose the best plan for your webinars and save the hassle of paying every time," according to the elearnmarkets website.
Users Can Choose from Live Courses, Recorded Courses, and Webinars
"Guided by our mission of spreading financial literacy, we are constantly experimenting with new education methodologies and technologies to make financial education convenient, effective, and accessible to all," according to the elearnmarkets website.
That means in addition to its huge selection of webinars, the company also offers a wealth of live courses and recorded courses for users to choose from.
"Our courses are designed by some of the best financial experts in India," according to the company. "Being practicing market professionals, they really understand what is required to prepare you for the exciting career opportunities that will come your way."
Elearnmarkets users can also receive certifications in certain courses. Patawari said the company has partnered with India's leading stock exchange and India's leading commodities exchange to provide their stamp of approval.
"We partnered with them for certifying our learners," he said. "Once they successfully complete the entire course, exam, and the evaluation, they get certified by these entities. And that adds value to their resumé, and they can get their first job because of that. And we, in turn, help them in getting a job."
Elearnmarkets has also launched a job board on its website that posts jobs relevant to people completing certification requirements for its courses.
"We think that knowledge without confidence is like having a gun without bullets," according to the company. "That is why we rigorously focus on instilling both in our students. You will start to feel the difference as you progress through our courses."
The company also offers interactive learning tools to help users understand how to apply their knowledge in the real world.
"We will provide you with access to a variety of sophisticated financial market tools as a part of your course," according to elearnmarkets. "Use of these tools will strengthen your understanding, and give you a feel of the excitements and challenges that the real financial markets will present to you every day."
Focusing on the Consumer Experience
Patawari also discussed the importance of user feedback and ensuring customer voices are heard when it comes to developing its products.
He said production designs for many of its offerings were heavily influenced by user feedback.
"And we have this Net Promoter Score, which we collect from our users along with their feedback, which has helped us a lot in addressing the pain points or problem areas which users are facing," Patawari said.
He said the company continuously works on refining and improving its products and strives to add more relevant course offerings. Elearnmarkets is also continually bringing on more financial experts and expanding into new languages and formats.
Watch on
"I think you need to have your ear to the ground and listen to your consumers," Patawari said. "And that's what we like to do day in and day out. We get a lot of feedback which we continuously keep implementing on our platform."
Plenty of elearnmarkets users have shared their experience of using the platform, and many say they have found the courses and webinars to be top notch.
"Most useful course in its segment. Highly recommended for beginners. Fundamentals of the financial market are covered very efficiently," wrote Financial Market Expert Swarnaeep Das on the company website.
People interested in exploring what others have to say about their experiences with elearnmarkets can visit the website to find a wealth of more in-depth reviews that speak to the efficacy of specific courses.
Elearnmarkets also offers an extensive blog for free that addresses a broad range of financial topics. The blog can serve as an entry point for novices who are unsure of which courses may be right for them.
StockEdge Gives Users the Tools to Make Smart Investment Decisions
Patawari said that, while elearnmarkets is the jumping-off point for consumers to learn about finance basics and gain a better understanding of the markets, the company launched another platform to help them apply their knowledge in real-life situations.
"We moved forward and created another platform called StockEdge and this is where people can analyze financial markets," he said. "They can pull data of any company, look at their financial statements, and do the analysis."
StockEdge is India's first virtual club for continuous stock market learning and analytics that combines ready-made analysis​, ​community ​discussion​, ​daily learning , ​and idea-sharing around stock investing and trading, according to elearnmarkets.
Advertiser Disclosure
CardRates.com is a free online resource that offers valuable content and comparison services to users. To keep this resource 100% free, we receive compensation for referrals for many of the offers listed on the site. Along with key review factors, this compensation may impact how and where products appear across CardRates.com (including, for example, the order in which they appear). CardRates.com does not include the entire universe of available offers. Editorial opinions expressed on the site are strictly our own and are not provided, endorsed, or approved by advertisers.