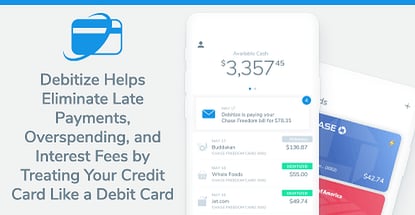 In a Nutshell: When a lot of little credit card purchases get together, they can add up to a big balance — often without you even realizing it. Rather than ditching your card, retrain your habits with Debitize. Designed for those who swipe-and-forget with their credit cards, frequently miss a due date, or just want more control over their credit card spending, Debitize helps your credit card act more like a debit card by automatically withdrawing the funds to cover each credit card purchase as you go. Debitize includes financial management features like utilization optimization and the ability to pay off existing balances on both its website and iOS application.
//
It happens without warning, a little at a time, over the course of days and weeks, so slowly you hardly notice. Then, one day, Bam! — you get your credit card bill and see you've spent way more than you intended.
Those little everyday purchases we all make have a bad tendency to add up, and they do so faster than most of us realize. Combine those with a handful of larger items, and, by the time the bill comes, you could easily be shocked by — and completely unprepared to pay — a giant balance.
A large number of people looking to eliminate the threat of overspending with a credit card have opted to use debit cards instead. They find eschewing credit card benefits, such as rewards points and rental car insurance, in favor of the extra level of spending control to be worth the trade.
This behavior was exactly what inspired Liran Amrany to create Debitize, a platform that helps your credit card behave like a debit card. It works by taking funds from your checking account when you use your credit card and stashing them away to pay off your bill at the end of each week.
"I had two friends who, within the span of a week, told me they were switching from credit to debit," he said. "I just didn't see any benefit to that, but they liked that the money came out right away. That's when I had the idea, 'Why don't we build something to do that for credit cards?'"
It took some time for Amrany to find the right person to help him build the company, but eventually he met Jeff Hu, who had the same vision for the product and company as he did. Together the team worked on building Debitize, which today covers more than $3 million in monthly transactions for users.
Purchase-by-Purchase Withdrawals Let You Maximize Credit Rewards While Staying Debt-Free
So how does Debitize make your credit cards change their ways? It doesn't. It just works around them.
"Once you sign up, you link your checking and credit card accounts," Amrany explained. "Then, whenever you make a purchase with your credit card, we withdraw the same amount from your checking account. At the end of each week, we use the money to pay for the expenses you charged that week."
The money Debitize removes is set aside in another account, solely for that purpose. Don't worry, though, because you own the account — Debitize has no claim on the funds in the account.
"Say you buy a pair of jeans for $100," described Amrany, "we'll take $100 from your checking account, and put it into your Debitize account. If you then spend $40 at dinner, we'll transfer another $40 to the account."
You can set limits on your checking account to ensure you never overdraft, and always have enough to get by. If you need cash for an emergency, you can transfer funds back into your checking account from your Debitize account.
"We want to help people use credit responsibly, so they can get their rewards and build good credit," said Amrany, "but we also want to help them stay out of debt and avoid late or missed payments. Debitize gives you the discipline of a debit card, while still taking advantage of the perks of a credit card."
There's no worrying about security, either, because your money lives within a closed circuit, where money can only move between your checking, credit card, and Debitize accounts, with no ability to transfer money outside the circuit. Additionally, they use security specialists to store your information, and high-level encryption to send it.
"We never store your login credentials," said Amrany. "We use a company called Plaid, whose business is security — it's what they do. We also send everything with 256-bit encryption, which is more than some banks."
Credit Optimizer Can Boost Your Credit Score to New Heights
Though the product may have started as a simple way to avoid the pain of unexpected auto-pay balances by treating credit card purchases like debit purchases, Debitize is much more.
For starters, because Debitize is taking the money out of your checking account, you can track your credit card purchases just as you would those made with a debit card. Another added feature, this one inspired by early beta users, is what the team calls the Credit Optimizer.
"We heard from a lot of people who wanted to make multiple monthly payments, to keep their credit utilization low," Amrany explained. "We now make payments to your card every week to keep your balance and utilization low."
Your credit utilization, or the amount of debt you have versus the total amount of available credit, counts as 30% of your FICO credit score. Reporting some balance is good — it shows you use the card — but having a high utilization rate can drag down your score.
"Using the Credit Optimizer, you won't pay any interest or late fees," said Amrany, "but you'll still show some balance on your statement when the banks report to the credit agencies."
New users receive a free trial of the service, which can be accessed on the company's website or iOS app. Amrany said many users of the platform have seen dramatic increases in their credit score, with some scores rising by triple digits.
"We've had lots of users who have increased their credit score by 30 or 40 points or more," he said, and added that there have been a handful of people who have seen increases of over 100 points. Amrany pointed to one client he recently spoke to who saw his credit score jump from 515 to 705 during the time he used the product.
While that type of increase isn't typical, Credit Optimizer works best for users who have high credit utilization because it helps them find the best route to get their balances down and their credit scores up.
"The two largest factors in your credit score is your payment history and your credit utilization," Amrany said. "Credit Optimizer helps with both of those, and that's 65% of your credit score that we can improve."
For users who already have a credit card balance when they join or have a situation that results in the accumulation of one afterward, Debitize allows for additional withdrawals, on top of those that cover new purchases, to eliminate that debt.
"If you're coming in with an existing balance, we'll cover any new purchases plus an extra fixed amount that you set," Amrany said. "That may be $20 a day or $100 a week, but we'll add that to the amount we withdraw for new purchases to eat away at that debt."
Future Expansion Into More Loan-Payment Types
Getting through our daily lives requires a lot of purchases, but when those little expenses add up to big balances at the end of your credit card billing cycle, it can be a big — and expensive — shock. Debitize is a good way to help take control of your spending and manage your credit cards wisely.

"Our ultimate goal is to automate good financial habits," said Amrany. "We're starting with credit cards, but we also want to expand beyond that. Eventually, you'll be able to use Debitize to pay not just your credit card, but your mortgage, your loans — all of your expenses."
Advertiser Disclosure
CardRates.com is a free online resource that offers valuable content and comparison services to users. To keep this resource 100% free, we receive compensation for referrals for many of the offers listed on the site. Along with key review factors, this compensation may impact how and where products appear across CardRates.com (including, for example, the order in which they appear). CardRates.com does not include the entire universe of available offers. Editorial opinions expressed on the site are strictly our own and are not provided, endorsed, or approved by advertisers.