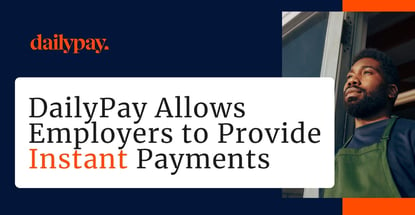 Our experts and industry insiders blog the latest news, studies and current events from inside the credit card industry. Our articles follow strict editorial guidelines.
In a Nutshell: Millions of American hourly workers have to wait between paychecks to receive the money they have earned. DailyPay changes that by offering workers access to their wages as soon as they are earned. Workers can take out funds instantly for a fee of just $2.99 to pay bills and avoid late or overdraft fees. The platform also provides businesses with automated solutions to facilitate instant payments, leading to increased transparency and productivity.
Living paycheck to paycheck means living with several unknowns. Families often wonder how they will pay bills to keep the lights on or keep food on the table before their next paycheck comes in.
It's a scary reality, and about two-thirds of the US population live through those unknowns every day. Families needing to pay off bills will have to put themselves through more debt or face a never-ending cycle of paying off late or overdraft fees, either through predatory payday loans or high-interest credit cards.
DailyPay provides the solution for those families so they can make it to their next paycheck without taking on more debt. DailyPay works with businesses to provide their employees access to their wages as they earn them. And setting up DailyPay is simple.
Hourly workers can see exactly how much they have earned on their current paycheck, and can instantly transfer the funds to their bank accounts. Businesses can offer access to DailyPay as one of its employment benefits or use it as a recruitment tool. 

DailyPay offers a unique win-win scenario for employers and their workers. Employees who need access to their funds faster can receive them, while businesses receive a platform that sets up a payments system for their employees.
"We created a solution platform that works for both the business and the consumer," DailyPay Chief Innovation and Marketing Officer Jeanniey Walden said.
Helping Workers Know Exactly How Much They Earn
There is no estimating paychecks for DailyPay users. Employees can check their real-time earnings on DailyPay's app at any time. Hourly workers can plan their budget as they work to determine whether they need to pick up more hours, or if they have enough money leftover to spend on leisure.
DailyPay is able to show this information by linking the timecard, benefits, and salary database every business has. All of that information is compiled on the app for employees to see whenever they need to.
Companies have had the capability to do this on their own, but DailyPay said it is a logistical nightmare to install. DailyPay's system is compatible with workplace systems so businesses do not have to worry.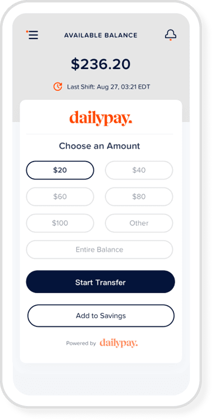 When employees need their earnings money, they have access to them. They can take their earnings from the app and move money to their bank account for immediate spending for a fee of $2.99. Employers can choose to cover all or part of the fee for their workers. But paying all or part of the fee still comes out less than typical ATM fees.
"If you are standing at the grocery store and you didn't realize how expensive groceries were, you might find yourself about $23 short," Walden said. "You can open up the DailyPay app and move $23 into your account immediately."
Even banks are approaching DailyPay to get them to integrate their services into bank apps. Account holders with PNC Bank can find their DailyPay balance right on the PNC app and seamlessly move money between accounts.
DailyPay users never have to worry about the security of their earnings and can be confident that the money they see is theirs. The amount that shows up on the app is the guaranteed money users can access at that moment.
"The amount employees see is their take home pay after taking out taxes," Walden said. "If you quit your job today, your employer has to write you a check for that amount of money."
Reducing Turnover in Volatile Job Market
DailyPay is helping businesses run and perform better. The platform is free for businesses to offer employees if they don't choose to cover the $2.99 fee for their employees. The company said businesses it partners with see more hires because people would rather work for a company that pays instantly.
"Getting access to your pay as you earn, it became a huge differentiator," Walden said. Businesses started to see that if they offer this benefit, they could attract people much faster and keep them for longer."
DailyPay reported that companies it works with reduced turnover by between 40 and 72%. This benefit is two-fold because companies don't need to train and onboard new employees. 
DailyPay is one of the only companies in the space offering true on-demand, instant pay. The company works closely with Visa to bolster the immediacy of payments. Competitors focus on creating a partnership with the consumer, but they do not work with employers like DailyPay does.
Competitors offer a different kind of on-demand pay that only provides employees with their paycheck two days earlier. Other companies that offer consumers on-demand pay don't know what their pay is. Consumers will request money as they need it, but if hours are cut, these competing companies will still expect to be able to take the money out when the paycheck comes in.
"Basically, competitors put money directly into your bank account and they come and take it out on the agreed upon date, whether it's there or not," Walden said.
Employees who use their DailyPay accounts create data points for companies to use. Employers can see specific trends and offer benefits to employees based on the information.
"More people are paying for pet sitters after having to return to the office," Walden said. "A lot of companies are seeing that, and they're implementing a pet benefit stipend. People don't have to use their own money and companies are offering it as a way to help keep and retain them."
Offering Flexibility in Spending and Saving
The transparency of knowing how much they are earning day to day helps employees gain a newfound financial confidence. Employees with DailyPay accounts can feel better about spending or saving their money because they can divide up money between bills and leisure as they earn it.
People living paycheck to paycheck can also take advantage of a store's weekly sale prices because they have access to their earnings on demand instead of having to wait for payday to arrive. No more missed discounts because the paycheck comes in after the sale ends. Consumers can use DailyPay to buy the product when they need it.
DailyPay provides the early access to funds itself so companies are not footing the bill every time an employee requests on-demand pay. Businesses can still use their money to invest and grow earnings.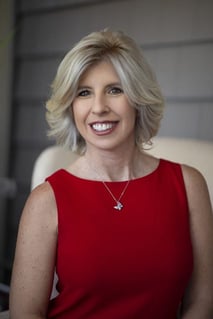 "If you make $500 and want to take $100 out, that early access money actually comes from DailyPay," Walden said. "Payroll at the employer will then send the employee $400, and the $100 back to us."
Companies rely on DailyPay during emergencies such as a power outage or a cyber attack on their business. DailyPay will make sure employees are still paid in the case of an unexpected disaster.
"When there was a ransomware attack for a big payroll company, companies physically could not make their payroll for weeks," Walden said. "They couldn't go into the system, so they all started using DailyPay to pay employees."
DailyPay encourages users to make on-time payments to avoid fees or penalties. The company said its platform helps users improve their credit scores.
DailyPay keeps track of what the average American worker pays in late, overdraft, and nonsufficient fees. All added up, it comes out to about $1,205 a year. DailyPay found that 97% of users responding to a survey said  they are not paying any fees.
DailyPay is hitting its goal of decreasing American workers' reliance on living paycheck to paycheck. The company looks to expand to continue offering services that help businesses and their employees.
"For people who are in that paycheck to paycheck area, we'll see them use it more frequently in the beginning," Walden said. "They then use it less frequently as they start to create savings, and that's a great thing to be a part of."