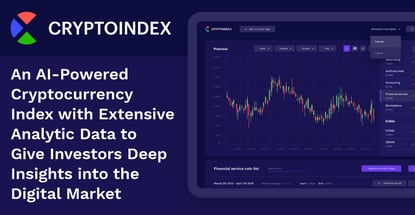 credit card news
Our experts and industry insiders blog the latest news, studies and current events from inside the credit card industry. Our articles follow strict editorial guidelines.
In a Nutshell: Just as stock market investors turn to reliable sources such as the Nasdaq Composite or the Dow to reference stock prices and market trends, crypto investors now have a similarly reliable resource in Cryptoindex. The AI-powered cryptocurrency index provides pricing information, history, and predictions on the top 100 crypto coins. Because it is powered by Cryptoindex's powerful Zorax algorithm, the index is more accurate and reliable than other indexes in the market, according to the company. The CIX100 is currently used by notable financial outlets, including Bloomberg and Reuters. Cryptoindex also allows users to create their own crypto indexes geared toward specific interests.
Stock market indexes are tried-and-true reference tools that help investors assess the value of stocks and gain insights into price movements and future investments.
"In the United States the S&P 500, Dow Jones Industrial Average, and Nasdaq Composite are the three most broadly followed indexes by both the media and investors," according to Investopedia. "In addition to these three indexes, there are approximately 5,000 others that make up the U.S. equity market."
Clearly, for those investing in traditional securities, resources abound to access current prices, historical trends, and other analytics.

But things are a bit different in the relatively new ecosystem of cryptocurrency investments. Cryptocurrency indexes began popping up not long after the launch of Bitcoin but few have been considered to be as consistently accurate or as reliable as the S&P 500 or Dow Jones have been for the stock market.
In the evolving world of digital assets, many indexes have not been as comprehensive as traditional stock market indexes. Others have even been known to put their own spin on the data which could benefit some investors more than others.
Cryptoindex is aiming to become the go-to index for cryptocurrency investors and companies.
The platform's central offering is the Cryptoindex 100, an index of the top 100 coins that continuously rebalances itself as the crypto market ebbs and flows. The index gives crypto investors accurate information to help them further diversify their digital asset portfolios.
The company also has plans to launch its CIX fund "to help traditional financial players enter the crypto market simply and easily," according to the company.
We recently spoke with Cryptoindex's Director of Community and Relations, Roman Wiligut, about the innovative platform and the value it provides in the growing cryptocurrency ecosystem.
Establishing a Trustworthy Benchmark Crypto Index of the Top 100 Digital Coins
"When we started, we had this vision that the cryptocurrency world needed a benchmark, like the S&P 500, Dow Jones, or NASDAQ composite 100," Wiligut said. "And we understood that it's very difficult to find the good (crypto) projects and include them in our index just using human resources."
To help achieve its goal of creating such a benchmark index, the company assembled a team of highly experienced tech experts consisting of individuals who had developed innovative solutions within the stock industry.
The team helped create Cryptoindex's neural network powered by cutting-edge AI-based technology. The technology is designed to exclude human influence as well as disreputable coins with fake volumes and rankings.
"The index is calculated every second in real time, with a lag equal to one second," according to Cryptoindex. "The index functions according to the proprietary AI-based algorithm, 'Zorax.'"
The index is integrated with nine of the largest cryptocurrency exchanges around the world and factors in not only millions of trades but news releases, social media data, and more.
"Only coins that have consistently made it into the top 200 for at least three consecutive months are included in the index, which is rebalanced monthly," according to a Cryptoindex press release.
Wiligut explained that the index can make predictions on each of the coins on the index.
"You can see the prediction for today — sell, buy, strong sell, strong buy — and we have predictions for 30 days from now," he said.
The easy-to-read Cryptoindex 100 interface indicates these predictions with a simple thumbs up or thumbs down symbol next to each coin and a graph indicating the strength of the prediction.
Partnering with Financial News Platforms, including Reuters, Bloomberg, and TradingView
Following its entry into the crypto index market, it didn't take long for the Cryptoindex 100 to begin gaining attention from some of the most reputable financial news outlets in the market.
"The half a million traditional traders that use the Reuters and Bloomberg financial terminals will now have access to an index for the 100 strongest-performing cryptocurrencies and tokens," according to an announcement on Cointelegraph.com.
The announcement notes that more than 33 terabytes of data contribute to the construction of the index.
Data analysis site TradingView is also providing access to the index for its users.
"Integrating the CIX100 Cryptoindex demonstrates TradingView's commitment towards moving fintech forward," said TradingView Chief Strategy Officer Stan Bokov in the announcement. "Data is rapidly becoming a commodity in its own right, and access to it will define future companies' success. We aim to ensure that this is maintained well for all."
In fall 2019, it was announced that Cryptoindex would be listed on the Nasdaq composite — a signal of how the crypto ecosystem is gaining traction in traditional markets.
The company believes that its launch on Nasdaq cements the company as a key player in crypto indices, with Cryptoindex.com advisor Austin Kimm sharing his excitement.
"The Cryptoindex team is honored to be listed on Nasdaq, which has always been a key platform for institutional investors to monitor classical indices," said Cryptoindex Advisor Austin Kimm in an announcement. "Cryptoindex's methodology meets the needs and requirements of heavily regulated asset managers, plus institutional and professional investors."
Giving Customers the Power to Create Their Own Index
In addition to Cryptoindex providing a reliable resource for people to plan their next crypto investments or diversify their portfolios, the company also gives users the option to create their very own indexes.
"Do you have investment expertise that you want to share? Create your own indexes and rebalance them each month as you want," according to the company website. "The better your index performance is, the bigger your earnings are from social trading fees."
This feature puts the power of crypto indexes in the hands of its users so they can share their expertise and insights with their own target audiences.

For those who don't want to go so far as to create their own indexes, Cryptoindex makes it easy for users to share the CIX100 with their audiences.
"Our goal is to keep everyone informed and up to date. With our application programming interface (API), we can help you manage and access crypto assets," according to the website. "For example, use our API to display main index information on your website and help your customers stay as informed as possible about the market."
All of this is reflective of Cryptoindex's goal to provide quality products and quality customer service to its users.
"Our users write us in the chat, and they write us via email. We collect this feedback and try to improve," Wiligut said. "At the moment we are working hard on some new tools, and once they are presented to the community, we will welcome feedback on these new features and try to improve those as well."
Expanding to Offer a Variety of Indexes
Cryptoindex currently offers sectoral indexes — portions of the CIX100 that focus in on specific industries.
"We make it easy for you to invest in different economic sectors. First, we analyze crypto market demand to select promising offerings like financial services, storage, marketplaces, and advertising, in sectoral indexes," according to the website. "Then we create bundles of crypto coins to optimize the distribution of investment over those indexes."
These sectoral indexes remain part of the overall CIX100, but Wiligut said that, in the future, the company plans to add new and diverse indexes to provide an array of index resources for its customers.