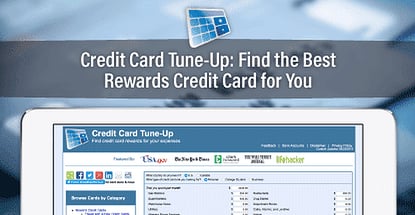 In a Nutshell: Joel Meulenberg has been coding since he was a kid, so when his favorite rewards credit card was canceled, he decided to create a tool to sort through all the offers to find the best option for him. Credit Card Tune-Up was his solution, and he released it on the web to be a one-stop-shop for anyone in the market for a new rewards credit card or looking to optimize rewards based on personal spending habits. The tune-up website asks for information like how much you spend and in what categories, then it provides the best case scenario for you. Credit Card Tune-Up even takes into account using multiple cards to maximize rewards and projects annual savings at the bottom of its comparison chart. //
My favorite credit card fetches a handsome everyday cash back reward, and because I've always paid it in full and on time, the issuer has added benefits, including increasing my cash back rate and extending my line of credit, for free without my asking.
So, what do you do when your favorite rewards credit card gets canceled? If you're me, you spend weeks scouring the web for the next best option, weighing all the variables based on spending habits and card requirements before submitting an application. If you're Joel Meulenberg, you build your own decision-making tool to find your next card.
Joel, a 30-year veteran programmer, is fascinated with decision support systems and has shaped his career by developing the tools necessary for computers to aid humans in their choices.
While he studied applied math and computer science in college and has spent years in information technology roles across various industries, Joel says his interest in coding dates back to childhood. When we spoke with him recently, Joel explained that building out Credit Card Tune-Up was simply his answer to his credit card cancellation problem. He added it to the web with a graphical user interface because he wanted others to benefit from his tool.
How a Personal Solution Became a Leading Credit Card Tool
When Joel created Credit Card Tune-Up in 2009, he was simply focused on finding his next credit card. His goal was not to create a living site for comparing rewards cards, but today Joel's website helps to bring people a more complete picture of the best cards available for earning rewards.
"The way that Credit Card Tune-Up came about was really just to scratch a person itch I had because one of my favorite rewards cards — I think it was a Citi card — got canceled," Joel says. "I wanted to figure out what the best cards were for me based on what I was spending."
He did a quick search on the web, and as he realized there were no tools available to help him choose his next card, he thought, this is a problem I could solve.
A few weeks of programming later, and Joel had a working resource to help narrow his card options down to the best choice for him based on his spending habits.
"Once I solved the problem for myself, I thought, I could put a little web user interface on top of this and throw it out there," he says. "And I did — that's how Credit Card Tune-Up came to be."
Joel's Programming Accounts for Multiple Variables
Credit Card Tune-Up considers all the different configurations of credit card rewards — including rotating categories offering higher percentages of rewards each quarter or category specific spending bonuses for the life of the card — to ensure you're making the most of your plastic.

"I built the algorithm to solve that multi-card problem, which is figuring out what are the best combinations of cards for a given person's spending profile," Joel explains.
What makes Joel's site unique is that it breaks down your spending by category and overall monthly expenditure. Then, the algorithm takes over to sort through all the cards to bring you the top choices based on your input.
If you don't spend much on gas monthly, but you do go out to eat regularly, the cards with gas rebates would be given a lower priority over the cards that provide you with restaurant rewards.
Writing Code Has Always Been Joel's Hobby
Joel remembers his first job fondly: He was 15, and when he was offered a job that would pay him to do his hobby — to code — his mind was blown. Throughout high school, he worked to create a lightweight rating system for home and auto insurance at Specialty Program Services, a software vendor in Grand Rapids, Michigan.
At Grand Valley State University, Joel earned his Bachelor of Science degrees as a double major in applied math and computer science. He graduated magna cum laude while continuing to serve as a programmer for local software vendors.
In the 24 years since graduation, he has taken various independent programming gigs in addition to working his way up from consultant to senior level and management staff positions at Priority Health in Grand Rapids.

Since 2013, he has shifted his focus on personal projects, including keeping Credit Card Tune-Up regularly updated. What most excites Joel these days is his latest online venture, Sift Swift, a recently launched website to aid in financial decision-making for more than just credit card rewards.
Where Credit Card Tune-Up is hyper focused on rewards cards, Sift Swift is focused on the technology that enables more factors to be taken into consideration. Joel programmed the new site based on Pareto optimization, which weighs added benefits against other trade-offs to ensure efficiency.
Currently, Sift Swift analyzes two topics — banking and credit card returns — based on a number of options, including length of investment or card ownership and annual fees.
The Future of Digital Decision-Making
While I am quite pleased with my current rewards credit card, which offers an everyday great cash-back percentage on all purchases plus rotating high cash back categories every quarter, I did use Joel's Credit Card Tune-Up site to see if I could better optimize my rewards.
Then I checked my options on Sift Swift to see if there were any other tweaks I could make for my personal finances, and I found that my savings account could earn more at another bank.
Thanks to Joel's fascination with the ability computers have to make the best choices based on variable input from users, he has created useful tools to aid everyone in decision-making.
"I'm planning on adding different topic areas over time," says Joel of his Sift Swift project, a bigger and more sophisticated version of Credit Card Tune-Up. "Personal finance is a big focus area, but I don't think it's going to be restricted to that because it's more of a generalized framework for making decisions, so I think it applies to things like choosing a college, entertainment options, and even cellphone plans."
Advertiser Disclosure
CardRates.com is a free online resource that offers valuable content and comparison services to users. To keep this resource 100% free, we receive compensation for referrals for many of the offers listed on the site. Along with key review factors, this compensation may impact how and where products appear across CardRates.com (including, for example, the order in which they appear). CardRates.com does not include the entire universe of available offers. Editorial opinions expressed on the site are strictly our own and are not provided, endorsed, or approved by advertisers.