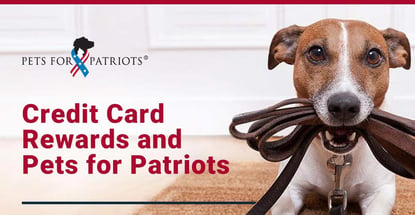 In a Nutshell: Cashing in credit card rewards to score a big discount on travel or redeem a hot ticket item may feel good, but it can feel even better to use credit card rewards to support a worthy cause. Pets for Patriots fits perfectly into this category. The organization helps match military veterans and active-duty members with overlooked shelter animals and helps to remove some of the financial obstacles to adoption. Many veterans are coping with PTSD, loneliness, or simply re-integrating into civilian life. Caring for an animal can provide needed emotional support and offer a social bridge to reconnect with family and friends. Meanwhile, millions of animals in shelters go unadopted each year. Pets for Patriots is working hard to make a difference in the lives of veterans and pets in need of a home.
Here at CardRates, we often explore the wide world of credit card rewards and write about novel ways to use them.
Credit card rewards have become increasingly popular over the years and card issuers maintain robust, flexible programs that can provide some great benefits to users. We've covered ways to turn rewards into travel discounts, affordable lodging, budget-friendly fine dining experiences, and much more.

We also like to highlight ways people and organizations can give back, whether it's through direct donations, volunteering, or, yes, even leveraging credit card rewards to support a worthy cause.
Flexible rewards programs offer cashback options, which can be redeemed as a statement credit, and, in turn, the cardholder can apply their extra cash to help out the causes and charities of their choice.
We recently learned about Pets for Patriots, a nonprofit organization that helps bring together pets in need of a home with military veterans and active-duty members. We were curious to learn more about this organization and wanted to highlight for our readers who may be looking for an altruistic way to use their credit card rewards.
Pets for Patriots Founder and Executive Director Beth Zimmerman spoke with us about how she established the charity, how it benefits people and animals, and how the organization gains support.
Identifying an Opportunity to Match Shelter Animals with Veterans and Active Duty Members
Zimmerman said she remembers clearly when the idea for what would become Pets for Patriots was born.
"It was Memorial Day, 2009. I was driving home my now late mother and her companion at the time, who was a World War II veteran, from having barbecue with me," she said. "When we got back, I was doing the dishes, where, sadly, I get my best ideas. I just had this idea of veterans and pets — no other details around it at the time."
These kinds of ideas pop into Zimmerman's head from time to time, she said — not fully formed, but she knows there is something there.
"I just noodled it over for a while, and I started to do some research about veterans and their needs at various stages of their lives," Zimmerman said. "Also, the plight of animal welfare. Although my family had always adopted shelter animals, I can't say that I necessarily knew a great deal about animal homelessness and the depth and breadth of the problems animals face in this country."
That's when things really began to click for Zimmerman.
"I quickly realized that these are two very different populations, with complimentary needs for love, acceptance, and healing," she explained. "That was the initial idea. Then I began to look at what the obstacles were in getting veterans and pets together."
Zimmerman said she learned through her research that for veterans and many other people in the U.S. one of the primary obstacles to pet adoption is the cost of care. It's also one of the main reasons animals are surrendered to shelters, she said.
"I wanted to create a scalable program that saves the most overlooked shelter dogs and cats because, by and large, puppies and kittens don't need a great deal of motivation for people to adopt," she said. "At the same time, I wanted to make it more affordable for veterans at all stages of their lives to welcome a pet into their homes."
Benefits for Both People and Pets
Pets for Patriots fills a clear need identified by Zimmerman, but the benefits for veterans and animals are truly significant.
"We offer veterans various benefits to promote the human-animal bond, reduce surrender back to shelters, and make lifetime pet guardianship more affordable," according to the organization. "These include 'welcome home' contributions towards pet food and other basics, as well as access to high-quality affordable veterinary care and discounts on various pet goods and services."
Zimmerman said the pets are not service animals, but their presence can prove invaluable to their new guardians.
"These pets are for companionship and emotional support, but we never underestimate the healing power of these animals," she said. "We do have many veterans in our program who are coping with PTSD, depression, anxiety, recovery from substance abuse, and sometimes just loneliness."
The animals can help bring people out of their shells and provide them with a non-threatening way to interact with other people in ways they may not have previously socialized, Zimmerman said.
"So many of our veterans tell us that, even if they weren't deployed in a conflict, just leaving the very unique culture of the military and trying to integrate back into civilian life is a very jarring, unsettling, and lonely experience," she said.
Being able to adopt a shelter animal allows them to connect with the animal, of course, but it also provides a social bridge to reconnect with family and friends.
While Pets for Patriots helps to deliver enormous comfort and other benefits to veterans, it also saves animals' lives. Each year, more than 3 million animals won't make it out of a shelter alive, according to the organization.
Pets for Patriots has played a role in helping almost 3,400 pets get rescued.
"One of the things that I really love the most is the fact that we actually do follow up personally with every single adoption," Zimmerman said. "Every single one of those adopters hears from us throughout the course of their relationship with our organization, and in some cases, veterans continue to adopt from us over the years as their pets may pass on."
Support Comes from a Wide Range of Sources
Zimmerman discussed the various ways in which Pets for Patriots receives support, including how people can make donations to the organization.
"Early on, you don't have a lot of control or sway (in gathering support) because nobody knows who you are. We formally launched in 2010, and the first year we had five adoptions. The next year it was 75. And it has just increased each year," she said.
She said the funds to keep the continually growing program come from a variety of sources.
"Some of it is from individuals who are inspired by the work we do — they might be troop supporters, they might be pet lovers or some combination of the two," Zimmerman said. "We reach a very broad audience, including corporations, sponsorships, things like Amazon Smile and shop-and-give programs."
Watch on
Not long after Pets for Patriots was launched, it participated in the Combined Federal Campaign, which is the federal government's employee workplace giving program, and the largest of its type in the country, Zimmerman said.
"That was very pivotal for us because we had to pass vetting by the federal government in order to be included in the list," she said.
Over the years, the organization has seen nearly every type of donation.
"It's literally everything and anything," Zimmerman said. "There's probably not a single type of donation, from stock bequests to estate distributions, from which we don't get support."
For those interested in supporting Pets for Patriots, the website includes detailed information on how to donate directly via the website as well as the many other ways people can show their support and help raise awareness for this important cause.
A Trustworthy Charity Committed to Transparency
Zimmerman said she is proud that Pets for Patriots has a 94 out of 100 rating from Charity Navigator. She said she believes in establishing trust and maintaining financial accountability and transparency as a charitable organization.
"We post all of our audited financial statements on our website, which I think is important for anybody who's giving to be able to access," she said. "And we're proud that 87 cents of every dollar goes to the programs and services we exist to provide."
Advertiser Disclosure
CardRates.com is a free online resource that offers valuable content and comparison services to users. To keep this resource 100% free, we receive compensation for referrals for many of the offers listed on the site. Along with key review factors, this compensation may impact how and where products appear across CardRates.com (including, for example, the order in which they appear). CardRates.com does not include the entire universe of available offers. Editorial opinions expressed on the site are strictly our own and are not provided, endorsed, or approved by advertisers.