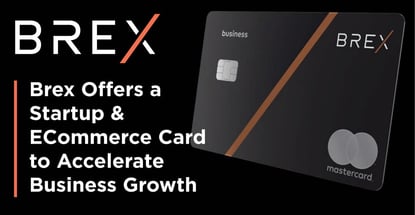 In a Nutshell: Brex is a fintech company that offers two unique corporate credit cards to startups and e-commerce businesses. Neither card charges fees for interest, membership, or foreign transactions, and neither requires a personal guarantee or individual credit check for approval. Brex determines credit limits by reviewing a startup's business bank account balance and an e-commerce company's sales records to regularly modify credit limits in real time. Both cards offer top-tier rewards that never expire and discounts on business software expenses, among other valuable features important to business owners.
Henrique Dubugras and Pedro Franceschi founded their first startup, Pagar.me — one of the largest payment processors in Brazil with over 100 employees, processing $1.5 billion in transactions after three years — when they were teenagers.
So, what's next after you launch a massively successful business worth millions of dollars while you're in high school? College, of course.
Dubugras and Franceschi both accepted offers to attend Stanford University and left Brazil – and Pagar.me – behind, selling the company to Stone, a Brazilian credit card processor.
But as the young entrepreneurs settled into their new lives and applied for credit in the states, thinking their net worth would be enough to guarantee a line of credit, they quickly realized the plight of accessing credit without a formal credit history or Social Security number.
Dubugras and Franceschi attended Stanford just eight months before leaving for Y Combinator to start their next venture, Brex.
Brex is the culmination of multiple years of research into credit problems in America. The Brex card provides a line of credit without a personal guarantee or individual credit check to help early-stage businesses with venture capital backing accelerate their growth.
The company's backers include Max Levchin and Peter Thiel — co-founders of PayPal — as well as Ribbit Capital, Yuri Milner, and former Visa CEO Carl Pascarella.
"Traditional credit card providers have looked at small businesses as this monolith group of everything from restaurants to design firms as one in the same, and offered one product to them all," said Thomas Piani, Head of Rewards and Channels at Brex. "We believe that different types of small businesses have very different types of needs when it comes to their payment instrument or the types of rewards that interest them."
Brex offers two distinct card offerings. It's first and still most popular card focuses on venture-backed startups that are in the early stages of development.
In April 2019, Brex unveiled its second offering, the Ecommerce card, that exists to meet the needs of startups that conduct online commercial transactions and often have high upfront costs and long wait times to reap the profits from those expenses.
"We have a tailored approach that allows us to provide products that fit our customers' needs better than most banks," Piani said. "That's from an underwriting and limits standpoint, as well as a features and rewards perspective."
Real-Time Reporting Sets Adjustable Credit Limits
The startup card functions as a 30-day charge card, with payment for the card's full balance deducted automatically each month from a linked business bank account. But Brex's approach to a 30-day window differs from that of most traditional banks.
For example, if you make a purchase on day one of card ownership, you don't have to pay for that purchase until day 30. A purchase made on day two doesn't require payoff until day 31.
And, since Brex doesn't charge interest or fees for annual membership or foreign transactions, cardholders always know exactly what they'll owe.
Credit limits are another dynamic feature of the Brex startup card. Since the company doesn't use credit checks to determine creditworthiness, other factors determine the amount of credit an approved user receives.
"Startups that have raised millions and are poised for hyper-growth can't get slowed down hassling with banks requiring personal guarantees and offering meager credit limits." — Henrique Dubugras, Co-Founder and CEO of Brex
Brex sets these limits by examining the available balance in a linked business bank account. Brex never accesses the bank account credentials, but rather uses a third-party API that reveals the account balance.
"Using that, we can give you a percentage of the cash balance that we see as a credit limit," Piani said. "That works very well for venture-funded startups because it allows them to not give a personal guarantee, but it also gives them credit limits that are 10 to 20 times what they'd get with a traditional, personally guaranteed card that looks at the founder's personal credit history."
The company constantly monitors a cardholders' business account balance, and, using its proprietary software, can adjust your credit limit as your balance changes.
"We've built a dynamic, real-time underwriting model," Piani said. "We're able to, over time, change or modify our perspective of a company's creditworthiness and the credit that we should give them."
Many credit companies only look at credit line increases once every six months to a year. With Brex, cardholders can receive reviews multiple times each day.
"With our model, we look at your situation all the time — as often as hourly," Piani said. "And, based on your account balance, we can update your credit limit."
Rewards and Discounts on Common Business Expenses
When the Brex startup card launched, it intentionally didn't offer a points rewards structure. That's because the company wanted to monitor users' spending habits for the first year to see what rewards would best suit their needs.
The company could have copied the rewards offerings and multipliers of existing business credit cards, but Piani noted that Brex's average customer, the startup founder, has far different needs than an established business owner.
Brex examined its customers' spending habits, as well as data from business cards offered by traditional banks, to create its own rewards structure with spending categories and multipliers that made sense to the startup founder:
7x points on rideshare purchases
4x points on travel purchases
3x points at restaurants
2x points on recurring software subscriptions
1x points on everything else
"With those multipliers, your average purchases earn around 25% more than on any other card program just from the value of the points," Piani said. "And that's not taking into account that, on some other cards, your points may be less valuable depending on what you redeem them for."
There are no limits on rewards a user can earn, and the uncapped multipliers never change based on spending habits. On top of the already rich rewards, Brex added some serious perks to make the card even more valuable to business owners.
"There are really two parts to the rewards we offer — there are the points, but we also offer a set of deals and discounts with a range of providers that our customer base finds relevant," Piani said. "We offer $5,000 in credit for Amazon Web Services, discounts at WeWork for office space, discounts on Google Ads, Zoom for communication, and many others."
In all, Piani said the discounts alone can add up to approximately $50,000 in value to cardholders.
Ecommerce Card Offers 60-Day, 0% Interest Repayments
With the success of the startup card, Brex noticed an opportunity to help another set of often overlooked business owners.
"E-commerce companies often care most about managing their cash flow," Piani said. "They're spending on inventory, advertising, shipping, and so many other things. And they often don't get the revenue associated with that spend for one or two months after the spend."
The Ecommerce card works in many of the same ways as the startup card, but with a few tweaks to help these unique business owners. As with the Startup card, Brex charges no interest or other fees and provides instant approval with automatic payments. But the payment window on this card extends to 60 days instead of 30.
Brex determines Ecommerce card credit limits based on average monthly sales. Piani said that most credit lines settle between 50% and 100% of the applicant's monthly sales totals. As with the startup card, credit limits can fluctuate as Brex monitors your sales through Shopify, Amazon, or other online sales channels.
The card also comes with advanced fraud protection, easier expense management, and U.S.-based support on the Mastercard network.
Applications for either card takes approximately five minutes with instant card issuance available to approved cardholders.
As you make payments, Brex reports your on-time payment information to Dun & Bradstreet and Experian to help you build a business credit history.
"This card was designed to meet the specific needs of e-commerce business owners," Piani said. "Since no two businesses are alike, these founders need a line of credit that really works for what they're trying to accomplish. This card does that."
Championing Small Businesses with Financial Flexibility
Successful businesses evolve and grow — shouldn't your business credit card do the same?
Brex credit cards offer fluctuating credit limits based on a business's cash flow and spending patterns to keep cardholders from overspending. When a company's revenue increases, so does its credit limit, providing new purchase opportunities. And, possibly best of all, business owners can earn rich rewards for purchases they're already making without paying the high-cost interest rates typically associated with rewards credit cards.
And, as your business grows and you bring in new team members, you can instantly add them to your account, issue them cards, and set and track specific spending limits for every cardholder.
The Brex member portal also allows admins to analyze employee spend and simplify month-end reconciliation with integration to QuickBooks, Xero, NetSuite, and Expensify.

"We think of small businesses as a series of verticals that each have specific plans and assets," Piani said. "Now that we've launched the e-commerce card, we'll be looking at other cards to launch that will target other verticals within small businesses."
Brex founders remain grounded in the initial vision they adopted when they struggled to find adequate credit options: No two businesses are alike and each has different needs. But when those needs are met, extraordinary things happen.
For Brex, it's all part of a growth strategy — the growth of its own business and the businesses it supports every day through affordable lines of credit in a space where "affordable" and "credit" are rarely seen in the same sentence.
"We want to accelerate a startup's growth," Piani said. "That only happens when they have access to credit."
Advertiser Disclosure
CardRates.com is a free online resource that offers valuable content and comparison services to users. To keep this resource 100% free, we receive compensation for referrals for many of the offers listed on the site. Along with key review factors, this compensation may impact how and where products appear across CardRates.com (including, for example, the order in which they appear). CardRates.com does not include the entire universe of available offers. Editorial opinions expressed on the site are strictly our own and are not provided, endorsed, or approved by advertisers.