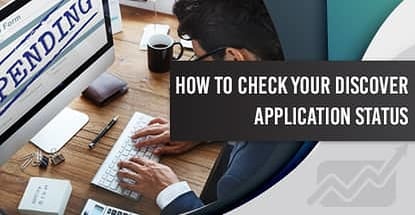 Discover issues several types of credit cards, and applying for a Discover credit card — and knowing your Discover application status — couldn't be simpler. The Discover it® Cash Back card is one of our most sought-after offers and stands out from the competition because of its year-end bonus and many consumer-friendly features. This card lets you redeem your rewards for cash whenever you want, in any amount, and the cash-back percentage on quarterly rotating categories is one of the most generous rewards programs in the industry. While many people apply for the card, only some are left wondering about their pending status.
The online process moves quickly and you get your status right away – accepted, denied, or pending. In the latter case, a human analyst is required to complete the process, which naturally takes longer. You can check your status in a couple of ways if you are awaiting a final decision.
Online | Phone | Denials | Best Discover Cards (7)
Check Online with Your SSN & ZIP Code
Discover makes it easy to check your approval status online. Simply go to the Check Status page and enter your Social Security number and your ZIP code. It only takes a few seconds to get your update, and you can check as often as you like.
This method is the quickest way to check your pending application status and the process is completely secure.
Call 1-800-DISCOVER to Connect with an Agent
If you prefer, you can call 1-800-DISCOVER to get your current application status. After dialing, press # and then 4. This shortcut lets you avoid listening to all the tedious options available to callers.
Reasons Your Application Could Be Denied
Pending status usually denotes that some of your information needs further verification. Often this can arise due to differences in an address, misspellings, or perhaps a transposed number. The credit card issuer is doing you a favor by rechecking information because it helps prevent identity theft. If Discover cannot confirm your identity, it can't issue you a credit card.
Unfortunately, a percentage of Discover applicants will be denied. You can look to your credit history and credit scores as the main culprit. Every major credit card issuer has minimum standards for acceptance that can trip you up, be it a low credit score, certain derogatory marks (bankruptcy, foreclosure, defaults, etc.), or a scant credit history. Before you apply for credit, check your credit reports and scores issued by the Big Three credit bureaus, Equifax, TransUnion, and Experian. Correct any incorrect information and add comments when necessary to explain negative data.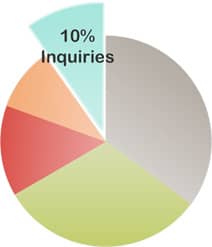 You can improve your credit scores in several ways. One is not to apply to multiple creditors within a short time period – piling up creditor inquiries drives down your credit score, although the impact is usually small. Simply opening too many new accounts in rapid succession can also hurt your score by reducing your average account age. Also, check your credit utilization ratio – the amount of credit you are using versus the amount approved.
Generally, values above 30% hurt, while ratios below 10% to 20% help. If you first pay down your existing balances, you have a much better chance of qualifying for a new credit card.
Whatever the cause, a denial from Discover will not necessarily prevent you from obtaining a credit card from another issuer. Each card comes with its own standards, and some are more forgiving than others. Most issuers allow you to pre-qualify before they hard-pull your credit and drive down your score. Whether your credit is good, bad, or non-existent, there is a credit card perfect for you.
7  Best Discover Cards to Apply For
With Free FICO Score tracking, fraud protection, superior customer service, and top-notch rewards, it's no wonder Discover cardholders have rated their experience with the issuer a 4.8 out of 5 based on more than 25,000 reviews. Below are our expert's seven favorite Discover cards to apply for, with options for every credit standing.
Good Credit (4) | Student Cards (2) | No/Limited/Bad Credit (1)
Cards for Good Credit (FICO Score 700+)
FICO scores range from 300 to 850. If your score is excellent, (i.e., above 750), you can pick just about any credit card on the market. You also have many alternatives if your credit score is good, between 700 and 750. Discover offers four great options for those with good credit, whether it's cash back, air miles, or an extended balance transfer period you're after.
+See More Cards for Good Credit
Cards for Students
Discover has some of the most desirable student cards on the market. This is due to its solid cash back rewards program that rivals many non-student cards available to those with good credit. This is a big deal because these student offers are most applicant's first credit card.
Use it responsibly to build upon your credit history so when you're no longer a student, you can still qualify for cards with the best rewards programs — it wouldn't be ideal to go from a card like one below to another with lesser benefits!
Cards for No/Limited/Bad Credit (FICO Score <650)
Bad credit is associated with black marks, such as defaults, bankruptcies, foreclosures, late payments, or scant credit history. But take heart, Discover still offers a credit card for consumers with imperfect credit. Here is our top-rated Discover card for folks who fall into this category. Secured credit cards are a great way to establish credit if you're just starting out, and they also provide a path to begin rebuilding credit following some financial missteps.
+See More Cards for No/Limited/Bad Credit
Discover the Best Card for Your Wallet
Applying for one of the many Discover credit cards is very much worth your while, as their flexible rewards program is just one of the many perks cardholders enjoy. If your application was denied, you can call Discover to discuss why. Sometimes, the problem may be resolved by clarifying or correcting some data. If you can't get to ''yes" with Discover, another issuer might fit the bill a lot better. By understanding your credit score and choosing among our top picks, you'll be able to identify the card that best fits your lifestyle.
---
Photo credits: Thebalance.com
Advertiser Disclosure
CardRates.com is a free online resource that offers valuable content and comparison services to users. To keep this resource 100% free, we receive compensation for referrals for many of the offers listed on the site. Along with key review factors, this compensation may impact how and where products appear across CardRates.com (including, for example, the order in which they appear). CardRates.com does not include the entire universe of available offers. Editorial opinions expressed on the site are strictly our own and are not provided, endorsed, or approved by advertisers.