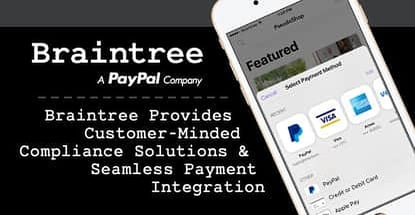 In a Nutshell: The ubiquity of mobile devices and dramatic increase of human connectivity has today's ecommerce customers expecting more from the businesses they patronize. Whether it's retail, banking, or insurance, customers want to be able to buy goods and use services on their own terms, when and how they want. That's why it's now more important than ever for businesses to offer online payment methods that make checkout fast and easy. Enter Braintree, a full-stack, online platform enabling simple payment processing in any app or website. Braintree's services replace the need to source a payment gateway and merchant account from different providers. The platform is ready to go right out of the box but also allows easy customization to match a business's needs. This, coupled with its low cost and security features, makes Braintree an effective payment solution for businesses of all sizes to manage online transactions and maintain regulatory compliance. //
A recent Business Insider article noted the rapid evolution of the ecommerce ecosystem was marked mainly by the growth and improvements seen in online payment processing and electronic payment technologies. Today's most successful online merchants offer multiple payment methods, which works to both attract customers and keep them coming back because of the convenience.
Many enterprise-level ecommerce businesses with robust IT and development resources already have online payment platforms in place. However, with the help of Braintree, businesses of all sizes can easily implement the same effective payment solutions as their larger ecommerce cousins.

Braintree recognizes different businesses have different needs. That's why the company offers an industry-leading payment platform at an affordable price point. With top-notch merchant support, a host of features, and multiple payment methods, Braintree operates with the mission to give businesses the tools they need to put online payment structures in place and help them grow.
Customizable Payment Integration for Any Type of Business
The kind of payment platform a business adopts depends on its needs. For example, subscription-based providers need to deliver goods and services and bill customers on a regular basis without interruption. Customers of such businesses expect fast interactions where they don't have to re-enter personal information each time they make a transaction. Braintree makes it easy to accept online payments without fear of interruption and no additional costs beyond a low per-transaction percentage.
The Braintree Vault securely stores customer information and automatically handles recurring payments in each billing cycle. Features, like pro-rated subscriptions, allow customers to change their plans at any time. Subscription-based providers also benefit from Braintree offerings, such as push notifications and flexible pricing, that work to enhance user experience and maintain customer loyalty.
For marketplace businesses looking to split payments with sub-merchants, Braintree has a number of useful tools. In addition to providing a common platform for buying and selling, many marketplace businesses act as an umbrella for multiple sellers or service providers, and Braintree makes it easy to pay and get paid. Braintree also offers help in generating annual 1099K tax forms that are often cumbersome to file for many marketplace owners.
Braintree's robust reporting capabilities offer various ways to collect and analyze transaction information in the marketplace for each seller. There are no extra fees for sellers – just the standard pricing of 2.9% + $.30 on initial transactions.
Merchant platforms that wish to connect with Braintree merchants and take action on their behalf will find everything they need with Braintree Auth. Users can connect existing or new Braintree accounts to their platforms. Through a single onboarding flow, owners of ecommerce platforms, shopping carts, or recurring billing services can simply enable credit/debit card, PayPal, and PayPal Credit payment for merchants.
Many of today's ecommerce businesses are partnering to offer experiences in increasingly varied contexts, and Braintree has the products and tools to make this possible. Braintree's Contextual Commerce APIs address the complexities of sharing customer and payment information by offering trusted integrations with service providers and uninterrupted retail checkout flows.
The Grant Contextual Commerce API allows the secure sharing or revoking access to encrypted payment data with other Braintree merchants. The Forward Contextual Commerce API enables secure data sharing with PCI Level 1-compliant parties while keeping your vault protected. Highly visible companies like Facebook, Pinterest, Uber, and Lyft already enable Braintree's contextual commerce.
Multiple Payment Methods Give Customers Options & Help Boost Conversion Rates
When it comes to payment options, consumers have a wide variety of choices. If a business doesn't accept a customer's preferred method, odds are good he or she will look elsewhere for products or services. Braintree offers an array of payment options, allowing companies to best serve their customers and maximize conversion rates.
Cleary, credit and debit cards are the most common type of payment method customers are looking to use when they check out. Braintree allows businesses to accept virtually all brands and types.
More than 190 million people worldwide use PayPal to complete online transactions. Braintree seamlessly integrates with the PayPal, opening the door to the growing number of consumers using the payment platform. And with this integration, customers are never directed away from your site to complete payment.
Though not as recognizable or widely used as PayPal, Venmo offers a social experience that lets users pay while being able to easily share and split payments. But make no mistake, the social aspect of Venmo doesn't make it any less secure. Braintree safeguards all payment data.
There are millions of iPhone and web users who already have a credit or debit card stored in their Apple Pay Wallet. These users can easily and seamlessly check out using that card without entering their details. And Apple's native Touch ID adds an additional layer of security.
Android Pay is another very popular, secure checkout for millions of users across all cellular carriers. Braintree allows businesses to integrate and go live instantly with a v.zero SDK. Android users also have stored payment methods, which greatly simplifies checkout.
Though still in their relative infancy, cryptocurrencies are on the rise. Braintree allows businesses to accept Bitcoin via users' Coinbase wallets. With Bitcoin transactions, immediate confirmation and instant settlement help you rest easy when it comes to fear of currency fluctuation.
Ready-to-Go or Tailored Payment Platforms with Intuitive Tools Get Your Business Up-and-Running in No Time
There are two methods to integrate with Braintree. The first, Drop-in integration, is fast and simple. With just a few lines of code, businesses can add a full-featured checkout to their app or website to start accepting cards and turn on PayPal support with the Braintree Control Panel.
Braintree's Drop-in user interface is intuitive and ready to go right out of the box. IT's secure and designed to create an ideal customer experience by blending seamlessly with branded sites.
Custom integration is also available, allowing companies to build their own checkout page with just a few extra lines of code to best suit their needs. Even though you may tailor your checkout flow any way you prefer, Braintree ensures you're still compliant through their easy to use APIs for apps or websites.
Security Features Like Hosted Fields and PayPal One Touch Guarantee Compliance
Any company that accepts credit card payments, regardless of size, must adhere to the Payment Card Industry Data Security Standard (PCI DSS) compliance standards. PCI compliance is a set of industry-mandated requirements applying to any business that handles, processes or stores credit card information. Though Braintree securely stores and processes card data for you, completing an annual Self-Assessment Questionnaire may still be necessary.
However, Braintree features, like PayPal One Touch, make it easy for you to remain compliant by maintaining stringent security protocols to keep customer data safe. PayPal One Touch allows customers to log in only once, which helps avoid password losses and reliance on third-party email services for password recovery. Once logged in, users can instantly complete future purchases across apps or the web with a single press of the PayPal button. This is possible even without having the PayPal app installed.
Braintree's Hosted Fields feature is another way of ensuring the latest PCI data security requirements are met. Hosted Fields are small, transparent i-frames that replace sensitive card inputs in checkout flows, without your customization suffering.
From Your First Dollar to Your Billionth — Grow Your Business with Braintree
For businesses everywhere, having an online payments platform in place that makes it easy for your customers to checkout just makes good sense. The more options your customers have to pay, the faster you'll begin to see your business grow in dynamic ways.
Braintree offers the ecommerce tools that provide the easiest way to get paid across any device through a wide array of payment methods. With a global presence in more than 45 countries accepting, splitting, and enabling payments in more than 130 currencies, it's no wonder Braintree and its users are evolving and growing within the ecommerce ecosystem.
Advertiser Disclosure
CardRates.com is a free online resource that offers valuable content and comparison services to users. To keep this resource 100% free, we receive compensation for referrals for many of the offers listed on the site. Along with key review factors, this compensation may impact how and where products appear across CardRates.com (including, for example, the order in which they appear). CardRates.com does not include the entire universe of available offers. Editorial opinions expressed on the site are strictly our own and are not provided, endorsed, or approved by advertisers.