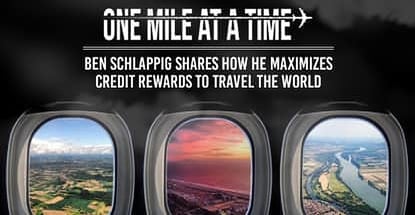 In a Nutshell: Ben Schlappig goes by the name "Lucky," and it's not hard to guess why. He's made traveling around the world his life, having visited 65 countries and counting and earning more than 20 million frequent flyer miles along the way — and he's not even 30. He blogs about his self-funded excursions in One Mile at a Time, a project he began in 2008. On this blog, he offers tips to readers on how to use points from credit cards to upgrade their getaways. More often than not, Ben flies either first or business class, and he says it's more affordable than most people think. You don't have to travel 24/7 like Ben does, you just have to know where the best deals are and then pack your bags. //
Ben "Lucky" Schlappig takes life one mile at a time. Two years ago, he moved out of his flat in Seattle and began calling the first-class section of planes his home.
"I'm voluntarily homeless," he says cheerfully. "I live in hotels and airports full time."
What's even more impressive: his travels are self-funded. He earns over 1 million miles per year by flying constantly and maximizing credit card rewards. He's positively obsessed with air travel, using his knowledge of travel rewards to get the most value out of his whirlwind lifestyle.
He flies 400,000 miles a year, spending four hours a day on a plane, on average, and never staying in one place longer than three days. He's been to 65 countries, and he's visited his favorite city, Hong Kong, over 50 times. It's no wonder he got the nickname "Lucky."
"One of the main things I enjoy about traveling," he writes in his blog, One Mile at a Time, "is the sense of possibility an international departures board inspires."
We got lucky and caught Ben on a day when he was actually in the U.S. — speaking to him while he stopped in L.A. before traveling to Longyearbyen, Norway.
He gave us some valuable insights on how to take advantage of travel rewards and book first-class flights for a fraction of the cost.
No matter how far (or how often) he travels, he never loses his sense of wonder and admiration for airline travel. Passionate about discovering new places and better deals, Ben explores the world on his own dime and shares his journey with his readers.
At Age 14, Ben Took to the Sky to Earn Thousands of Miles
When Ben was growing up, he wanted to be a commercial airline pilot. Even then, he was no stranger to travel. His family took a yearly trip to Germany to visit relatives. One summer, when he was just 14, he received a mailer from United Airlines. "They had an outrageous promotion," he recalls, "offering 5,000 extra miles for every segment flown, with a maximum of 50,000 bonus miles."
The promotional offer ended up changing the course of Ben's life as he did the math and realized that if he flew United enough, he could earn his family a ticket to Germany in first class — for less than they'd normally pay for economy seats.
"I started mileage running," he tells us, "basically flying for the sole purpose of earning miles, which I know is not a normal activity for 14-year-olds."
He flew coast to coast every weekend, typically taking up to 10 flights nonstop without ever setting foot outside the airports he visited. He'd go from Tampa to Washington, then Los Angeles, then San Francisco, then Seattle, then back home.
When Ben pitched the plan to his parents, he emphasized that he'd never actually leave airport security, so it was a pretty safe way for a teen to spend his weekend. Plus he could do his homework on the plane.
His passion for flying and getting deals definitely paid off. By the following summer, he'd received an elite status with United Airlines and secured his family seats in Lufthansa First Class.
As a kid, he wanted to be a pilot, as a teen he wanted to rack up points so his family could fly first class, now this 26-year-old seasoned traveler wants to help others get more value out of their travels. On his blog, One Mile at a Time, he offers tutorials, reviews airlines and hotels, and ranks the best credit card offers for traveling.
Today, he's flown about 4 million miles and earned over 20 million frequent flyer miles — and counting.
3 Things to Consider When Choosing a Travel Rewards Card
One Mile at a Time highlights the best credit cards for traveling, sorting the offers into categories for hotels, airlines, cash back, small businesses, and other travel cards.
For his own use, Ben considers three things when looking for a good travel rewards card:
Sign-up bonus
Points earned per dollar spent
Perks offered
"The biggest immediate gratification people can get is a big sign-up bonus," he says. "If you can get 50,000-60,000 points just for applying for a card, I think that's the greatest value you can get out of the card."
This world traveler is such a fan of earning points this way that he currently owns 35 credit cards and estimates that he's owned over 100 in his quest to travel first class for cheap. Some cards he doesn't use but keeps just to get a free hotel stay on his anniversary of signing up.
"I love any card which includes a transferable points currency," he says. "The key benefit there is that you transfer points to multiple programs, which protects you from devaluation."
This flexibility allows him to follow the best deal and use his points wisely where they'll make the most difference. Some of the cards he recommends travelers use are the Amex Everyday Preferred card and the Chase Sapphire Preferred card.
These Are a Few of Ben's Favorite Things
Of all the places Ben's been, he says that Hong Kong is his favorite city in the world. He's visited there well over 50 times.
His favorite airport, and he's frequented hundreds of them, is Singapore's Changi, a place he describes as more mall than airport. It has swimming pools and a butterfly garden for passengers to entertain themselves while awaiting their flights.
In terms of airlines, his favorites aren't so cut-and-dry. "Historically, I've been loyal to American Airlines," he says, "but at this point there's not much differentiation between airlines anymore so I'm actually thinking of switching airlines."
Currently, he's an Executive Platinum member with American, so he gets a 100% bonus on miles.
He says the airlines he prefers vary based on what he's looking for. Some have better deals while others have better flight experiences — and some he just flies to earn miles for the airlines he loves.
For an above-average flight experience, his preferred airlines are the Asian and Middle Eastern ones — he names specifically Cathay Pacific, Singapore, and Emirates.
Singapore's A380 has a double bed, which cemented it as his all-time favorite. Meanwhile, Emirates' first-class section features on-board showers and an on-board bar.
Using his miles, Ben was actually able to earn a first-class round trip from the U.S. to Dubai on Emirates. This would typically cost about $40,000, but Ben did it for free. Talk about Lucky!
Blog Content Written by Ben and 5 Other Seasoned Travelers
Since 2008, One Mile at a Time has been pointing out the best deals in travel for anyone who wants to follow in Ben's footsteps and start taking advantage of amazing deals. What began as a hobby while he went to college, getting his degree in marketing at UF, soon morphed into a full-time passion.
"I do a majority of the writing," Ben says, "but we do also have five people who all have different voices and add different perspectives."
As a single traveler, often going around the world by himself, his experiences aren't always relevant to people looking to travel with their family or a spouse. Different types of travelers have different needs, so he tries to represent that range on his blog.
The blog's tone is upbeat and encouraging. Ben wants to open people up to the world and all the possibilities for traveling affordably, without having to suffer through cramped economy seats. He doesn't expect his readers to pack up and move into the airport as he's done, but he does point out different tricks to earning and using points accrued from simple practices like signing up for a credit card, booking particular hotels, or flying with a certain airline.
Doing his best to assist travelers, he answers your travel questions on his site in a section called "Ask Lucky." The community often jumps in to answer posted questions as well.
"One of the things I'm most proud of," he says, "is how much knowledge is shared in the comments section. People are helpful and kind, which is pretty exceptional for the Internet. I'd like to keep that trend going."
Trip Reports Assess Airlines, Hotels, and Airport Lounges
Relying on firsthand experience, Ben's Trip Reports review the airlines, hotels, and airport lounges he's visited over the years. You can peruse the different locales by year (from 2008 to present day) or title.
Ben takes a lot of photos to really give readers a good sense of what the seats, hotel room, lobby, etc. look like. From price to seating arrangements, every aspect of his experience is documented thoroughly and with in-depth notes.
Some of his pictures and descriptions are quite evocative. He says many of his readers like to live vicariously through his travels.
After all he's seen and done, what does a guy like Ben look forward to? Seeing even more places! In the coming week, he'll be checking Russia off his list of countries to visit as well as spending a couple days in the northernmost city in the world (Longyearbyen, Norway) where there's 24 hours of daylight.
"I don't know if there's anything do to there," he says with a laugh, "but it will not get dark while I'm there, so I'm excited about that."
Points Pros: A Consulting Service for Redeeming Miles
As Ben gained expertise navigating a complex points system, he realized that others might find this hobby of his useful. He started helping friends and family redeem their miles, and soon turned that into a consulting business. PointsPros now has a team of eight people who know how to get you the most value from the airlines.
With the tagline "Making your dream trip a reality," Points Pros endeavors to use your miles to get you the best deals available. Ben says he gets a thrill from finding ways to save money or add perks to someone's travels. Intimately familiar with the process, these self-proclaimed aviation geeks know all the tricks.
Their premier award booking service takes the stress out of planning a trip.
Ben tells us that you don't have to book 10 months in advance to get a good deal with the airline. In fact, most of his own air travel is booked at the last minute. He typically finds more seats available along almost any route he wants. That kind of flexibility and freedom excites him.
He encourages his readers and clients to learn from his example and book last-minute getaways using their points or miles — and don't be afraid to upgrade to first class. It's a great deal in comparison to what you'd pay using cash.
"You can get some pretty amazing flight experiences in first and business class," he explains, "at only marginally more than you're paying for economy."
One Mile at a Time Offers More Tips for Your Next Trip
What began as a 14-year-old's hobby has now transformed into a career traveling around the globe, telling his unique story, and always keeping an eye on the horizon. So far, Ben hasn't gotten tired of living life at 35,000 feet.
His blog, One Mile at a Time, is full of reviews, tips, and anecdotes of all his travels. His message to readers: it's more affordable than you think to earn travel points and get first-class service on your next flight. You just need the right credit card and the right airline to snag some terrific deals.
Ben's gone millions of miles to hundreds of destinations, and all that experience has only made him hanker for more.
"This is a full-time thing for me," he says, "I live in hotels and on planes, and it absorbs most of my life, for better or worse."
To this day, when the sun sets over the ocean, washing the plane in a brilliant pink haze, Ben has his nose pressed up against the window every time. For him, that sight is truly priceless.
Advertiser Disclosure
CardRates.com is a free online resource that offers valuable content and comparison services to users. To keep this resource 100% free, we receive compensation for referrals for many of the offers listed on the site. Along with key review factors, this compensation may impact how and where products appear across CardRates.com (including, for example, the order in which they appear). CardRates.com does not include the entire universe of available offers. Editorial opinions expressed on the site are strictly our own and are not provided, endorsed, or approved by advertisers.