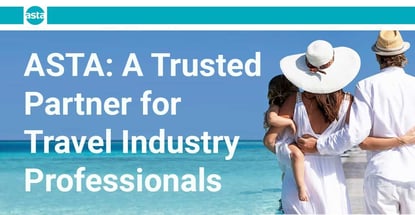 In a Nutshell: When the American Society of Travel Advisors (ASTA) was founded in 1931, the steamship was the main mode of travel. Travel has changed, but ASTA's standards and resources continue to serve as a mark of expertise in the travel advisory industry. Planning a travel experience can be frustrating as the industry's digital transformation puts more control in the hands of individual consumers. ASTA advisors cut through the travel clutter to facilitate fulfilling experiences with extra savings and perks.
A lot has changed in the travel industry since the American Society of Travel Advisors (ASTA) was founded in 1931 as a trade association for steamship operators. Modes of travel have changed, and travel has become more accessible because technology has made direct booking much easier for consumers.
Air travel grew in popularity in the 1950s and '60s, and the original steamship association became the American Society of Travel Agents.
Travel agents offered consumers information not available anywhere else. Agents in their offices were there to explain options and put travelers in touch with preferred tour operators, hotels, and vendors. They had knowledge and experience from firsthand travel and brochures to promote trips and destinations.
The internet changed the relationship between travel agents and consumers. As travel availability increased and access grew, travelers could book independently, but many realized they still wanted and needed expert help to get the most out of their travel spending. Travel agents evolved into advisors, and ASTA took its current name in 2018 to reflect that trend.
Now more than ever, money-minded travelers need certified travel advisors with the ASTA Verified Travel Advisor® (VTA) designation to cut through the clutter and guide them to lasting experiences rather than headaches.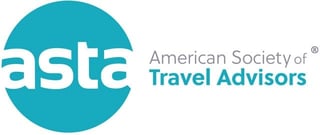 "Democratization has come full circle, and people want unique, authentic experiences," said Erika Richter, ASTA's VP of Communications. "More and more travelers are circling back to travel advisors not just for advice but access and relationships."
That includes access to exclusive, in-network savings and perks and added convenience and certainty. Travel advisors build their success around personal relationships with hotel managers and others worldwide who appreciate their business.
"You're working with a human who gets to know you personally and can tailor your experience to what you're looking for," Richter said.
Consult with Experts and Compare Quotes
ASTA is excellent for reviewing travel fundamentals and learning new tips and tricks. Traveler services on the ASTA website include ample access to industry expertise.
But online communication has revolutionized the travel advisory industry. Travelers may have visited agents in their offices back in the day, but today the ASTA website is a great way to connect with an ASTA advisor and plan excursions that will create treasured memories.
It's still possible to meet advisors face to face, of course, but it's also easy to get to know and work with advisors who are a text or Zoom call away.
The directory allows searches by specialty, certification, languages spoken, region, and name. All listed businesses and advisors are ASTA members, who must adhere to a strict code of ethics. It's also possible to limit searches to VTA-designated advisors.
ASTA goes a step further through its trip quote service to ensure travelers receive the actionable advice they need. Aimed at travelers who know where they're headed and are ready to book, the service processes travel plan details to generate multiple quotes from ASTA advisors with specialized knowledge.
"When you find an advisor through ASTA, you know you're working with someone you can trust," Richter said.
That's especially important when it's time for consumers to weigh any rewards and perks they may receive from their preferred travel cards against any benefits the advisor may bring. Certified ASTA advisors have experience sorting through those complexities and finding the best overall deal.
"People are going to far-off places that require more than just ticking off landmarks on a list of things to do," Richter said. "The things you don't think about are what travel advisors think about all the time."
Verified Travel Advisor Status Ensures Accountability
Some enjoy the travel planning process, but most are ready to be done with it and start enjoying their trip. The problem is modern travel is all about the details, and the more choices consumers make, the more chances something will go wrong.
Getting those details right is almost impossible for a nonprofessional. But ASTA advisors have inside information and confidence to refine travel plans and decide on airports and itineraries. They also have the tools and know-how to monitor clients' travel and quickly deal with problems.
"A lot of times, advisors catch flight disruptions before you do, and they can easily rebook you before you even have to lift a finger," Richter said.
ASTA's Verified Travel Advisor® (VTA) designation is a mark of quality and credibility in the travel advisory industry. No matter how travel consumers connect with certified ASTA professionals, they know they're getting quality when they see the VTA designation.

Credibility extends to the recommendations they make. Because they are fiduciaries bound to act in the client's best interest, ASTA advisors help every traveler choose the right card so as to maximize their rewards and benefits.
But making the final decision is always a collaborative effort. Most advisors build traveler profiles to take preferred cards, hotels, and airlines into account in advance. Clients always have the option to pay with their preferred cards. And weighing alternatives about discounts and perks is a transparent process.
"There shouldn't ever be a time where you feel nervous about picking credit card perks over the perks your advisor provides," Richter said. "Talk to them about it and allow them to provide comparative analysis or advise you on the best strategy."
ASTA: An Inside Track to More Rewarding Travel
ASTA travel advisors emerged as heroes working to save clients time and money and keep them safe during the early shutdowns at the start of the COVID-19 pandemic. Recent ASTA research confirms that, after the pandemic, Americans have increased their appreciation for travel and are willing to pay for bucket-list experiences.
"Travel spend per person is up 11% from 2019, and travel is the largest discretionary purchase for most consumers," Richter said. "Despite economic pressures, people are willing to take a hit elsewhere to travel."
Counterintuitively, perhaps, the data shows younger travelers seem to value travel most. For example, a survey from June 2022 shows that three in 10 respondents are planning a vacation before the end of the year. For respondents under 35, that number jumped to 39%.
Those numbers may indicate a rise in pandemic fatigue that's not going away. As the world grows more complex and challenging, more consumers see the value in experiential purchases over material ones and allocate spending accordingly.
Regardless of age, those types of consumers tend to be financially savvy and experienced in choosing digital financial services that work to their advantage. They're the folks ASTA can help the most — consumers interested in enjoying as much of their limited travel time as possible at a fair price.
ASTA's Consumer Affairs Department stands ready to ensure that — working with a member advisor means that if anything goes wrong, ASTA can step in. That level of accountability goes a long way toward creating the sense that ASTA is the right way to make the right travel choices. After all, a dream vacation is no time to feel buyer's remorse.
"About 80% of our June 2022 survey respondents said a vacation would do wonders for their mental health — go figure," Richter said. "We'd love to help."
Advertiser Disclosure
CardRates.com is a free online resource that offers valuable content and comparison services to users. To keep this resource 100% free, we receive compensation for referrals for many of the offers listed on the site. Along with key review factors, this compensation may impact how and where products appear across CardRates.com (including, for example, the order in which they appear). CardRates.com does not include the entire universe of available offers. Editorial opinions expressed on the site are strictly our own and are not provided, endorsed, or approved by advertisers.