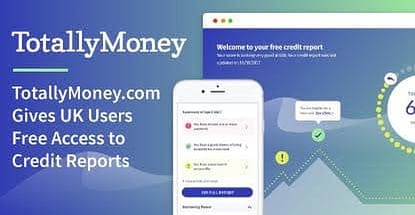 In a Nutshell: Around 55% of US adults check their credit score at least once a year. The number is far lower in the UK, where Brits have had difficulty accessing their credit profiles in the past. To help solve that issue, TotallyMoney.com began offering UK residents free access to their credit history and scores in August 2017. A quarter-million residents have already used the platform to see their score, which also includes the company's Borrowing Power which uses proprietary algorithms that include the pulse of the current lending market to give customers a sense of how lenders currently see them. //
Many things in life hinge on scores — your college admission exams, an IQ test, even the final tally of your favorite club's football game —but few scores stay with you as long, and can wreak as much havoc in your life, as your credit score.
For years, UK consumers were stuck hoping for the best when applying for a loan, credit card, or mortgage. Checking a credit report was expensive and, if done too often, could harm your overall credit rating.
But modern technology made a once difficult task as easy as answering an online survey. Thanks to TotallyMoney.com, more than a quarter-million UK users have received a free credit report and score online.
No credit card details are required to receive your score, which is also accompanied by the company's proprietary Borrowing Power that takes into account the ever-shifting criteria lenders use to determine creditworthiness.
"Our platform is all about providing customers access to their credit scores and credit reports for free and then helping them improve their credit score," said Alastair Douglas, CEO of TotallyMoney.com.

Consumers who access their free credit report through TotallyMoney.com can see up to six years of credit history and receive real-time notifications to help them understand any changes in their credit score.
The reports also include recommendations on loan, credit, or mortgage products they may qualify for as well as other information that could affect their credit scores like a change of address or recent inquiries into a credit profile.
"A big chunk of our users have a poor credit rating and are working on credit-building," Alastair said. "We give them products they're eligible for so they can start applying and building a better credit history."
Using Intelligent Alerts Helps Increase Your Borrowing Power
TotallyMoney.com's user dashboard is filled with information that helps consumers understand their entire credit standing. Intelligent Alerts are sent out monthly and make customers aware of any changes in their credit profile.
The Intelligent Alerts service went live to UK consumers in July of 2016 and has more than 1 million subscribers in less than six months.
"We ask our customers for permission to recheck their credit profile on an ongoing basis, and each month we will check their eligibility and report back with any changes and new products they may be eligible for," Alastair said.
Since TotallyMoney.com's scoring system is based on a soft credit profile pull, regular updates and checks won't affect users' overall scores.
Borrowing Power helps determine the chances your credit application will be accepted. Scores are out of 10, with higher ratings being more attractive to lenders. The score takes into account your credit history and changes in the credit marketplace. To date, the score is the only one available that directly relates to the amount and type of credit available to an individual.
Your Borrowing Power is a rating based on an algorithm that takes into account a consumer's credit score as well as knowledge the company obtains about the current pulse of the UK lending market. Alastair says the score is different than a typical credit score.
"Your credit score is more of a rundown of what you've done in your past," he said. "Borrowing Power gives you an overall picture of how lenders see you right now and gives you a good indication if you could be accepted for a specific loan or credit product in the market."
A popular feature within the dashboard lets users compare their Borrowing Power rating with consumers throughout the UK or even in their own region.
The tool shows that, as of October 2017, the UK's five largest cities ranked by their average Borrowing Power are Bradford (average score of 3.44), London (3.40), Glasgow (3.36), Bristol (3.33) and Leeds (3.29).
On a Lifelong Journey to Help Customers with Loans, Credit Cards, and Mortgages
TotallyMoney.com isn't content with just providing credit reports and scores to its large customer base across the UK. The company wants to be a part of each person's lifelong financial journey.
"We want to help people get their first credit card, then we'll help them get a better credit card down the road," Alastair said. "We continually ask our customers what they want to achieve. For many, the answer is to buy their own home. That's why we provide recommendations for mortgage services — it's kind of the final stage of a long credit-building journey."
The expansion of services over the last two years took TotallyMoney.com from a credit card comparison website to a credit-building tool that offers a full suite of useful features to Brits with any level of credit experience. Alastair said the current products being offered will remain the focus of the company for the foreseeable future.
"We're very focused on consumer credit — credit cards, loans, and mortgages," he said. "We're not doing anything else at the moment because we feel there are quite a lot of challenges to doing what we're doing well. We want to do that as well as we possibly can and not get distracted."
Helping Britons Become More Credit Conscious
Although TotallyMoney.com's focus will remain on its current product offerings going forward, Alastair's focus in 2018 is giving more Brits access to products that raise their financial awareness.
"We're probably a couple of years behind the US in terms of understanding the importance of knowing what's in your credit report," he said. "I've seen statistics that show that around 55% of US adults check their credit score at least once every year. That number is lower over here, but increasing rapidly."
To increase that number, TotallyMoney.com is ramping up its algorithms and artificial intelligence programs with the goal of making its products even more useful.
"The main thing for us in 2018 is making our product more intelligent in terms of its credit-building capabilities and increasing the quality of the products we recommend," Alastair said. "A large portion of the customers who signed up for our service has improved their credit score since they signed up, but we think we can make the number even larger by using better quality AI to create better quality recommendations."
With more than a quarter-million customers already accessing their free credit reports, and over 1 million Britons receiving Intelligent Alerts each month, it's no surprise that TotallyMoney.com is on a path toward becoming the UK's largest credit-building resource.
"You see businesses in different industries that experience change and things start happening for them very quickly," Alastair said. "We're currently in that change phase and things are moving very quickly. It's an exciting sector to be in, and it feels good to be doing something to help our customers get a better deal out of the financial industry and improve their personal circumstances."
Advertiser Disclosure
CardRates.com is a free online resource that offers valuable content and comparison services to users. To keep this resource 100% free, we receive compensation for referrals for many of the offers listed on the site. Along with key review factors, this compensation may impact how and where products appear across CardRates.com (including, for example, the order in which they appear). CardRates.com does not include the entire universe of available offers. Editorial opinions expressed on the site are strictly our own and are not provided, endorsed, or approved by advertisers.