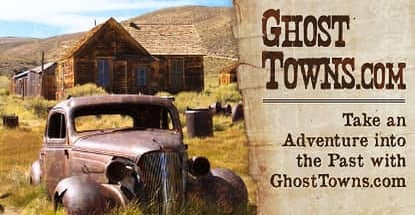 In a Nutshell: What good is a vacation if it doesn't stoke your sense of adventure, inspire your creativity, and leave you with more memories than debt? Most popular destinations are fun once or twice, but the drag of standing in line, sitting in traffic, or laying down excessive amounts of money gets old. For more than two decades, Todd Underwood has guided visitors to memorable trips to some of America's most remote areas through his website, GhostTowns.com. These towns can include remote locations or flourishing tourist towns. Nearly every state has a ghost town or two to visit, but most ghost towns reside in the southwest region of the US, where settlers moved more than a century ago to seek their riches while mining for precious metals. //
Everyone loves a good vacation. If you're taking the time to read this, chances are you're sitting at your desk right now, dreaming about your next getaway from the real world.
I've been there. But don't worry, I won't tell your boss.
Veteran travelers realize the point of a vacation is to escape from the everyday grind of life. So what is the use of visiting the same big-city destinations that have you fighting traffic, waiting in line, and needing a vacation just to decompress after your vacation?
Instead of going to the same places everyone else in your office is going to, why not use those credit card travel rewards you've built up to visit a place where the number of stories its buildings tell is greater than its population?
Todd Underwood of GhostTowns.com has spent the better part of the last 30 years mastering these types of trips so he could make them a reality for adventure seekers around the world. The site is an information resource on ghost towns in the American West, complete with interactive maps and photos. And Underwood and his team offer guided tours to many of the historic ghost towns and mining camps of Arizona.
Underwood classifies a ghost town as any place that is a shadow of its past glory and where people once lived, or are still living. This can include remote locations with very little physical structure remaining (referred to by enthusiasts as True Ghosts), or they can be flourishing tourist towns such as Jerome, Arizona, or Calico, California.

These sites can sometimes be relatively intact from their heyday a century ago. From silver mining towns to rural villages, Underwood has visited and explored areas most people think only exist on movie sets. In each area, he maintains the biggest rule among ghost towners — take nothing with you and leaving nothing behind but footprints.
Underwood, a chemistry professor turned pilot, moved to Arizona as a youngster in the 1970s and quickly adopted his father's love for the Old West.
"We used to get our hair cut at a barbershop called Don's that also sold metal detectors and made regular excursions to ghost towns," Underwood said. "It wasn't long before we bought a pair of detectors and a four-wheel drive vehicle and started trying to find ghost towns."
Those early trips became a passion for Underwood, who has since visited over 1,000 ghost towns. Today, he hosts tours in Arizona for adventure seekers who want to experience a piece of history without waiting in line or fighting for space to take a picture.
But ghost towns aren't unique to Arizona and other areas synonymous with the Wild West. Thousands of ghost towns are scattered throughout the country. Some are accessible at any time of year via paved road, and others require more planning, equipment, and expertise to explore.
A Four-Wheel Drive into Areas Otherwise Inaccessible
A trip to a True Ghost is nothing like your average vacation at a theme park. The rocky four-wheel drive off the beaten path of civilization sends dust flying and wind whistling through caves and cliffs uninhabited for decades or longer.
While many experienced explorers need multiple trips through abandoned mines or across rugged terrain to find certain sites, a thriving community of enthusiasts share their experiences and findings to make it easier for newcomers to find what they're looking for.
Some more advanced thrill-seekers use modern technology such as drones to cover more ground and explore areas previously thought to be inaccessible.
"Our website provides two-wheel drive (2WD) or four-wheel drive (4WD) vehicles for each town," Underwood said. "Generally for 2WD locations, you can take a car or light truck, but 4WD can get you almost anywhere. You may need an outfitted jeep, an ATV, a good pair of hiking shoes, a mountain bike, or more."
Underwood's website hosts a gallery of dozens of photos submitted by travelers who visited various ghost towns in the past. Each photograph is a glimpse into a life once lived by settlers who sought new territories to find their fortune.
Despite the fascinating remains from these civilizations, Underwood said the most thrilling part of the adventure takes place before you step foot in any ghost town.
"The best part of visiting a ghost town is the adventure getting there," he said. "Some sites are inaccessible most of the year whereas some are accessible all year. Some are located on paved highways so there's not much in the way of a challenge to find them and get to them. Others are very remote and require not only a great off-road vehicle or good hiking skills, but also require the ability to use GPS and other sources to locate the sites."
"Feel the Spirit of Those Who Were There"
Traveling to a ghost town can require something as quick as a drive down the highway or as long as an all-day hike. As with most things in life, not all ghost towns are created equal.
"Visiting Jerome, Arizona, is a simple trip up a paved road that takes an hour or two," Underwood said. "But getting to most true ghost towns requires a full day of travel. Some ghost towns are remote, but easily accessible, especially in the summer. These would require about a half-day of travel from the nearest town."
Underwood said some of his favorite ghost towns to visit are Old Hundred, Animas Forks, and Holy Cross in Colorado, and Jerome, Ruby, and Gillette in Arizona.
Old Hundred, he pointed out, requires a treacherous hike on a cliff to get to, but the payoff is the pleasure of taking in the amazing views from the side of a mountain.
"Each town is unique and offers different challenges and rewards," he said.
Ghost Towns are a Reflection of Our Past
Ghost Towns offer something different for every adventurous traveler and provide an experience no typical tourist attraction can create.
"Ghost towns are a reflection of our past," Underwood said. "It's like looking at ourselves through a time machine and seeing the ingenuity and resourcefulness of the human spirit. When you are standing at a ghost town site, you can feel the spirit of those who were there."
Those sights and sounds are a far cry from the bright lights and big cities most people think about when they consider vacation destinations. Instead, ghost towns give travelers an opportunity to unplug from the busy everyday world and reconnect with a simpler time.
"You can hear the horses trotting and the stagecoach wheels coming through," Underwood said. "You can hear the pounding of the mills and the piano player coming from the saloon. You can get a glimpse of what life was like for our ancestors and pioneers. Of course, some visit just for the challenge of getting there — to test their skills of finding these lost locations."
Advertiser Disclosure
CardRates.com is a free online resource that offers valuable content and comparison services to users. To keep this resource 100% free, we receive compensation for referrals for many of the offers listed on the site. Along with key review factors, this compensation may impact how and where products appear across CardRates.com (including, for example, the order in which they appear). CardRates.com does not include the entire universe of available offers. Editorial opinions expressed on the site are strictly our own and are not provided, endorsed, or approved by advertisers.