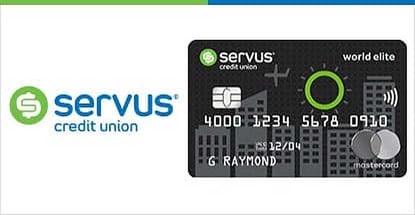 In a Nutshell: The array of credit cards and rewards programs available to consumers these days can seem infinite. At Servus Credit Union in Alberta, Canada, members interested in planning for the future have the option to select its World Elite Mastercard®. The card's robust list of benefits includes access to the Servus Circle Rewards™ program, where members can invest in retirement, savings, or a child's education. The World Elite Mastercard® is also the only Servus Mastercard to give members double points for every dollar spent. Finally, Servus promotes the customer's financial fitness at the forefront of its philosophy. For these reasons, it has earned our 2018 Editor's Choice Award. //
I get a new credit card offer in the mail several times a week and — let's face it — not all those offers are great.
Credit card companies and banks compete by offering various combinations of low rates, low fees, and cardholder rewards programs. Trying to select the most suitable credit card for your needs can be overwhelming — are you missing out on better rewards with another card? Will this card or that card benefit you in the long run?
Most consumers don't have the time to sit down for a deep dive on points programs and rewards comparisons. But when the Servus Credit Union's World Elite Mastercard came onto our radar, its focus on savings and planning for the future caught our attention.
The World Elite Mastercard® comes with a robust list of built-in features, including access to the Servus Circle Rewards™ program, which allows members to invest in their future by applying rewards points to a retirement, savings, or educational fund. And it's only with the World Elite Mastercard that members receive two rewards points for every dollar spent — a redemption value equal to 2%.

With more than 100 locations and 380,000 owners, Servus Credit Union is Alberta, Canada's largest credit union. Its roots date back to 1938, when, in the midst of the Great Depression, individuals united to pool their funds to loan to neighbors in the community.
Over the years, Servus has never strayed from that community-focused mindset.
For the past two years, Nayeem Mano, Director of Cards and Payments, has been working to support and promote how Servus can best serve its members. The results are evident in the Servus Circle Rewards Program and in its credit card offerings, with the World Elite Mastercard leading the way.
World Elite Mastercard Shines with Concierge Service, Insurance Options, Price Protection, and More
Servus Credit Union offers four credit card options for members — each with its own set of perks and advantages — depending on the member's need. But Mano pointed out that the World Elite Mastercard has several benefits not offered with the other cards.
Unlike the Servus Gold, Low Rate, or No Fee Mastercard offerings, the World Elite Mastercard offers a more comprehensive set of benefits on purchases and travel. Exclusive cardholder benefits include a Price Protection Service, Identity Theft Assistance Service, and Travel Assistance Services for lost travel documents, lost luggage, and emergency cash transfers.
According to the Servus website, "The card's concierge service is like having your own personal assistant to help you with travel, gift, entertainment, and specialty questions. It's open 24 hours a day, seven days a week, in both English and French."
The World Elite Mastercard is a very popular choice for Servus members, Mano said, and there aren't a lot of criteria required to obtain one. Besides being a member of the credit union, the only criteria for getting the card is based on income requirements set by Mastercard Canada. Otherwise, anyone is eligible for the card.
And how to become a member of Servus?
"You have to buy a $1 share. That's pretty much it," Mano said. "As long as you put up a $1 ownership share, you can be a member of Servus Credit Union and you can get our World Elite Mastercard."
Mano said the World Elite Mastercard truly shines because not only do cardholders receive the benefits mentioned above, they also have access to the innovative Servus Circle Rewards Program. And unlike other Servus Mastercards, World Elite cardholders receive two Circle Rewards points for every $1 they spend.
Servus Circle Rewards™ Stands Out by Allowing Members to Use Points to Save for Retirement or Education
In addition to the typical features and functions of many rewards programs, with the Servus Circle Rewards Program, members can use the points they earn from this program and redeem them for a savings product, Mano said.
"We wanted to be different, and I think it's paying off," Mano said. "Our members actually love this feature — the fact that they can invest in their pension plan or other savings if they so choose."
Mano said members actually have a range of investment options to choose from when using their Circle Rewards points, including a Registered Retirement Savings Plan (Canada's version of a 401k), a Guaranteed Investment Certificate, or a Registered Education Savings Plan for a child.

"At every opportunity, we try to highlight how our card helps members to save," Mano said. "Everybody knows they can use the card for spending and borrowing — you don't necessarily even have to say that because it's obvious — but how can members be saving and planning?"
Investing in a plan like the ones mentioned above is the most straightforward method the Circle Rewards program allows savings, but Mano pointed out other ways to save as well, including taking advantage of the built-in car rental insurance. Mano said a member could potentially save several hundred dollars over the course of a week-long trip with a rental car by not having to pay for insurance through the rental company.
Other perks of the Servus Circle Rewards Program include the option to redeem points toward your credit card balance, no blackout restrictions on travel, and options to use points toward gift cards and other merchandise.
And with Servus, points never expire.
"The concept of points expiring doesn't exist," Mano said. "That's not even a discussion, if you earn points, that they will ever expire."
Members can easily view and redeem their points through Servus' online banking portal.
Servus Credit Union Focuses on Members' Needs Rather than Pushing a Specific Product
Mano said, rather than promoting one product over another, Servus Credit Union prefers to assess the member's needs on a case-by-case basis before helping to make the selection that is best for them.
"At the end of the day, it's not whether we think the World Elite or Gold or No Fee or Low Rate card is the best," Mano said. "Our position is that we will have a conversation and based on that conversation, whichever product is right for our member, that's what we will go for. That's the philosophy we believe in."
It always goes back to whichever card makes the most sense for the member, he said.
When Mano is talking with his team, he said the conversation is typically less about meeting sales targets and more about whether Servus' front-line employees are having the right conversation with members to best assess their needs. And if a gap is identified in their suite of products, they will try their best to fill it.
"That kind of information comes from our members and if we hear that they need something, we want to deliver it," he said.
The motivation behind taking the time to assess the member's needs above promoting one product or another comes from the notion of helping members achieve financial fitness, Mano said, which is a driving motivation behind everything at Servus.
Member Financial Fitness is Key to the Servus Philosophy
When Mano began in his role as Director of Cards and Payments, he said he and the team were brainstorming about how Servus could set itself apart from other players in the finance market.
"Credit cards have become a commodity. Every card has its unique features and whatnot, you know you'll get certain things — some rewards, some travel," Mano said. "It's all good stuff, but we asked how can we can we differentiate ourselves."
He said that's when the idea arose to promote financial fitness at every opportunity.
"As an organization, we have decided that the financial fitness of our members is the most important thing," Mano said. "If we pursue financial fitness — at the end of the day — our members will benefit and they will be able to manage their finances prudently. And that will also help us."
The credit union even went as far as taking a budgeted reduction in income earlier this year in the pursuit of the long-term financial fitness of its members, according to a recent press release.
When Servus began building the Circle Rewards Program, Mano said he used the theme of financial fitness to help guide him, along with what Servus views as the four pillars of credit cards — spending, borrowing, saving, and planning.
And for Mano, it all ties together.
"Financial fitness starts with a conversation," he said. "It's not about what we think is the right product, and then we go out promoting one over another. We will never do that. It's that member conversation that will give us the best solution."
In a crowded market of credit card offerings promoting unending variations of points and rewards, Servus Credit Union's Circle Rewards Program stands apart from many other options out there. And for members who choose the World Elite Mastercard to access the rewards program, not only can they benefit from great rewards now, they can plan for the future as well.
® Mastercard is a registered trademark, and the circles' design is a trademark of Mastercard international incorporated and is used under license.
®/™ Trademark(s) of Servus Credit Union.
Advertiser Disclosure
CardRates.com is a free online resource that offers valuable content and comparison services to users. To keep this resource 100% free, we receive compensation for referrals for many of the offers listed on the site. Along with key review factors, this compensation may impact how and where products appear across CardRates.com (including, for example, the order in which they appear). CardRates.com does not include the entire universe of available offers. Editorial opinions expressed on the site are strictly our own and are not provided, endorsed, or approved by advertisers.