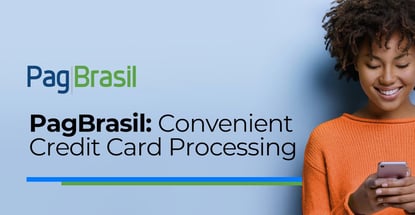 In a Nutshell: Securing the services of a high-quality, dependable payment processor is essential for nearly every business these days. In Brazil, PagBrasil provides modern, seamless, and reliable payment solutions for merchants around the world. The company handles an array of processes, including credit and debit card transactions, electronic funds transfers, hybrid solutions, fraud prevention, and collections. With a focus on delivering a quality product to its clients, PagBrasil makes it a point to understand the current and future needs of the Brazilian marketplace.
Long gone are the days when credit card payments involved merchants manually swiping a credit card imprinter over carbon paper and filing the transactions away to be counted at the end of the day.
Thanks to the internet and huge advances in e-commerce over the years, credit card payments are expected to be made in seconds.

And in today's global marketplace, credit cards, debit cards, and digital transactions are often the preferred methods of payment. That's why it's crucial for businesses to procure the services of a reliable and efficient payment processor.
Payment processors are tasked with handling a variety of transactions in which they serve as the go-between for consumers, businesses, and banks.
Of course, not all payment processors are created equal. And it can be challenging for merchants to know which payment companies are going to be the best fit for their business. It's safe to say that the best payment processors are the ones that companies barely notice are there. That means everything is running smoothly.
And, in Brazil, PagBrasil has a solid reputation as a payment processor. Not only does the company provide high-quality services, but it also makes a point to understand the needs of the Brazilian marketplace today and anticipate its future needs.
We recently had a chance to catch up with Ralf Germer, Co-CEO and Co-Founder of PagBrasil, to learn more about the company's origins and how it serves Brazilian merchants and consumers.
Simplifying Cross-Border Commerce in Brazil
Although the company officially began in 2011, PagBrasil's origin story dates back to the mid-1990s when PagBrasil Co-CEO and Co-Founder Alex Hoffman created one of the first e-commerce businesses in Brazil.
Some years later, when the Brazilian economy was booming, the country gained attention from merchants all over the world. It was around this time that Germer realized the need for a cross-border payment solution for his software business, but no such service could be found.
Germer and Hoffman met in 2010, and the idea for PagBrasil was established, with the company processing its first transaction the following year.
"PagBrasil was born to cater to international merchants who wanted to sell to Brazil," Germer said. "With Brazilian consumers eager to shop online from cross-border e-commerce stores, the market felt the need for a solution that allowed Brazilians to shop using their local payment methods."
Because of the low credit card penetration in the country, offering only credit cards as a payment method significantly impacts merchant conversion rates, Germer said.
"In addition, many credit cards issued in Brazil only work for domestic purchases, and the cards enabled for international purchases have additional charges applied to the purchase, such as the IOF (Imposto sobre Operações Financeiras)," he said.
PagBrasil allows merchants to process cards locally and to offer alternative payment methods, such as the boleto bancário — the second most used payment method in Brazil.
"Throughout the years, we have continually enhanced our platform, adding groundbreaking innovations with features and services tailor-made for Brazil," according to the company. "Thanks to this, we have aided merchants from every corner of the world to unlock the potential of the Brazilian market."
A Comprehensive Online Payments Platform with a Wide Range of Services
PagBrasil's suite of services offers businesses everything they need in a modern payments processor.
"Our credit card processing solutions are designed to cater to the Brazilian market's particularities, such as installment payments," Germer said. "PagBrasil's platform allows merchants to offer up to 12 installments for all supported credit card labels, increasing sales by 50% or more."
Germer also said that an intelligent fallback technology delivers the highest conversion rates in the market — up to 97%.
In addition, PagBrasil supports domestic labels such as Elo and Hypercard, and provides a subscription management solution supporting all local payment methods.
Watch on
"Besides credit cards, PagBrasil also processes debit cards, online banking transfer, Samsung Pay, and, as of November, Pix — Brazil's instant payment system developed by the country's Central Bank," Germer said.
The Co-CEO also discussed two of PagBrasil's exclusive products that are popular among clients — Boleto Flash® and PEC Flash®.
"While payment confirmation with the traditional boleto bancário can take up to three business days, Boleto Flash® is the only boleto in the market with payment confirmation in less than one hour," Germer said. "It is also fully responsive, other than the traditional boleto, meaning mobile users can easily pay a Boleto Flash on their smartphones or tablets."
However, due to Brazilian regulations, banks and lottery agencies require a printed boleto bancário for cash payments, Germer explained.
"Since most Brazilians do not have a printer at home, this causes a critical hurdle for consumers that wish to pay in cash for online purchases," he said. "PEC Flash®, a cash payment method for online purchases, allows consumers to pay in cash at lottery agencies without presenting a printed document — unlike boleto."
When selecting PEC Flash® at the checkout page, customers receive short codes within the merchant's app or website. Using the code and their CPF — the Brazilian individual taxpayer's registry identification — customers can pay in cash for their online purchases at any one of the 13,000 lottery agencies in Brazil, Germer said.
Focusing on Client Satisfaction
"From digital and physical goods sellers to service and content providers, we partner with merchants on their journey to grow their businesses in Brazil," according to PagBrasil. "Our clients include companies from a wide range of industries and backgrounds in every corner of the globe."
And PagBrasil makes it a point to understand and meet its clients' needs. It offers the widest variety of Brazilian payment methods for merchants all over the world.
"Our merchants are very pleased with our solutions, especially Boleto Flash®, as it helps e-commerce websites increase their conversion rates in Brazil and allow merchants to quickly release orders, thanks to its accelerated payment confirmation," Germer said.
Many of PagBrasil's clients have reported up to a 30% increase in their conversion rates once they have started processing with PagBrasil. Some even doubled their boleto conversion rates, Germer said.
"For us, offering a wide range of payment methods has always been important in order to allow buyers to choose whichever is the most convenient for them. PagBrasil offers us the widest range of options, which helps us improve even more the overall satisfaction of our customers." — Rafael Vianna, Operations Manager
And Germer said maintaining a high level of customer satisfaction is extremely important to PagBrasil. This focus helps inspire the company to continually improve and expand its offerings.
"We are very excited with Pix, Brazil's instant payment method, which has recently become available to the Brazilian population," Germer said. "Merchants connected to PagBrasil's platform will be able to offer instant payments on their e-commerce websites, adding one more quick, easy, and frictionless payment method to their checkout page."
Advertiser Disclosure
CardRates.com is a free online resource that offers valuable content and comparison services to users. To keep this resource 100% free, we receive compensation for referrals for many of the offers listed on the site. Along with key review factors, this compensation may impact how and where products appear across CardRates.com (including, for example, the order in which they appear). CardRates.com does not include the entire universe of available offers. Editorial opinions expressed on the site are strictly our own and are not provided, endorsed, or approved by advertisers.