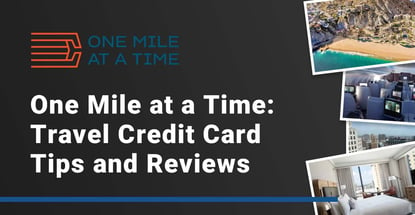 In a Nutshell: While worldwide health challenges have temporarily grounded many travel buffs and frequent flyers, all signs point to a travel explosion coming soon. And One Mile at a Time readers will be well prepared when that happens. The platform is the brainchild of travel enthusiast Ben Schlappig, and it is one of the most popular sources of travel reviews and insights on the top credit cards and rewards programs. The OMAAT team also empowers its loyal community of followers to help each other use their miles and points to elevate the travel experiences.
Many consumers desire transparency in business transactions, but that can be difficult to come by online. When money is involved, companies can often be opaque when encouraging people to part with it.
That's why Ben Schlappig's One Mile at a Time travel blog has grown into such a popular online destination. Schlappig, also known as Lucky, started the blog in his college dorm room in 2008 to offer tips and tricks to on-the-go readers. Today, OMAAT is the web's largest independent travel credit card miles and points site, primarily because of its transparency with readers.
Despite a challenging 2020, more readers visited the site than ever before. Though COVID-19 put much of the travel industry on pause, OMAAT never stopped producing compelling travel content. Its readers found new ways to learn about the joys and benefits of travel — and how to put their credit cards to work to have more fun.
"The story Ben tells is that he woke up in his dorm one day having slept through a computer science midterm because he had been mileage running the weekend prior," said Tiffany Funk, Managing Editor at OMAAT. "And he said, 'Whatever, I'm going to start my blog today.'"
That passion for credit card travel rewards makes Schlappig the perfect person to help readers. While he runs the site with a small group of contributors — who are more like friends — Schlappig remains the voice of OMAAT, and his enthusiasm for travel drives the site.
A Community for Travel Rewards Card Enthusiasts
By the time Schlappig launched the blog, he had already become obsessed with travel. He had been flying between the U.S. and his family's original home in Germany since he was a kid, and he was only 14 when he started taking interest in credit cards, miles, and points.
He started posting online and attracting an audience interested in his exploits and ideas. So when he missed that exam, he already had a community of followers ready to move with him to his own platform.
"That's the tone we've tried to keep with OMAAT as it's grown over the past 15 years," Funk said. "It's a community, not a top-down, super-corporate, venture-owned type of thing. It's Ben."
Watch on
Millions of air miles and more than 100 countries later, Schlappig is still learning, traveling, and writing six to 10 blog posts a day, just as he has all along. And readers continue to comment on each of his posts — sometimes hundreds or thousands of them.
That extreme level of engagement has led to the platform's continuing evolution. In 2015, one post attracted so much attention that the platform couldn't handle it. The team created a forum to contain some traffic to a subdomain while giving users a Reddit-style structure for earning status points based on participation.
As of spring 2021, additional improvements integrated the forum with the rest of the site, and now readers can earn points through comments on blog posts and contributions to the forum.
"It's important for us to recognize our readers because we appreciate them," Funk said. "We have people who have been commenting on the site literally since they were college kids like Ben. And it matters."
Authenticity Keeps Readers Coming Back
Funk is also no slouch when it comes to travel. She's visited more than 80 countries and written about many of those adventures for OMAAT. Along with writing, she handles the business side of the site.
From that perspective, she sees what many of the site's readers see — that Schlappig is an expert on the points and miles assessments that are the heart of the site.
"Unlike a lot of other travel sites, we're in this interesting situation where we're not beholden to a corporation that has goals — in terms of what they want metrics to look like," she said. "If Ben finds something interesting, he's going to write about it. But we have a completely impermeable firewall between editorial and advertising."
Although OMAAT is a revenue-generating site, the team is refreshingly transparent about terms and limits. Funk often finds herself in the position of turning down potential business opportunities.
"It's just not even a thing. Ben cannot be convinced to have a positive opinion about something that is awful," she said. "So if you have a good product or a compelling discount to offer, we'll write about it, but you can't pay us more to rank your card higher in our tables."
The OMAAT team treats those rankings as sacrosanct, and they are the product of simple calculations, not a bidding war.
"It's just straight up math — how much Ben values the points, times the offer, minus the first year annual fee," Funk said. "I can't manipulate that no matter how much money you offer."
One Mile at a Time: Aiming to Help All Travelers
The complexities of credit cards, rewards, points, and miles make up their own universe, and priorities are different for every traveler. That's why OMAAT includes plenty of context in its rankings to help individuals make the best decision.
The site also has plenty of travel reviews and offers a beginner's guide.
"That's due to the respect for our audience and an understanding that we serve a huge variety of interests," Funk said. "Some readers come to us for our credit card tips, some for airline reviews, and some for our stories related to the travel experience. Everyone has a different thing, and we strive to serve all of our readers every day."
For valuations of points, perceived versus actual value is a crucial differentiator for OMAAT.
"You'll see some sites assign a value that's valid only if you accept the premise," Funk said. "It doesn't mean much to say you used your points to buy a $20,000 ticket if you would never have paid $20,000 in actual cash for that ticket."
That's the type of insight that will come in handy when people start buying tickets in droves again. In the meantime, Funk recommends that travelers in a holding pattern use their spare time to evaluate whether their points-earning routines are helping them reach their goals.
"A card might be letting you use your travel credit at restaurants, but it might make better sense to downgrade or switch to a card with a lower fee for right now," she said. "The most important thing most people could be doing is to take things off autopilot."
Advertiser Disclosure
CardRates.com is a free online resource that offers valuable content and comparison services to users. To keep this resource 100% free, we receive compensation for referrals for many of the offers listed on the site. Along with key review factors, this compensation may impact how and where products appear across CardRates.com (including, for example, the order in which they appear). CardRates.com does not include the entire universe of available offers. Editorial opinions expressed on the site are strictly our own and are not provided, endorsed, or approved by advertisers.