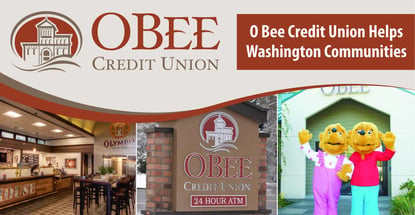 In a Nutshell: O Bee Credit Union delivers financial services, educational resources, and volunteer hours to the communities of Thurston and Pierce County, Washington. The credit union encourages young minds to think about saving money through classroom presentations, Cub Accounts, and the Berenstain Bears Financial Literacy Program. While it is focused on expanding its youth financial literacy programs, O Bee Credit Union is also developing new resources to reach even more age groups. For its emphasis on early childhood financial literacy, O Bee Credit Union earns our Editor's Choice™ Award for Community Commitment.
For the last two years, Chrysinthia Bean, the Financial Literacy Coordinator for O Bee Credit Union, has been teaching kids in Washington state about the importance of money management. At the end of each Berenstain Bears Financial Literacy Program event she holds, she lets the schoolchildren interview Brother Bear and Sister Bear, two memorable characters from the books. They often ask questions you'd expect, including "Do you like ice cream?" And, "Do you like to play outside?"
But sometimes, their questions reveal that the program is helping them think about money in new ways.
"Every once in a while, they'll really surprise me with questions that are specific to the credit union, such as 'How does interest work?' or 'Is money printed?'" said Bean. "That shows they're engaged and interested in the material."
The program is designed for children in kindergarten through second grade, and classroom visits are completely free for schools. The presentations typically last 30 to 40 minutes and feature a giant storybook, interactive games, and a special appearance by the two Berenstain Bear siblings.
The Berenstain Bears Financial Literacy Program is just one of the ways O Bee Credit Union works to strengthen financial foundations in Washington's Thurston and Pierce Counties. The credit union guides members and community residents with sensible financial products and educational resources — including an informative blog.
"We're trying to engage children as early as possible. We really believe that, if you teach them financial literacy concepts early on, it's going to stick with them as they grow into adulthood," Bean said.
For its strong focus on financial education, youth-oriented community involvement, volunteerism, and plans to design new education programs for all ages, O Bee Credit Union earns our Editor's Choice™ Award for Community Commitment.
The Original Credit Union of the Olympia Brewery
When you walk into the O Bee Credit Union location in Point Ruston, Washington, you may feel as you've entered an old-fashioned brewery tasting room — and that's the point. Shunning the strictly-business atmosphere of most banking institutions, O Bee Credit Union sets itself apart with a warm, friendly, "pub-style banking" experience that pays tribute to its roots.
"Two of our branches have this brewhouse theme, and we eventually want to reflect this theme across all our branches," Bean said.
It all started in 1955 when Ted McGill first learned about credit unions and went about starting one for the brewery workers of Bottle House "A" at Olympia Brewery in Tumwater, Washington. Early on, Ted's shirt pocket served as the filing system for receipts, applications, and membership cards for The Olympia Brewing Company Employees and Families Credit Union — or O Bee Credit Union, for short.
As the Olympia Brewing Company and its family of brands grew over the years, O Bee Credit Union moved beyond the brewery walls and into the surrounding communities. In 2002, it opened up its membership to anyone who lives or works in Washington state. The credit union now operates six full-service branches, a call center, and three ATM-only locations throughout Thurston and Pierce counties.
In 2018, O Bee Credit Union was one of only five credit unions in Washington state that was recognized on the Forbes list of Best-In-State Credit Unions, based on a survey ranking overall member satisfaction, trust, quality of services, and financial advice.
Bringing Financial Literacy to Young Children with the Berenstain Bears
The Berenstain Bears Financial Literacy Program, which O Bee Credit Union joined four years ago, originated with Franklin Mint Federal Credit Union in Philadelphia. It teaches kids how to "Save, Share, Spend, and Earn" using a special Berenstain Bears book that teaches children about how credit unions work.
Bean typically gives the classroom presentation for O Bee Credit Union, while volunteers don the bear costumes. Depending on the age range of the children, Bean likes to incorporate different teaching techniques into her presentation.
"There's a part of the program where we do hand motions. Research shows that when you teach children concepts with hand motions, it helps them learn better," she said.
Bean has enjoyed directing the program for the past two years and said that it has brought great fulfillment to her life.
"I feel like I connect with the children on a personal level. They'll come up to give the bears high fives and hugs, and sometimes they'll come up and give me a high five and hug, as well. Sometimes I'll receive mail from the kids, too, with thank you cards and drawings of what they learned through the program. It's heartwarming."
After each program, the credit union sends school teachers a kit that contains worksheets, coloring pages, pencils, bookmarks, and information to help them continue their journey. It also sends a next-step guide for parents, which includes instructions on how to open a Cub Account for their child at O Bee Credit Union.
This specialized financial service works in conjunction with the Berenstain Bears Financial Literacy Program to help kids apply their new interest and knowledge to manage their own money. A generous 7.52% annual percentage yield on the first $500 deposited allows kids to see their account grow quickly and motivates them to save, rather than spend.
"It's a great program. We provide incentives that help the children coming in to learn the importance of saving. For example, we give them a coupon for a free ice cream every time they come into the bank and make a deposit," Bean said. "Also, on their birthday, they receive a card in the mail that prompts them to come into the branch to receive a coupon for a free cupcake. The coupons come from local organizations, so it's a joint effort to bring financial literacy to our communities."
Supporting Youth-Focused Organizations through Donations and Volunteerism
O Bee Credit Union also bolsters communities through sponsorship and volunteer work with local organizations. To encourage involvement among its employees, the credit union pays each staff member for 16 hours of volunteer work annually, and employees can choose to donate their time to organizations that resonate with them.
And due to its location near the state capital, O Bee Credit Union employees have many wonderful local organizations to support. A few the credit union regularly donates time and money to include United Way of Thurston County, Tumwater Youth Program, and the Little Red Schoolhouse.
"United Way of Thurston County has an annual day of caring, so we try to get as many staff members as we can to go out into the community and volunteer together that day," Bean said.
The Tumwater Youth Program, which offers fun Friday-evening activities for children in second-to-eighth grade, is one that also hits home for Bean. "We'll go to events that they have, and I'll bring information about our financial literacy programs to take home to their parents. It's important to the community — and to me — because of the children," she said.
Before the beginning of each new school year, O Bee Credit Union branches also participate in the Little Red Schoolhouse Project, a school-supply drive for underprivileged families with children enrolled in Thurston County schools.
"We'll let our membership know they can bring in backpacks and other school supplies. Then, on distribution day, we'll take all the supplies we've collected through our membership over to a local middle school," Bean said.
Expanding Programs to New Washington Communities
As the feedback from teachers, parents, and children can attest, The Berenstain Bears Financial Literacy Program that O Bee Credit Union brings to local schools helps children engage with money in a fun, accessible way. And the credit union is always looking for ways to expand the program's reach into new schools and communities.
"I've been stopping by the schools to talk with principals and drop off literature and handouts, and we'll email them the link to a video that illustrates what we do with the program and how impactful it can be on the kids," Bean said.
While much of its educational efforts remain focused on the Berenstain Bears program, O Bee Credit Union is working on new financial literacy programs designed specifically for older children, teens, and adults.
"We are looking to expand into older age groups — getting to middle schoolers, launching a program that would be better for high schoolers, and then offering an adult financial literacy program," Bean said. "We're in the early stages of development, but we're excited to create something for those groups."
The credit union does offer investment and retirement counseling for adults through O Bee Financial Services with Dave Littleton.
Whether engaging kids around money topics through iconic storybook characters, connecting personally with kids through Cub Accounts, or caring for the broader community through volunteerism and donations, O Bee Credit Union's efforts stand out. For its commitment to community and emphasis on early childhood financial literacy, we recognize O Bee Credit Union with our Editor's Choice™ Award.
Advertiser Disclosure
CardRates.com is a free online resource that offers valuable content and comparison services to users. To keep this resource 100% free, we receive compensation for referrals for many of the offers listed on the site. Along with key review factors, this compensation may impact how and where products appear across CardRates.com (including, for example, the order in which they appear). CardRates.com does not include the entire universe of available offers. Editorial opinions expressed on the site are strictly our own and are not provided, endorsed, or approved by advertisers.