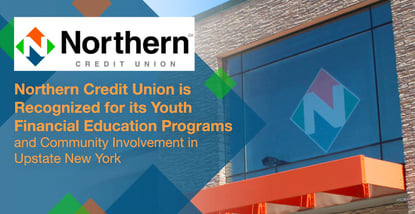 In a Nutshell: Northern Credit Union is a shining example of a financial institution that is committed to the communities it serves. Not only does it partner with local organizations to offer services to those in need, but Northern Credit Union also provides financial tools and products to help community members and their families. The credit union teaches children and young adults healthy financial practices through programs, incentives, and educational resources. For its strategies to mitigate the effects of poverty and empower the next generation to establish a solid financial foundation, Northern Credit Union has earned our Editor's Choice Award for Community Commitment.
Watertown Urban Mission provides food to 500 households — which means feeding 1,200 individuals and serving 18,000 meals. In addition to food, the organization also serves up education to help individuals and families take control of their finances and break the cycle of poverty. Watertown can provide those lessons thanks to its partnership with Northern Credit Union.
Founded in the 1950s, Northern Credit Union initially served New York Air Brake as New York Air Brake Federal Credit Union, and eventually merged with the local teacher's credit union to become NYAB/Tri-County Teachers Federal Credit Union. In 1996, it became Northern Federal Credit Union, but, in 2018, it switched from a federal to a state charter and become Northern Credit Union.
"Now, if you live, work, attend school, regularly do business in, or worship in Jefferson, Lewis, Louis, St. Lawrence, Franklin, Clinton, Oswego, Onondaga, and Madison counties, you can bank with us," said Alexa Bennett, Assistant Vice President of Marketing and Research & Development at Northern CU.
Banking with Northern CU has plenty of perks, like time-saving technological innovations, checking accounts with ATM fee refunds and a checking account with the highest dividends in their area. But members also support the institution's mission to expand community involvement and financial education.
"People trust us. We will not provide somebody with a loan if we don't think is in their best interest," Bennett said. "We don't have a collections team. We have a credit solutions team to help members. Our values are very much solutions-focused. We work with the member to manage their debt responsibly."
Through its partnerships and educational programs, Northern demonstrates the positive impact that financial institutions can have. That's why we're recognizing Northern Credit Union with our Editor's Choice Award™ for its commitment to helping communities achieve financial success.
Empowering Low-Income Communities to Break Out of the Poverty Cycle
Northern CU serves mostly rural areas, where many residents live below the poverty line. The federal government sets this line at $12,060 for individuals and $24,600 for families. According to these criteria, the state of New York as a whole has a 15.7% poverty rate. But according to the New York Truth Commission's ALICE metric, the actual poverty rate is closer to 44% of households.
With the help of Northern CU, Watertown Urban Mission offers support programs to those impoverished communities. Its services encompass a food pantry, Meals on Wheels program, Wheels for Work — which helps people obtain vehicles they need to get to and from their jobs. The organization also offers the Getting Ahead course, which applies financial education as a way to help people break the cycle of poverty.
Watertown Urban Mission's partnership with Northern CU makes those programs possible.
Northern Credit Union has a track record as a community-focused and compassionate institution. Northern CU has helped the mission's beneficiaries establish and achieve goals, including saving up to buy a house or a car or improving their financial situations.
"Some individuals, on paper, might not have gotten financed at another financial institution. Somewhere else might have turned around and said, 'We're not touching that.' But we consider how we can help and build a relationship," Bennett said. "That's what breaks the cycle — being able to buy a car to go to work to feed your family."
Financial Education Programs Foster Positive Habits
Poverty is characterized by a lack of financial stability that frequently stems from poor financial education. Northern CU seeks to remedy this problem before it starts by educating young people and providing them with a solid foundation in financial literacy, thereby empowering them to avoid money troubles later in life.
"Because we started as a teacher's credit union, it's essential for us to give back to our communities through education, especially for younger kids," Bennett said.
Northern CU approaches this task through a variety of programs designed to engage children and incentivize them toward healthy financial habits, while also supporting the educational system.
Smart START Encourages Children to Start Saving Early
Through the Smart START (Savings Today Are Rewards Tomorrow) Savings Program, Northern CU motivates children up to age 12 to open their own savings accounts. The program operates in partnership with the New York State Zoo at Thompson Park, which supplies rewards that encourage children to save.
When children make a minimum monthly deposit of $5, they earn a wildlife toy. Each year, they also receive complimentary birthday passes to the zoo and a discounted rate to attend the Summer Zoofari Education Camp.
Maintaining an account also grants them entry to the Halloween Spooktacular event, which entails free admission to the zoo as well as access to trick-or-treating stations, games, and prizes.
A Longtime Partnership with Banzai Supports Local Schools
Banzai is a free online financial literacy software suite that caters to children at various age levels, and the program teaches students in classrooms across the United States. Northern CU has been a partner of Banzai since 2011, providing local teachers with access to these valuable educational tools.
Students who complete Banzai courses receive a gift certificate for $25 to open or grow their Northern CU savings account. When students redeem their vouchers, their teachers receive a $25 Staples gift card, which they can use to purchase classroom supplies.
Additionally, the school district also receives $25, which it can put toward discretionary spending. This money sometimes goes to the PTO or athletic programs, but Bennett said most districts use the funds for backpack programs, which provide bags and school supplies for students in need, ensuring they have the necessary tools to succeed in their education.
Mad City Money Provides Hands-On Financial Experience
Mad City Money was developed by the Credit Union National Association (CUNA) to serve as a hands-on simulation or classroom workshop. The program enables kids to experience the realities of adult life, including working a job and budgeting for expenses. By learning through doing, they gain valuable experience from success and learn from their mistakes in a safe environment.
The program is supplied to local schools by Northern CU in partnership with the local Cornell Cooperative Extension. Northern CU's employees staff the in-game credit union, where students can get practice managing their virtual money.
Students who complete the program will also earn $25 certificates for themselves.
Preparing Young Adults for Their First Jobs
Under the title Adulting 101, Northern CU provides in-class presentations that introduce students to financial literacy, a subject area that is sorely lacking in many public schools.
Also, Northern CU allows teachers to bring their classes on tours of the credit union. That enables students to experience technological innovations not frequently seen, including personal teller machines — a hybrid ATM with personal teller service — and the process of originating loans through teleconferencing. These applications of technology create efficiency for Northern CU, but they also serve to spur young people's interest.
"This generation that grows up with computers and with phones in their hands, they think, 'Banks are stodgy.' And we are not," Bennett said. "We are the opposite of that."
This aspect of finance helps to capture the tech-oriented generation's attention for educational purposes. And just as importantly, it exposes them to the variety of career options available at financial institutions, fostering interest in future professions.
When it comes time for these young people to begin working, Northern CU is also there to lend a hand. The local department of labor operates a program that prepares high school students for summer jobs, and Northern CU employees teach them essential information about safe, responsible financial behavior, especially online.
"A lot of light bulbs go off when we do that type of education," Bennett said. "It's not just necessarily financial-based, it's also online security-based — but they don't think of how the two can be tied together."
Additional Programs Foster a Culture of Volunteerism and Community Involvement
Through its educational programs and partnerships, Northern CU demonstrates a strong institutional consciousness of, and concern for, community wellness. But the credit union doesn't only contribute resources; it also encourages employee volunteerism.
Members of the institution's leadership participate in local community groups. Bennett, for example, is on the board of the Watertown Urban Mission. Others serve on the boards of the local United Way and the North Country Family Health Center. And all employees are encouraged to give back in ways that are most meaningful to them.
Northern CU facilitates this through its Casual For a Cause program. For employees, this is an opportunity to relax the workplace dress code on Fridays, but they also get to nominate their favorite charitable organization for financial support. Employees vote on which cause to sponsor each month, and, as of June 2019, the credit union has donated more than $25,000 to 100-plus charities.
Outside of Causal For a Cause, Northern CU also conducts other charitable efforts. In December 2018, one of these was its winter coat drive.
"A lot of people are under the poverty level, and northern New York gets really cold," Bennett said. "Our CEO gave us $500 and said, 'Go get some coats.' I went to the Urban Mission's thrift store, and I bought out all the coats in their thrift store. So it did double the good — it provided coats to people and also funded money to the thrift store, which went back to the nonprofit."
All of these efforts produce a direct, visible impact on the quality of life for people in the communities Northern CU serves. But just as significant is the long-term effect of helping individuals and families achieve financial success, meet their goals, and improve their overall well-being by rising above poverty.
Advertiser Disclosure
CardRates.com is a free online resource that offers valuable content and comparison services to users. To keep this resource 100% free, we receive compensation for referrals for many of the offers listed on the site. Along with key review factors, this compensation may impact how and where products appear across CardRates.com (including, for example, the order in which they appear). CardRates.com does not include the entire universe of available offers. Editorial opinions expressed on the site are strictly our own and are not provided, endorsed, or approved by advertisers.