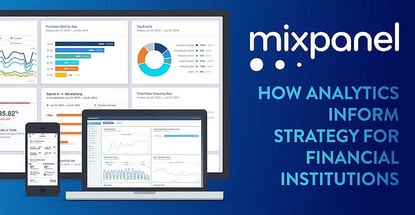 In a Nutshell: In today's fast-paced world, companies must base their strategies on solid data to stay ahead of the competition, and Mixpanel offers detailed analytics to do just that. This is particularly crucial in the financial industry where institutions are faced with trying to provide the most convenient and efficient customer experience based on outdated infrastructures. With rich analytics, companies are able to know exactly what, how, and when to implement new tech to bolster not only UX but loyalty as well. With Mixpanel's white glove onboarding experience, financial institutions can step into the future with ease.
With more than 1 million small and medium-sized businesses depending on it, payment processor Elavon, Inc., strives to stay at the cutting edge of technology and prioritizes the customer experience. The U.S. Bank subsidiary even maintains its own innovation lab to design solutions and adopt new technology.
To help achieve its goals, Elavon partnered with Mixpanel, a business analytics service company that gives businesses the in-depth data and information it needs to make informed strategic decisions.
Elavon's Vice President of User Experience Frank Stanton detailed in a recent case study how Mixpanel was able to help his company excel.
"Analytics are the hallmark of this process, and we knew that being data-driven, with such capabilities as A/B testing, were going to be essential when tracking traditional UX measures, or testing new ones," he said. "With Mixpanel, we're able to see that we're on the right track to building products our customers love."

Established in 2009, Mixpanel found an early customer base in the gaming industry which was working toward understanding the behavior of its customers to increase engagement over longer periods. Over the years, the company has expanded to help businesses of all sizes and in all industries analyze and interpret data to improve customer experience and ultimately retention.
Mixpanel's value to the financial industry lies in the rich data it can provide to financial institutions, which can then base important strategic decisions on hard data.
We recently spoke with Mixpanel's Enterprise Relationship Manager, Andrew Akman, and the company's Head of Finance, Matt Schmuecker, to understand some of the challenges the financial industry is up against in today's increasingly technological world. They also discussed where Mixpanel fits in for financial institutions, and what the company's onboarding process looks like.
Many Legacy Systems Were Not Built Around Quantitative Data and are Constructed as Patchwork Solutions
Akman said many of the large financial institutions Mixpanel works with have been playing catch-up on the usability and user experience found in other industries.
"People have gotten accustomed to sleek social networking apps or apps like Uber that really drive loyalty and provide a very thorough quality experience," he said.
For Schmuecker's part, he said he has had the opportunity to see the financial industry's customer experience offerings evolve over the years and agrees that, while usability has improved, in some ways institutions are still getting up to speed.
He said the online availability of services was a big differentiator in determining which banks were more worthy of his time investment. The most appealing companies were the ones that were demonstrating that they could build out and execute on providing a quality experience.
Schmuecker said he saw one large national bank putting forth the effort to come up with new features that were clumsily executed. Users had to log in multiple times for different functions or the site structure varied widely from page to page.
"It turns out these features were stitched together from different programs and vendors," he said. "They were trying to just bring them all together in one portal, but what it meant was every module you went to looked different."
Akman said that, in those early days of online banking, the institutions were collecting large amounts of data but weren't necessarily maximizing its value.
"In the last five years, we've seen a shift from just collecting data to institutions trying to figure out how to actually apply it," he said. "That's where tools like Mixpanel come into play. Rather than just having a big chunk of data, we can help companies turn that data into something more actionable."
That means helping companies move past making strategic decisions based on gut choices, Akman said, and helping them use real-time data to make informed decisions about things including cross-promoting products and driving brand loyalty.
Mixpanel Offers Comprehensive Analytics and Tools to Hone in on Efficiency and the Best Customer Experience
"Finance and banking apps are among the most used applications out there," Akman said. "It turns out, people are really interested in their money."
He said that these are opportunities for financial institutions to go beyond just providing a balance or other basic services. For example, a bank should be considering how to use engagement to move customers beyond holding a checking account and into other uses including using the company for a personal loan, mortgage, or credit card.
Mixpanel offers a number of solutions for the finance industry.
"Create a world-class digital experience to increase online transactions and reduce servicing costs," according to the company's financial services offerings. "Unite data from all customer touchpoints to identify where you can rely more heavily on digital."
Mixpanel can also help to identify which customers are the most likely to be interested in upgrading or adopting new services based on metrics like volume, balance, and other account attributes. Then, when specific conditions are met, the company can know when the optimal time is to trigger an offer.
Additionally, Mixpanel can help drive customer loyalty by helping clients understand what their best customers have in common and recognize indicators that customers may terminate service. The company can then focus its efforts to create satisfaction, and in turn, retention and loyalty.
"We've seen our clients gain the ability to move much faster in things like launching products, understanding how they're affecting the customer experience, acquisition, and retention efforts," Akman said. "They are also able to iterate quickly across an innovation loop, measure numbers, and iterate over and over again."
Mixpanel's White Glove Onboarding Options and Hands-On Support
Akman said Mixpanel takes a hands-on approach in onboarding and supporting new clients. He said it's important to not only show them how to engage with the technology the company offers, but Mixpanel also helps to facilitate change management to help them understand a more innovative approach.
"The onboarding process we typically operate under is based on key performance indicators and is very outcome driven," he said. "We focus on short and long-term goals the company has, then translate that back to looking at what kind of data points and information streams are going to be important for them."
Based on that information, Mixpanel then helps to construct dashboards that will help clients achieve their goals.
"We run them through everything from the ideation process to that hands-on advisory role around technical things like implementation and guidance around the analysis aspect," he said.
Mixpanel strives to help clients understand all the data they are seeing and ultimately wants to create an environment where companies are making data-driven decisions and incorporating those decisions into their product development life cycle, he said.
Historically, large corporations have struggled to "run fast," but Akman said he is seeing that begin to change for a lot of companies these days.
"The application of fast-moving, agile methodology is something that banks are really getting a lot more accustomed to," he said. "So, I think leveraging Mixpanel to do that faster, to build more insights faster, and to do that with leaner teams has really made a big impact on our clients."
The key is getting those large companies to shift away from the slower-moving legacy types of innovation into operating more like a startup company, he said.
Appealing to Younger Generations is Essential to Competitive Advantage in the Coming Decades
It is important for banks to plan for their futures by decades or even generations, Schmuecker said, because they can retain business through a customer's entire life.
"They really need to figure out how they can attract and retain millennials," he said. "That is the biggest well of potential who they can cross-sell to. They're going to be buying houses, buying cars. And they will have different needs as they age that the bank will want to be a part of."
He said while the parents of millennials may be more likely to gravitate toward traditional banking, including visiting branches and dealing with less technology, the younger generation is primed to accept more technology-forward experiences.
"I think for these financial institutions to survive and successfully navigate this generational shift, it is imperative for them to address this," he said. "The old methods are dying out."
Advertiser Disclosure
CardRates.com is a free online resource that offers valuable content and comparison services to users. To keep this resource 100% free, we receive compensation for referrals for many of the offers listed on the site. Along with key review factors, this compensation may impact how and where products appear across CardRates.com (including, for example, the order in which they appear). CardRates.com does not include the entire universe of available offers. Editorial opinions expressed on the site are strictly our own and are not provided, endorsed, or approved by advertisers.