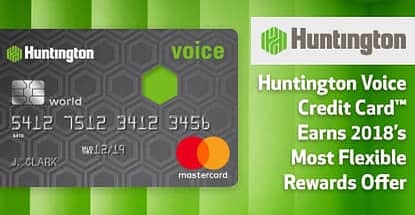 In a Nutshell: With so many credit cards now offering rewards, a low APR, or no annual fee, you'd think consumers would have no problem finding a card that suits their needs. But look closer and you'll see that most of these cards offer just one or two of these benefits and very little flexibility. Huntington Bank's Voice Credit Card™ is different. With the Voice Card, consumers can choose 3X reward points in one of 10 categories they select quarterly. Cardholders can also choose to bypass the rewards and instead select a lower APR on all purchases made using the card. The Huntington Voice Card has no annual fee and offers a unique 24-hour Late Fee Grace® period. This flexibility and focus on the consumer has earned Huntington Voice Card our Editor's Choice Award™ for 2018's Most Flexible Rewards Offer. //
Consumers looking for credit cards that target specific needs, like the types of purchases made, frequency of use, credit limits, and spending habits, have plenty to choose from. Different cards appeal to different types of users, and the card you choose is likely to be based on one or more of a variety of features. In this way, banks and card issuers can appeal to a much broader segment of the spending public.
However, offering specialized card features to meet certain needs can end up having an unanticipated consequence. Consumers are often forced to choose between rewards points or a lower APR, cash-back bonuses, travel points, or no annual fee.
But what if there were a credit card that offered consumers a real choice?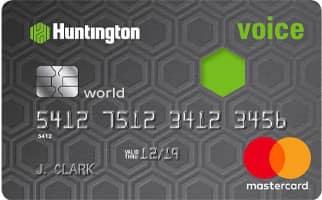 Huntington Bank's Voice Credit Card™ gives cardholders the choice of either 3X rewards points in one of 10 categories of their choosing or a lower APR. It's a card that lets you — the consumer — pick what's important to you, and choose your own reward.
"Because of the different features the card has, from no annual fee to the cash-back offer to the 10 categories of 3% back, it has a really broad appeal," said Andy Harmening, Senior Executive Vice President, Consumer and Business Banking Director for Huntington Bank. "It's really been an extension of our fair-play banking that Huntington Bank launched almost 10 years ago."
Some of those features are unique to the Huntington Voice Card and include a 24-hour Late Fee Grace® period that waives the penalty fee if you're less than 24 hours late in making a payment. No penalty rates mean your APR won't go up just because you've missed a payment or two.
3X Rewards in a Choice of Categories, or a Lower APR
The primary reason for our choosing the Huntington Voice Card as the most flexible rewards card for 2018 is the range of options it gives consumers. Earning 3X points in a single category is a pretty appealing perk, and the ability to change categories quarterly can mean even bigger rewards.
For example, let's say you're planning a big landscaping and outdoor project this spring. Choosing the Home Improvement category for your 3X rewards can mean a significant number of bonus points. And when summer vacation season comes around, switching to the Gas Stations category can save on fill-ups during the family road trip. Other categories you can choose from include:
Travel and Entertainment
Restaurants
Discount and Warehouse Stores
Groceries
Utilities and Office Supplies
Electronics, Computer & Camera Stores
Department, Apparel & Sporting Goods Stores
Auto Parts & Service Stores
You can choose to switch categories once each quarter, or do nothing and your rewards category stays the same. The Huntington Voice Card also earns one point on all purchases made outside of your bonus category.
"The way we decided to do the rewards categories is part of our practice of keeping it simple," Harmening said. "Not only can you keep the same category, you don't have to re-opt in every quarter if you want to keep it. We just recognized there's often a seasonality to people's spending, so changing on a quarterly basis may make sense for some folks."
Cardholders who know they may be prone to carrying a balance over a series of months may prefer to opt for a lower overall APR instead of rewards that can be negated by monthly interest charges. During the application process, users can choose between a lower APR or rewards. APRs are based on creditworthiness and do not change based on payment history.
Huntington is Keeping it Simple for Consumers
Huntington Bank has built a reputation among its customers for providing simple and straight-forward products and services; part of an approach it calls Fair Play Banking. This approach extends to its Voice Card offering and can be seen in the policy of not hiking up the interest rate just because a cardholder is late with a payment.
"We conduct a lot of focus groups and talk to our customers to ask them what 'fair' looks like," said Harmening. "And they told us. We believe very strongly in getting the voice of the customer in any product offering that we come out with. And that's pretty much how we came up with this card."
Another way Huntington Bank shows its commitment to cardholders is with the Voice Card's features, including no annual fee, no foreign transaction fees, and the Late Fee Grace period that provides an extra 24 hours past the due date to make a payment without penalty.
"The Voice Card fits right into our culture at Huntington Bank, with fair-play banking, asterisk-free checking, 24-hour grace on overdraft, all-day deposits, all of it. It's something we do for the customer, but it also makes our employees feel good about what we're doing," Harmening said.
Making the Most of Voice Card's Flexibility
With a card that allows you to choose your rewards, consumers can get very creative with how they plan their spending. Let's say you open a Huntington Voice Card account during the summer months. It may make sense to choose Gas Stations as your 3X rewards category if you'll be driving to your vacation destination. Or, if air travel is in your plans this year, Travel & Entertainment might be the right choice.

As the fall quarter rolls around and new school clothes are a priority, selecting Department, Apparel, & Sporting Goods Stores will help you earn more rewards.
Spending $2,000 each quarter in your selected rewards category will earn you 6,000 reward points that you can redeem for cash, gifts, travel, or other items. Plus, all other categories still earn you a point for every dollar you spend.
The Huntington Voice Credit Card is one of the only cards that lets consumers pick their own rewards. When combined with Huntington Bank's proven commitment to customer service and doing the right thing for its cardholders, the Voice Card makes a lot of sense.
As Andy Harmening said, "We thought, if we could create a card that was simple and straightforward, easy to earn points and easy to redeem them, it would be good for everyone."
Advertiser Disclosure
CardRates.com is a free online resource that offers valuable content and comparison services to users. To keep this resource 100% free, we receive compensation for referrals for many of the offers listed on the site. Along with key review factors, this compensation may impact how and where products appear across CardRates.com (including, for example, the order in which they appear). CardRates.com does not include the entire universe of available offers. Editorial opinions expressed on the site are strictly our own and are not provided, endorsed, or approved by advertisers.