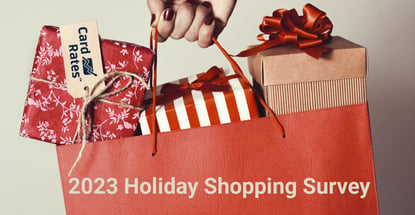 Our experts and industry insiders blog the latest news, studies and current events from inside the credit card industry. Our articles follow strict editorial guidelines.
CardRates.com's annual holiday survey also finds that only 1 in 5 consumers say they do not have a holiday budget this year.
GAINESVILLE, Fla. – Oct. 27, 2023 – CardRates.com, a website that educates consumers about the benefits and perils of credit cards, released the results of its Q4 2023 holiday survey. In addition to surprising holiday shopping and budgeting trends, the survey found that 58% of Americans admit to spending more of their budget on one of their kids than on their other children.
Inflation is Hurting Holiday Budgets
The survey found that inflation is hurting consumers' holiday budgets, and consumers are budgeting early. When asked about spending plans:
almost half of consumers surveyed (46%) said they already have their holiday budgets in place.
only 18% surveyed revealed they do not plan on creating a budget at all.
most consumers surveyed (45%) said their total holiday budget is $250-$500.
Additionally, 6 in 10 consumers said they will dedicate 50% or less of their holiday budget to purchasing gifts this year, while more than one-third have budgeted only 25% or less for gifts.
Most People Begin Holiday Shopping in November, Despite Prime Day Sales
Despite early sales and Prime Days in October, most consumers (59%) wait to start their holiday shopping in November (33%) or December (26%). However, 16% of consumers said they would only shop for their holiday gifts on Prime Day.
The survey also revealed that 75% of Americans said they will shop on Black Friday.
Credit and Debit are the Preferred Payment Methods
More than two-thirds of consumers surveyed said they'll pay for holiday gifts with either debit (36%) or credit (34%). Cash is still a popular option, with about 1 in 5 consumers (19%) choosing it as their preferred payment method, while 4% will use buy now, pay later, and 2% will use layaway.
Methodology
A national online survey of 1,036 U.S. consumers, ages 18 and older, was conducted by Propeller Insights on behalf of CardRates.com in October of 2023. Survey responses were nationally representative of the U.S. population for age, gender, region, and ethnicity. The maximum margin of sampling error was +/- 3 percentage points with a 95% level of confidence.
Media Contact
Greg Allen
gregallen@bospar.com