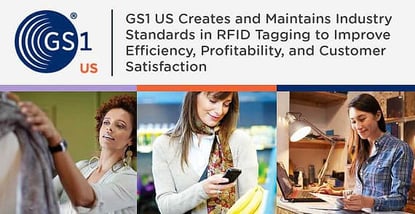 In a Nutshell: From the farms and manufacturing floors to the markets and stores where consumers shop, many products are radio-frequency ID (RFID) tagged and scanned at various points along the path from source to store. But disconnection along the supply chain often results in a lack of product visibility — and can even affect the consumer experience. GS1 US develops the standards that streamline the use of RFID technology to increase efficiency, sales, and customer satisfaction while reducing shrinkage, spoilage, and other financial losses.
In 2017, nearly 9 billion consumer products were radio frequency ID (RFID) tagged. The tags allow companies to follow product data across the supply chain, reduce shrinkage, and maintain accurate inventory.
But with each stop along the journey, consumer products are subjected to different practices, standards, and processes, which means visibility can still be limited. That's why it benefits everyone to be on the same page, running compatible systems — from manufacturer to distributor to retail store.
GS1 US, an organization that brings together businesses to streamline processes across industries, sets the standards and guidelines to make those supply chains work smoothly from beginning to end.
Michelle Covey, GS1 US VP of Retail Apparel and General Merchandise, works with nearly 120 member organizations, including retailers, brands, solution partners, academic associations, and trade associations, to address disparities.
"We work together as a community to collaborate and develop new guidelines, create new standards, evangelize them, and support the community with the adoption of them," Michelle said.
The organization's efforts help companies reap the benefits of RFID technology, no matter where their product or service falls along the supply chain.
Field to Factory to Floor: RFID Tagging Allows Brands to Increase Profit Margins
RFID tags are being used everywhere — from farms and fields to the kitchens where food is prepared and the mills where the cotton is spun into yarn. Not only does tracking allow companies to compile error-free data, but it also ensures that the next recipient in the chain receives exactly what was ordered.
With a quick scan, restaurants can see whether their produce order was short a few pounds or non-organic when it should have been organic. This level of precision promotes efficiency throughout the supply chain and ensures that when a problem arises, it can quickly be traced back to its origin.
The standards created at GS1 represent a universal language so that RFID tags can be used seamlessly across the supply chain. GS1 determines the standards that identify, capture, and share information, which allows for global interaction and efficiency.
An accurate view of merchandise and inventory allows employees in brick-and-mortar locations — and their online counterparts — to work together to ensure items are moving off the shelves. Seasonal merchandise is a good example of how the process works. Winter coats are put out in early fall and start getting discounted soon after the first of the year. Stores want to sell as many as possible before marking them down. One way to ensure that as many items as possible are sold at full price is to employ strategic online-order fulfillment.
For example, winter coats may not be selling well in Tennessee compared with sales at New York stores due to a warmer winter in the South. That data can be used to have online orders fulfilled from the Tennessee store. The process enables the store in Chicago to have the coats on hand for customers, while preventing the coats in Tennessee from being relegated to the markdown rack.
By selling inventory quickly — and at full price — stores save money that, in the past, might have been lost on product discounts.
Enabling Retailers to Maintain Accurate Inventory and Decrease Losses
GS1 standards enable retailers to keep their inventories accurate at all times, and many prominent industry names are adopting the technology throughout their processes. Retailers like Macy's, Target, and Dillard's have been vocal about their strategies to implement RFID tagging with manufacturers, brand partners, and in stores.
In the restaurant industry, Subway uses GS1 standards to track the ingredients that go into its sandwiches — all the way back to a field where the avocados originated. By tracking the origin of the food, the endpoint, and all the stops in between, managers know how fresh the food is and can ensure it gets used at its peak.
The company can also use this data to streamline the process of getting food from the nearest farms and manufacturers to restaurants, thus decreasing shipping costs and giving consumers the freshest food. If a quality issue is discovered, restaurants can determine — in minutes — whether their food is affected.
Customers Enjoy Better Shopping and Buying Experiences With RFID
The buy online, pickup in-store option is gaining popularity with younger shoppers for its convenience and same-day fulfillment capability.
And with RFID, store employees can fulfill orders quickly by knowing the exact location of an item at any given time.
By ensuring orders are complete, accurate, and ready on time, stores gain the trust of customers. Another way this process benefits brick-and-mortar retailers is by getting the customer into the store, opening up the possibility for impulse buys.
And returns can be easily tracked and added back to inventory the moment they're received in-store. Retail giant Macy's even developed an automated return process for items that need to go back to the manufacturer. Returns processed with the new system take just a quarter of the time as those done manually.
Michelle said that, while adoption of RFID tagging is still in its early stages, a growing number of retailers recognize the technology's potential to improve satisfaction, increase profits, and provide greater customer convenience.
Studying Future Retail Applications of RFID Tagging
As the number of RFID tagged items in the marketplace continues to grow, it won't be long before major retailers are outfitted with new technologies — such as smart fitting rooms equipped with sensors that automatically detect the number of items a shopper carries in. These rooms will make today's numbered door hangers obsolete.
And, when consumers find the perfect item, but in the wrong size, they won't need to leave the fitting room. Instead they can communicate with the sales associate, who will receive the item's data electronically, and request a different size. A screen in the fitting room can then show the consumer shoes and accessories that would pair perfectly with the item chosen — all thanks to information detected through RFID.
"As more brands and retailers implement RFID, we're going to see a lot more consumer interaction with products, retailers, and brands." — Michelle Covey, GS1 US VP of Retail Apparel and General Merchandise
Another application for RFID s a cashier-free experience, much like the one introduced at the Amazon Go store. The location uses embedded technology to scan RFID tags on items, and consumers pay electronically with their smart wallet without having to stop at checkout. There is little to no interaction required.
Blockchain technologies and anti-theft strategies will also see increased use of RFID. Blockchains will track products and events to ensure a smooth transition from start to finish. And stores will see a reduction in shrinkage as they implement RFID as part of their loss prevention plan.
"Some of these strategies and technologies are in the pilot phase, but there are also many in the aspirational phase," Michelle said. "As more brands and retailers implement RFID, we're going to see a lot more consumer interaction with products, retailers, and brands."
Advertiser Disclosure
CardRates.com is a free online resource that offers valuable content and comparison services to users. To keep this resource 100% free, we receive compensation for referrals for many of the offers listed on the site. Along with key review factors, this compensation may impact how and where products appear across CardRates.com (including, for example, the order in which they appear). CardRates.com does not include the entire universe of available offers. Editorial opinions expressed on the site are strictly our own and are not provided, endorsed, or approved by advertisers.